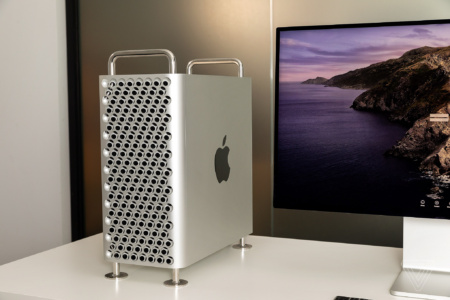 The transition of the Apple computer line to Apple's own Silicon processors will be fully completed in the fourth quarter of 2022, when the new Mac Pro model is released. This is reported by the insider DylanDKT.
The next generation Mac Pro will get an improved Apple M-series processor. In this case, the chip will not be a second generation device (M2). Apple intends to release an updated version of the M1 processor, which will receive more cores than the current version of the M1 Max.
DylanDKT also reports that Apple may bring another additional iMac configuration to market. It will be a larger version of the monoblock with a higher level chip. However, no details about this have yet been announced.
The DylanDKT information is in line with previous rumors that claimed that Apple would completely switch its line of laptops and computers to use its own processors within two years. Accordingly, the latest device that will receive Apple Silicon chips will be a productive Mac Pro computer. Even before that, there were rumors that the next generation Mac Pro will receive an updated design and an Apple Silicon processor, including 40 processing cores and 128 graphics cores.
Apple began the transition to its own ARM processors in November 2020. The company first updated models such as the Mac mini, MacBook Air, and 13-inch MacBook Pro. Going forward, the Cupertino-based company ditched Intel processors in its 24-inch iMac and 2021 MacBook Pro.
A source: appleinsider
---