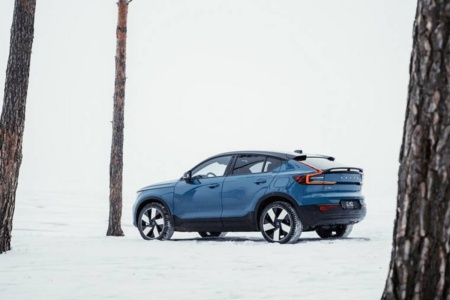 In mid-2021, Volvo Cars launched its first electric car XC40 Recharge on the Ukrainian market of Ukraine, and now the second electric car of the brand – C40 Recharge – has appeared in Ukraine.
Volvo C40 Recharge is a cross-coupe version of the already well-known XC40 Recharge, which debuted almost a year ago (in March 2021). And now the official sales of the C40 Recharge are starting in Ukraine – the car is already available for ordering and test drive. Its cost is from 1,736,000 hryvnias.
Features C40 Recharge
This is the brand's first electric car, available only in the electric version and with a leather-free interior. New coupe-like silhouette of the body with a narrowed roof line, exclusive interior decoration and increased range – 444 km. For comparison: the mileage of the XC40 is 418 km. The new exclusive color is Fjord Blue (deep dark blue shade). Fixed panoramic roof as standard. Headlights with pixel technology. Each headlight unit contains 84 pixel LEDs: they automatically respond to changes in ambient light, each LED operates independently of each other. The design of individual interior elements is made in three layers (lower reflective, medium translucent acrylic and upper fine-grained matte polycarbonate. All finishes have hidden LED lighting.
The Volvo C40 Recharge is one of the most anticipated electric vehicles of 2022.
The most anticipated electric cars in Ukraine: what has 2022 prepared for?
---