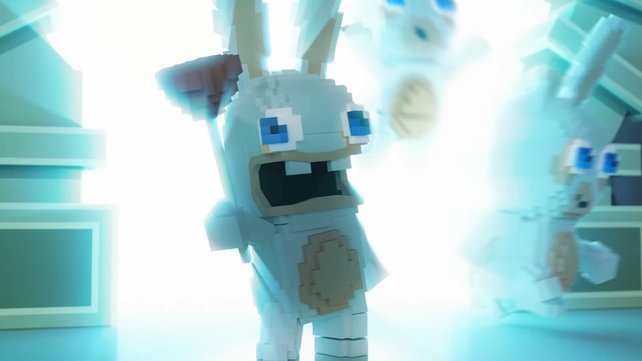 Nobody wants them – and yet Ubisoft continues to rely on NFTs. The games company even goes so far that its in-house mascots, the Rabbids, are now part of a blockchain game.
Rabbids in NFT Hell
For several years you've only met Ubisoft's Rabbids in mobile and browser games. As if that wasn't sad enough the Rabbids now even have to serve for Ubisoft's NFT offensive.
The game company behind series like Assassin's Creed and Watch Dogs is entering into a cooperation with the blockchain game The Sandbox. If the name doesn't sound familiar to you – and you're most likely not alone – you haven't missed much. The Sandbox is actually less of a game and more of a game first vision of the Metaverse including blockchain technology and NFTs. You have certainly picked up at least these terms over the past few weeks.
Ubisoft's Rabbids are now part of The Sandbox. A short announcement trailer is intended to generate enthusiasm. Oh well …
Ubisoft's NFT wish will not come true
With its in-house NFT service Quartz, Ubisoft offered players the opportunity to purchase cosmetic items in the form of NFTs, initially only in Ghost Recon Breakpoint. However, this was met with severe criticism from the players.
Ubisoft hasn't wanted to change much in its strategy since then. It was previously said that the criticism would be heard and taken into account in future decisions. But it didn't sound like a turnaround.
A little later, the developer and publisher said in another interview that players just don't understand it yet. At the same time one is the players but owe an explanation as to how NFTs improve their gaming experience.
Most recently, Ubisoft rewarded employees with NFT gifts, although some of them were initially annoyed about NFTs internally. What will Ubisoft's boardroom come up with next?
You don't want to miss any more news, guides and tests for new games? Always want to know what's happening in the gaming community? Then follow us on Facebook, Youtube, Instagram, Flipboard or Google News.