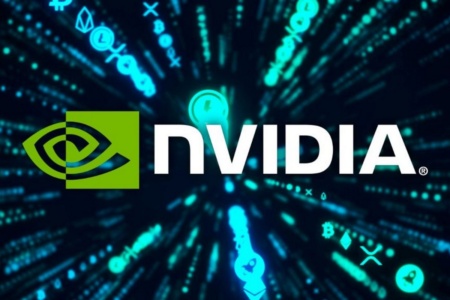 NVIDIA reported about the highest quarterly and annual revenue in history – for the 2022 fiscal year ended January 30, 2022, the graphics chipmaker earned an impressive $ 26.9 billion (+ 61% year-on-year). Almost half of this amount was brought by sales of gaming video cards.
NVIDIA's revenue for the quarter ended January 31, 2022 was $7.643 billion, with net income of $3.003 billion (or $1.18 per share), and a gross margin of 65.4%. For comparison, a year ago these figures were in the same order – $5.003 billion, $1.457 billion (or $0.58 per share) and 63.1%. That is, all the main financial indicators have greatly improved, and net profit has doubled.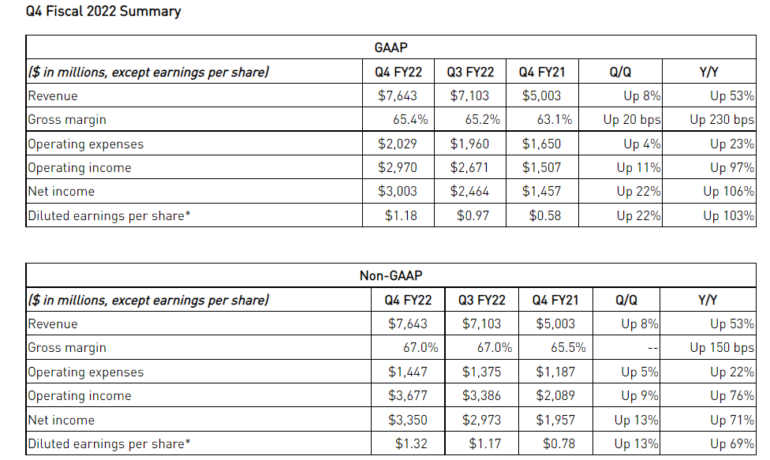 Table with the main financial indicators of NVIDIA for the fourth quarter from the official report NVIDIA's annual revenue reached $26.914 billion (+61% year-on-year), net profit – $9.752 (+125%) billion or $3.85 per share (+123%). Interestingly, during the year the gross margin increased from 62.3% to 64.9%.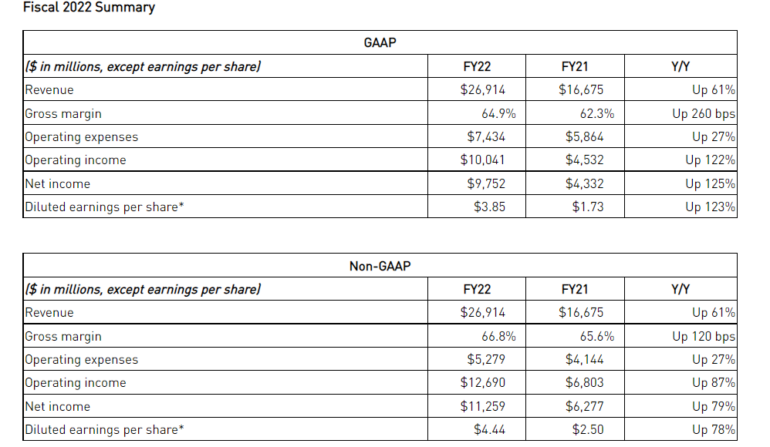 The table with the main financial indicators of NVIDIA for fiscal 2022 from the official report of the Gaming division for the year brought in $12.462 billion – a new absolute record. This is 46.3% of the company's total revenue. In second place in terms of revenue is still professional accelerators for data centers – $ 10.613 billion, which corresponds to an increase of 58% in annual terms.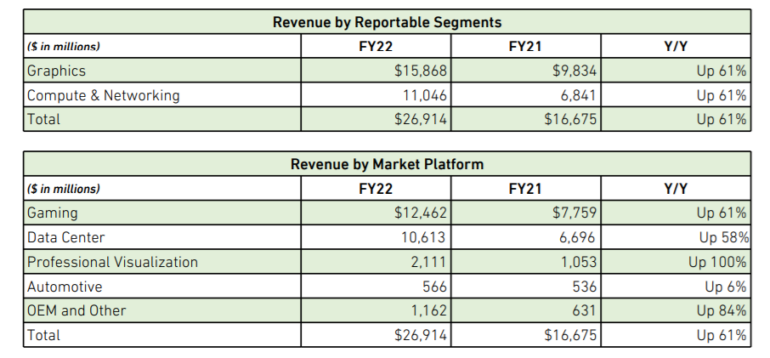 Revenue by category versus year-earlier The highest growth by category (+100%) was shown by the professional rendering accelerators segment, reaching $2.111 billion in revenue, driven by the Omniverse platform and new specialized accelerators. The revenue from sales of specialized accelerators for mining Crypto Mining Processor amounted to $550 million for the year and only $24 million for the last quarter. Other areas of NVIDIA's business also grew: the automotive segment – up to $566 million (+6%), and the OEM segment and intellectual property licensing – up to $1.162 billion (+84%).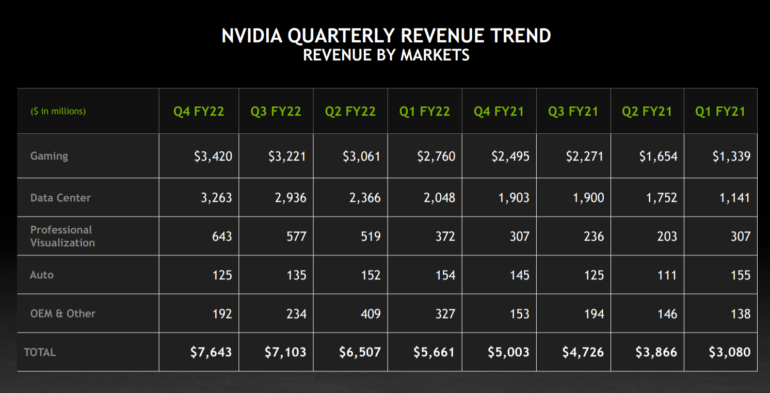 Quarterly Revenue by Selected Product Categories NVIDIA expects revenue of $8.1 billion ±2% for the current quarter. At the same time, profitability should remain at the level of 65.2-67%.
Last week, NVIDIA pulled out of a deal with SoftBank to buy ARM due to regulatory pressure. The Japanese telecom giant will receive an advance of $1.25 billion for disrupting the deal and plans to list ARM by March 31, 2023. At the same time, NVIDIA, in turn, will continue to license the ARM processor architecture.
NVIDIA's next major presentation will take place as part of the GTC 2022 conference, which will be held from March 21 to 24. It is expected to announce new products in the field of artificial intelligence and high-performance computing.
---