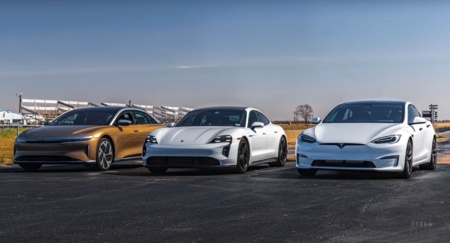 Edition DragTimes spent a race between electric cars Lucid Air, Tesla Model S Plaid and Porsche Taycan Turbo S.
The Lucid Air Performance Dream Edition competed in the race, producing 1,111 horsepower (817 kW) from two electric motors. The publication specifies that Pirelli PZero HL tires were installed on the car, and the total weight of Lucid Air is 2,420 kg.
The weight of the Porsche Taycan Turbo S is almost the same as that of the Lucid Air, although its power is slightly less – only 750 hp. (552 kW) from two electric motors. At the same time, Porsche is almost $50,000 more expensive than Lucid.
The star of the show was the Tesla Plaid. It is both lighter and cheaper than the first two cars – almost $ 50 thousand than the Lucid Air. Tesla Plaid has 1020 hp. (750 kW) with three electric motors and it weighs only 2215 kg. The electric vehicle uses a set of Michelin Pilot 4S tires.
There were three races in total, and the Tesla Model S Plaid won all of them.
This Tesla model has already set a world record for drag racing, covering a quarter mile in 9.2 seconds.
---