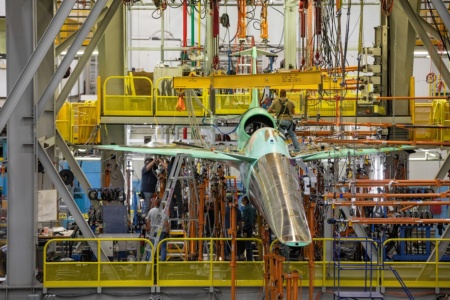 The American experimental supersonic aircraft X-59 Quiet SuperSonic Technology (QueSST), developed since 2016 by the Lockheed Martin aerospace concern under the NASA Low-Boom Flight Demonstrator program, was transported to Texas. The X-59 is assembled at the Skunk Works plant in Palmdale, California, but needed to be taken to another Lockheed plant for key structural testing. After the tests, the plane will return back to the Skunk Works, reported at NASA.
"Our plant in Texas has the equipment to carry out the necessary tests. It would be expensive and time consuming to design and build from scratch in Palmdale. But in Fort Worth

City in Texas. there is excellent equipment with a control room and all the ancillary equipment needed to effectively conduct such tests," said Mike Buonanno, aerospace engineer at Lockheed Martin.
The Fort Worth plant produced the F-16 Fighting Falcon. The available test equipment required some modifications to cope with the longer NASA X-59 nose.
All the main structural elements of the aircraft – the wing, main body, plumage and nose – are assembled together. Next, the X-59 will be tested for strength to ensure that its structure will not collapse when exposed to small and extreme loads (pressure and stress). During the test, the aircraft is on hydraulic jacks. The load will also be in excess of the maximum design by 25%.
The second purpose of the tests is to calibrate the sensors built into the X-59, designed to alert the pilot to the stress on the aircraft. The third is to collect data and compare it to the computer models that were used to design the aircraft. As of the end of January, about 80% of structural tests are over, they were successful.
After that, calibration tests of NASA X-59 gas tanks will take place. They will be filled in to check the operation of the remaining fuel sensors not only in the horizontal position of the aircraft, but also in pitch.

Angular motion of an aircraft or vessel about the main transverse axis of inertia. and roll. The X-59 will then be returned to Palmdale. The exact dates are not yet known. Already there, the main systems and subsystems will be installed on the X-59 – the GE engine, chassis, cockpit displays, etc. The first flight should take place at the end of 2022.
The NASA X-59 is the only aircraft of its kind designed to fly at supersonic speeds in a way that doesn't make a lot of noise on the ground. The unique shape of the X-59 is expected to produce quieter sounds. Aircraft are now prohibited from flying above the ground at speeds faster than the speed of sound. If the X-59 can publicly demonstrate that it flies at supersonic speeds with acceptable noise levels, these rules could be changed. If everything works out, then commercial airlines will be able to use the technology of this aircraft, for example, for passenger flights.


An X-59 Quiet SuperSonic Technology aircraft on jack stands at the Lockheed Martin Proving Ground in Fort Worth. Photo: Lockheed Martin
---