Blogger and modder Super Louis 64, who specializes in adapting games to unconventional control methods, shared the first successes of his passage of Elden Ring on a controller made of real bananas.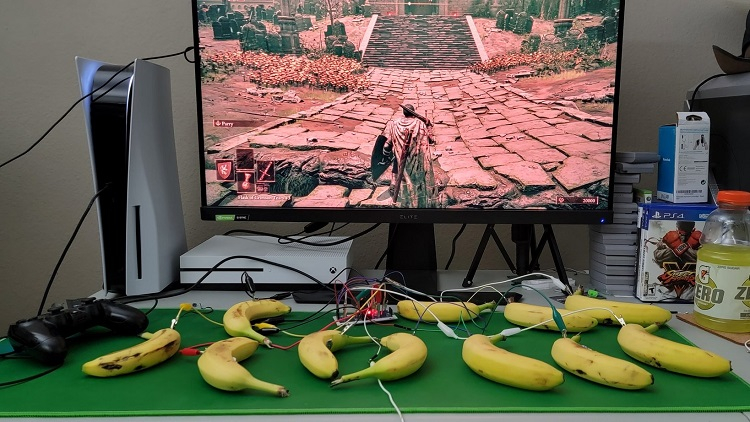 Recall that at one time Super Louis 64 conquered thus another FromSoftware project – Dark Souls 3 – and now decided to repeat the achievement, but with a new fantasy action game in the open world.
To implement the idea, Super Louis 64 bought 12 bananas (it would take twice as many to fully simulate the PS5 controller) and connected wires to them to connect them with one or another function of the improvised controller.
In a six-minute video released on YouTube, Super Louis 64 showed how he set up the system, got comfortable with it, and took his first steps in Elden Ring, including defeating one of the optional bosses – the winged dragon Eghill.
The main achievement of the "banana" race Super Louis 64 so far remains overcoming Godric the Hundred-Handed – the final boss of the starting region of the game, "Graveyard". The moment of triumph was captured in the video attached below.
Parallel to his banana adventures, Super Louis 64 is running Elden Ring with a hoop controller from Ring Fit Adventure. You can follow the torment of an enthusiast live on his Twitch channel.
Elden Ring debuted on February 25 on PC (Steam), PS4, PS5, Xbox One, Xbox Series X and S. Speedrunners have already taken up the game – American streamer LilAggy managed to complete the action in less than an hour (not without bugs and tricks).
If you notice an error, select it with the mouse and press CTRL + ENTER.