The assembly of electric cars Lucid Air Dream Edition began in September, but the circulation of the debut series was not to exceed 520 copies. The $169,000 car with 1,111 horsepower was in great demand, and therefore the manufacturer offered a more numerous Grand Touring Performance package with slightly simplified characteristics and a higher price.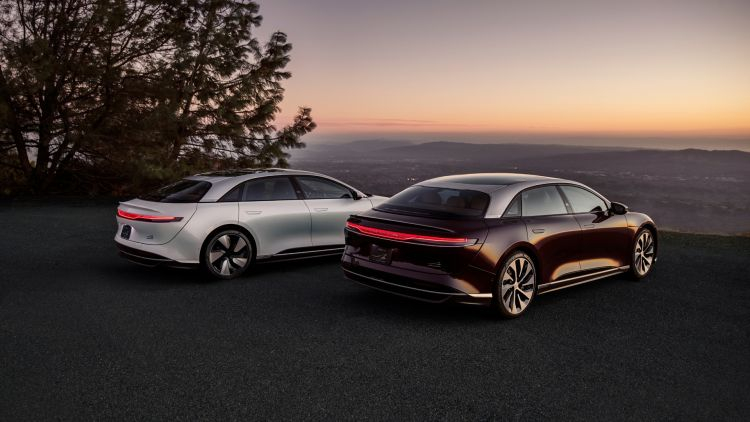 However, the $10,000 increase in price can easily be attributed to an increase in the cost of materials, because the Air Grand Touring Performance electric car will be equipped with a battery that provides a range of 714 km with a power of 1050 horsepower. Drive by two electric motors will be carried out on both axles. The company develops and produces both batteries and electric motors independently. To 96 km / h, the car accelerates in 2.6 seconds, behind the flagship Tesla Model S Plaid, which overcomes this milestone in less than two seconds. By the way, the Lucid Air electric car was recently spotted on the Tesla branded test track, which means that Elon Musk is concerned about competition.
As of February, Lucid has produced 400 electric vehicles, but the number of pre-orders has reached 25,000. It expects to deliver no more than 14,000 cars this year, although if it were not for the shortage of components and materials, it could deliver all 20,000. Separately, it is worth mentioning the ability of Lucid electric vehicles to replenish the charge from a 350 kW DC terminal in 21 minutes for a 480 km course. For this, an internal infrastructure designed for a voltage of 900 V is used.
All current versions of Lucid Air will be equipped with software-controlled power doors for the hood and trunk, a panoramic glass roof, a multimedia system with a 34-inch display that supports 5K resolution, and 21 speakers. The DreamDrive Pro complex is initially equipped with lidar and implies further improvement of active driver assistance systems through software updates. The seats of the electric car are adjustable in 20 directions, have heating and ventilation, and LED optics with a microlens system was developed by Lucid independently. Regardless of the configuration, the maximum speed of the electric car will be limited to 269 km / h.
Lucid Air Grand Touring Performance ordered now will start to arrive to US customers this June, Canadians will receive them in August. For those who want to save a little, a simpler version of the Lucid Air Grand Touring is offered at a price of $ 139,000. It accelerates to 96 km / h in three seconds, travels no more than 826 km without recharging, is content with an 819 hp power plant, but invariably offers a full drive and all necessary equipment for the autopilot. Deliveries of this configuration have already begun.
If you notice an error, select it with the mouse and press CTRL + ENTER.