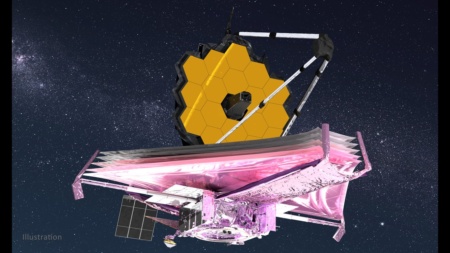 The James Webb Space Telescope continues to prepare for its main mission – to explore the depths of the universe. The NASA space agency announced its readiness to begin taking test images and aligning the telescope's optics. This was made possible after the instruments reached their final operating temperature of -448 degrees Fahrenheit (-267 degrees Celsius) last week.
The James Webb telescope after its launch began to gradually cool down. At the beginning of the year, he additionally deployed a 21-meter sun visor. This allowed systems and critical instrumentation to cool down to -298 degrees Fahrenheit (-183 degrees Celsius). To bring the telescope's systems up to final operating temperature, NASA and ESA additionally activated an electrical "cryocooler". This made it possible to overcome the technical barrier, called the "pinch point". At this stage, the instruments of the telescope cooled further from -433 degrees Fahrenheit (-258 degrees Celsius) to -448 degrees Fahrenheit (-267 degrees Celsius). It is noted that the procedure was successful, and the performance of the cooler was even better than expected.
cool news! Webb's MIRI instrument recently passed through its critical "pinch point" and cooled to just a few kelvins above absolute zero, which is the coldest you can go: https://t.co/jjE7xTal0O
Wondering why MIRI is extremely chill? Thread ❄️ pic.twitter.com/a9l7lcZ645
— NASA Webb Telescope (@NASAWebb) April 13, 2022
The instruments of the James Webb telescope require such low operating temperatures in order to avoid the influence of heat and infrared radiation generated by electronic devices on research instruments. The low operating temperatures also avoid dark currentwhich can create false signals that make it difficult for a telescope to get an accurate picture of a celestial body.
The James Webb Telescope sent a "selfie" with 18 mirrors fully deployed and aligned, as well as a merged image of the star HD 84406
Source: NASA
---