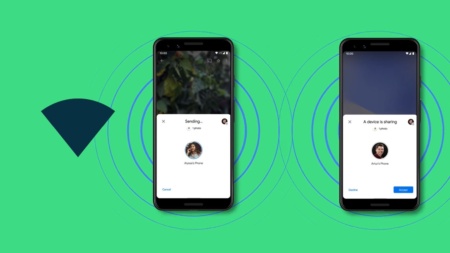 The Nearby Share feature, which was introduced in 2020, was supposed to be the equivalent of AirDrop for Android. But she was not as comfortable as we would like. Therefore, Google decided to improve the popular tool for exchanging files between smartphones. The new feature, dubbed Self Share, has been testing since January and has already been added to the latest version of Google Play Service.
According to testers, Self Share will be able to transfer files between devices with the same Google account without prior approval of the exchange. In the "Sharing with the environment" section, a new item "Your devices" will appear. AirDrop works the same way in the Apple ecosystem.
Nearby Share's "self-share" mode will let you quickly share files to other devices signed into the same Google account without needing to approve the share.
This hasn't rolled out yet from what I can see, but it's present in the latest version of Google Play Services. pic.twitter.com/wdtxoiE2oz
— Mishaal Rahman (@MishaalRahman) April 19, 2022
Now, to share files on Android with one account, you need to confirm access on the recipient device. Such a measure seems too complicated, which interferes with seamless file sharing.
With Self Share, you can send not only files and photos, but also share installed applications with other Android devices.
The officially updated Nearby Share feature may be presented at the Google I / O 2022 conference in June.
Nearby Share (AirDrop for Android) may also be coming to Chrome and Chrome OS
---