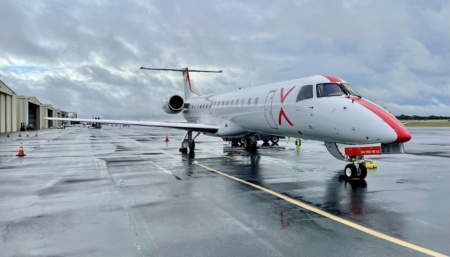 The first airline to receive Internet from Starlink, became JSX is an American charter carrier.
JSX CEO Alex Wilcox said that under an agreement with SpaceX, it is possible to install equipment on 100 aircraft. There are currently 77 30-seat Embraer aircraft in the air carrier's fleet.
"We will be the first to have [Starlink] will be on board the aircraft.
Alex Wilcox
Terminals on the company's flights will appear by the fourth quarter, as regulatory approval is expected. So far, the Starlink aviation antenna is being tested on one of the aircraft.
Wilcox did not provide details of the contract with SpaceX, but it is known that the Internet will be provided to the company's passengers for free.
SpaceX has been talking about the possibilities of installing antennas in aircraft since the company launched its satellite internet service. Starlink Vice President Jonathan Hoefeller stressed that the aviation Wi-Fi market is "ripe for an overhaul."
The company began testing an aeronautical version of the Starlink antenna and terminal over a year ago. Tests are already taking place on Delta flights.
In total, Starlink has about 250,000 subscribers, including both regular and corporate clients.
Last year, Elon Musk's company applied for regulatory approval to expand Starlink to planes, ships, trucks and trailers.
SpaceX has a constellation of 2,000 satellites to support the global network. Subscribers pay $99 per month for the standard service and $500 for the premium tier. Since the beginning of the full-scale war, Ukraine has received 5,000 Starlink terminals with a free data plan.
Elon Musk says Starlink satellite internet will be "fully mobile" by the end of this year
---