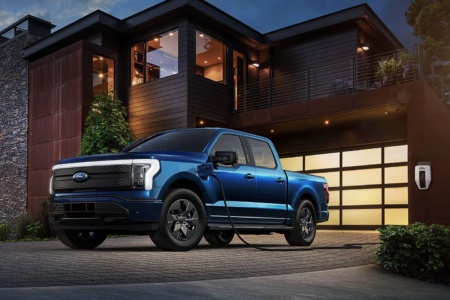 The Ford F-150 Lightning isn't the first all-electric pickup truck, but it will be the first vehicle that can be used as a back-up generator for the home.
Message from the editor: Our defenders from the 115th brigade, which is currently fighting in the east, need a pickup truck. Details for transferring funds to a monobank card – Polyanskaya Karine Sergeevna, card number 5375414101372265. We ask you to take part in the fundraising.
Glory to Ukraine!
Ford Director of Charging and Energy Services Matt Stover said in post on LinkedIn that the home integration system will cost $3,895.
The system for the Ford F-150 Lightning includes an inverter, an automatic switch and a small battery. The Lightning Smart Backup feature also requires the 80-amp Ford Charge Station Pro, a bi-directional home charging station that is standard on all Lightnings with a high-capacity battery pack.
Buyers of a Ford F-150 Lightning with a Standard Range battery can purchase a charging station for $1,310, bringing the total cost of converting a budget electric pickup truck into a standby generator to $5,205 plus installation costs. Considering the base-level Ford F-150 Lightning starts at $39,974 and the $7,500 U.S. EV tax credit brings the price down to $32,474. And that's excluding government rebates to $3,500.
Such an electric car practically replaces a full-fledged home battery system. For example, Tesla Powerwall will cost $11.5 thousand.
Ford begins production of F-150 Lightning electric pickup truck with a starting price of less than $40,000
---