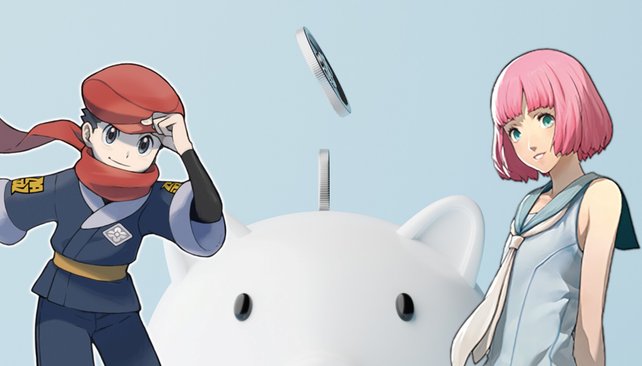 If you want to buy a new Switch game, you should strike now. In the Nintendo eShop there are again a lot of insider tips on offer. And you can also get new Nintendo games at a low price.
Current top deals for the Switch
Grab your digital shopping basket because the prices are tumbling again in the Nintendo eShop. The best current deals are here at a glance:
| | | |
| --- | --- | --- |
| Game | Price | end of sale |
| CatherineFull Body | 17.49 euros instead of 49.99 euros | 8th of May |
| Two Point Hospital: Jumbo Edition | 15.99 euros instead of 39.99 euros | 8th of May |
| Gris | 4.24 euros instead of 16.99 euros | 8th of May |
| Child of Light Ultimate Edition | 4.99 euros instead of 19.99 euros | 8th of May |
| South Park: The Fractured But Whole | 14.79 euros instead of 59.99 euros | 8th of May |
| Scott Pilgrim vs. The World: The Game – Complete Edition | 4.90 euros instead of 14.99 euros | 8th of May |
| Digimon Story Cyber ​​Sleuth: Complete Edition | 11.99 euros instead of 59.99 euros | 8th of May |
| The Gardens Between | 3.99 euros instead of 19.99 euros | May 18th |
New at a low price
From demon fighting to monster collecting, the Nintendo Switch had it all last year and this year a lot to offer. Missed a few must-plays? No problem, we'll show you where you can currently get them at the best prices.
Pokémon Legends: Arceus
The latest Pokémon offshoot turns the usual formula on its head and lets you freely explore an open world full of creatures. Catch everything that jumps in front of the Pokéball to fill up the first Pokédex of the Hisui region. Now the adventure will even cost you only 44.99 euros instead of 59.99 euros.
Bravely Default 2
The latest game in the Bravely Default series is once again fantastic. Face evil forces and defend what is important to you. If you like turn-based battles and JRPGs, you should check out the low price of 32.98 euros don't miss it instead of 59.99 euros.
The Legend of Zelda: Link's Awakening
In the cute remake of the Zelda classic, Link is stranded again on an unknown island. Mystical monsters want to be defeated and the unknown land needs to be explored so that the hero can return home. The game currently costs only 47.99 euros instead of 59.99 euros.
Shin Megami Tensei 5
Shin Megami Tensei is the series from which the popular Persona games descended. In crisp turn-based battles, the fifth offshoot is again about fighting your way through the apocalypse. To the chagrin of all the nasty demons you will encounter. You're paying right now only 42.00 euros instead of 59.99 euros.
Pokemon Shining Pearl
At the release of Pokémon Radiant Diamond & Shining Pearl, the two remakes were sold for around 50 euros, but prices have since fallen somewhat – you can get the Palkia version on eBay for a total of 37.99 euros.
Metroid Dread
After 19 years, Nintendo once again delivers a 2D Metroid and hits the mark with it. The Game Awards 2021 winner in the category "Best Action-Adventure" is currently greatly reduced for only 45.24 euros available instead of 69.99 euros.
Super Mario 3D World + Bowser's Fury
The new edition of Super Mario 3D World not only shines in new splendor on the Switch, but also comes with a new game mode. In the addition "Bowser's Fury" you have a number of small islands for free exploration. You are currently paying for the adventure only 43.09 euros instead of 59.99 euros.
New Pokemon Snap
Fancy a special kind of photo safari? In New Pokémon Snap you explore different biomes and their personality-strong inhabitants. In order to shoot special photos, you have to solve puzzles and pay close attention to your surroundings. The spin-off is currently available for 47.00 euros instead of 59.99 euros.
More Switch games on sale
So if you still want to catch up on one or the other game pearl of 2021 or 2022, now is the perfect time to strike.
How about a new Nintendo Switch?
If you want to get a new switch for your new games, you are spoiled for choice between the good old switch and the OLED version.
the normal switches available in gray here:
And that too OLED model you can order it on Amazon:
For permanently cheap but good switch games, take a look at the following photo gallery:
You don't want to miss any more news, guides and tests for new games? Always want to know what's happening in the gaming community? Then follow us on Facebook, Youtube, Instagram, Flipboard or Google News.