While Harry Potter fans are already impatiently waiting for Hogwarts Legacy, the German studio Alchemist Interactive is working on its very own magic game: Spells & Secrets. This is how the charming roguelike now presents itself in a new co-op trailer.
Become a sorcerer's apprentice in the coming year
More than 2,500 aspiring magicians want to go to the magical school of Spells & Secrets in the coming year and are in short supply on Kickstarter $109,000 collected. Actually, only a little more than 21,000 US dollars were planned. Thus, the game has surpassed its goal by far.
In the action-adventure from the German development studio Alchemist Interactive, a friend and a friend slip into the role of sorcerer's apprentices who find their way through a procedurally generated magic school fight and puzzle.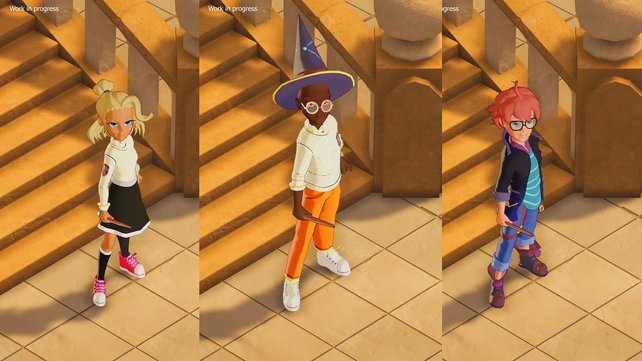 To do this, you create a character and then have access to an arsenal of physics-based spells. You then use them against your enemies or to solve tricky puzzles together.
Spells & Secrets is scheduled for release in 2023 for the Nintendo Switch and PC. You can experience the game alone with the AI ​​or in a cozy couch co-op with friends. Alternatively, the game also offers online multiplayer. You can get more information directly on Steam.
Even more magic action awaits you in Magicka
However, if you want to do magic with your friends today, you should get the classic Magicka look at. In the action-adventure game by Arrowhead Game Studios you have to do something similar to Spells & Secrets with physics-based spells work.
This game also places a large focus on the shared experience. You can already get the humorous co-op game on Steam for almost 10 euros. In any case, the Steam community is very impressed and rates Magicka "very positively" on average.
Incidentally, a successor, Magicka 2, was released in 2015, which is also recommended and was well received by Steam users. So you can bridge the waiting time until the release of Spells & Secrets.
You don't want to miss any more news, guides and tests for new games? Always want to know what's happening in the gaming community? Then follow us on Facebook, Youtube, Instagram, Flipboard or Google News.