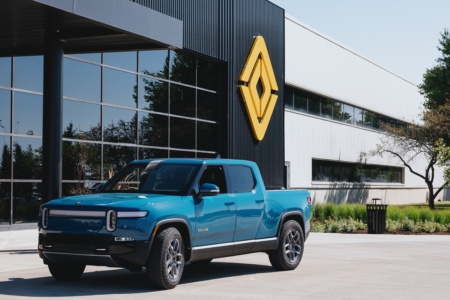 Electric vehicle company Rivian, backed by Ford and Amazon, posted a net loss of $1.59 billion in the first quarter of 2022 on revenue of $95 million. In addition, over the past three months, customers have received 1227 cars (now the total number of deliveries is 2148). Rivian reported more than 90,000 orders for the R1T and R1S electric vehicles (up from 83,000 in March). As of May 9, about 5,000 machines have been produced for Amazon. The company published such data in its earnings report for the first quarter of 2022. The Verge.
Message from the editor: Our defenders from the 3rd separate UDA battalion, who are in the Zaporozhye region, need things to resist the enemy: quadrocopters and smartphones to control them, night vision sights. Details for transferring funds to a monobank card – Katerina Kolonovich, card number 5375411505235312. Please join the fundraising. Glory to Ukraine!
Rivian made 2,553 vehicles in the first quarter but only delivered 1,227 to customers because the company works directly with consumers and doesn't have a traditional dealer network to serve as distribution centers.
The day before, after Ford sold about 8% of Rivian's shares, the latter's securities fell to a record low since the beginning of the year – by 78%. That's not all. According to notification National Highway Traffic Safety Administration (NHTSA), Rivian will recall 502 2022 R1T electric pickup trucks that were produced from September 21, 2021 to April 12, 2022 due to faulty airbag systems. The vehicle's sensors in the front seat may not deactivate the airbag if a child is present there.
VW announced the return of the Scout brand in the form of an electric pickup truck in 2023
---