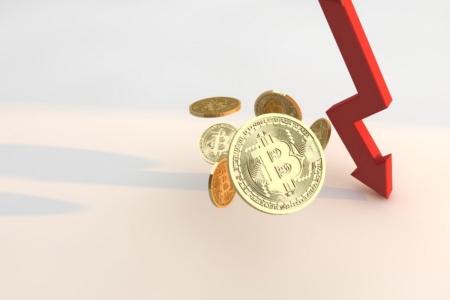 The Bitcoin exchange rate continues to fall along with the entire cryptocurrency market – over the past 24 hours, the most popular cryptocurrency has lost another 14% of its value and dropped to $26 thousand per unit, as evidenced by the site data Coindesk, tracking the cost of cryptocurrencies on different exchanges.
Message from the editor: Our defenders from the 3rd separate UDA battalion, who are in the Zaporozhye region, need things to resist the enemy: quadrocopters and smartphones to control them, night vision sights. Details for transferring funds to a monobank card – Katerina Kolonovich, card number 5375411505235312. Please join the fundraising. Glory to Ukraine!
At the time of writing the news, $26,674,000 is being offered for one Bitcoin coin, which is 13.4% less than a day ago. This is the first time since December 2020 that Bitcoin has fallen to $26,000.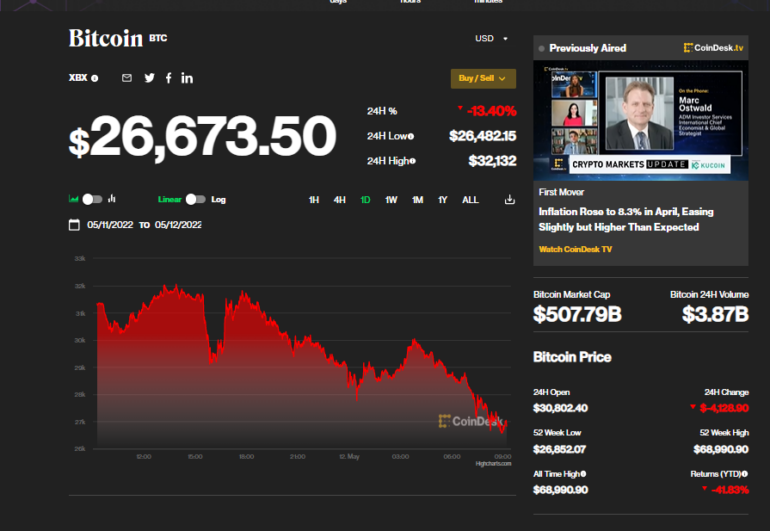 Bitcoin quotes for May 11
The world's most popular cryptocurrency is depreciating for the seventh trading session in a row and has already lost 62% of the high of $69,000 — the price of the cryptocurrency by the end of 2021.
As usual, they are getting cheaper along with Bitcoin – for example, Ethereum lost 21.40% in a day and fell below $1800.

The current situation in the cryptocurrency markets
We have already talked about the reasons in previous articles – here and here. By the way, the NFT market also went downhill. As usual, different analysts give completely different predictions about the future of the cryptocurrency market. It is difficult to make any predictions as to when the cryptocurrency market will overcome the next crisis and go up again. One thing is for sure: if this happens, it will not be very soon, given everything that is happening now. By the way, after the US Federal Reserve resorted to to the largest increase in the base rate since 2000, not only the cryptocurrency market collapsed, but also the traditional stock market. The world's largest technology companies lost more than $1 trillion in market value in just three trading sessions.
Apple, Google, Facebook, Tesla and other IT giants lost more than $1 trillion in market value in three days
---