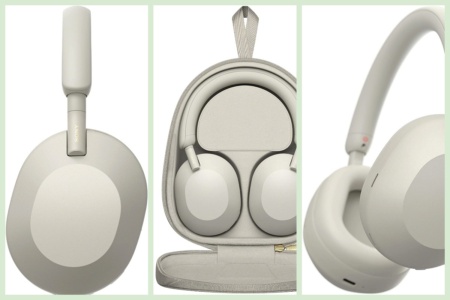 After a series of leaks, Sony's WH-1000XM5 earbuds are now official. Compared to the previous generation of wireless gadget, the headband has decreased, the weight has also been "cut" by 4 grams (250 grams compared to 254 before). The number of processors and the number of microphones that perform the noise reduction function have doubled (up to 8). Sony now uses a separate V1 chip for noise reduction processing and has equipped the WH-1000XM5 with an automatic noise reduction optimization system that ensures maximum performance depending on the surrounding conditions. The 30mm drivers are made from carbon fiber. The Verge.
Message from the editor: Our defenders from the 3rd separate UDA battalion, who are in the Zaporozhye region, need things to resist the enemy: quadrocopters and smartphones to control them, night vision sights. Details for transferring funds to a monobank card – Katerina Kolonovich, card number 5375411505235312. Please join the fundraising. Glory to Ukraine!
Through the Headphones Connect app, you can configure many settings. And if you allow location tracking, then for the WH-1000XM5 the choice of automatic inclusion of transparency will become available, adaptive sound control to enable / disable Speak-to-Chat for a specific place or action.
You can set your headphones to use 360 ​​Reality and DSEE Extreme (Digital Sound Enhancement Engine is Sony's proprietary technology that uses AI to reproduce the frequency response that would normally be lost when an audio file is compressed).
Not confirmed, however, the rumors that the Sony WH-1000XM5 headphones will be able to work longer by 10 hours compared to its predecessor. When using active noise cancellation, the operating time will be 30 hours. But the fast charging function is available: 3 minutes will give 3 hours of music playback.
Sales start May 20th. The earbuds are priced at $400 ($50 more than the WH-1000XM4).
---