There is mounting evidence that liquid water has been present on the surface of Mars, now cold and dry, for much longer than scientists thought. Previous studies have made it clear that water was present in abundance on Mars about 3 billion years ago. Now, data has fallen into the hands of scientists, allowing us to assert that it was possible to detect water on the surface of the Red Planet as early as 700 million years ago.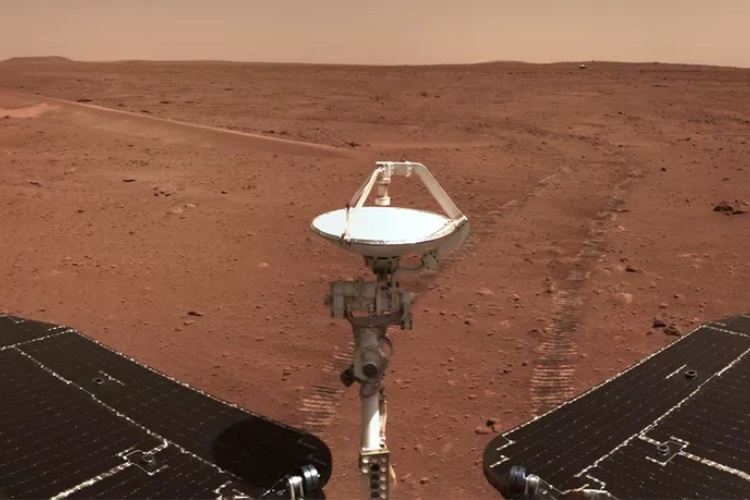 The researchers came to this conclusion after studying data obtained from the Chinese Zhuzhong rover, which is part of the Tianwen-1 program and has been on Mars for about a year. We are talking about the data that were collected by the Chinese apparatus during the first 92 Martian days or sols in the landing area on the Utopia Plain.
The study involved researchers from the National Space Science Center (NSSC) of the Chinese Academy of Sciences (CAS) who analyzed data from the MarSCoDe laser spectrometer, shortwave infrared spectrometer, and telescopic camera on the Zhurong rover. These instruments found minerals indicating the presence of a significant amount of liquid water in this area approximately 700 million years ago, i.e. much later than the beginning of the Amazonian period in the history of the planet.
The most important discovery is that the rover was able to detect hydrated minerals. This indicates that the water in this area was present much longer than scientists thought. In the future, the researchers hope to establish with the help of the Chinese rover how common such minerals are and whether they are often found in the rock in the area where Zhurong is located. The Chinese apparatus has been on the surface of the Red Planet for more than 350 Martian days, during which it managed to overcome about 2 km, simultaneously exploring the objects encountered.
If you notice an error, select it with the mouse and press CTRL + ENTER.