Last week in the construction of the ITER fusion reactor passed an important milestone. The first of nine sections of the vacuum chamber was lowered into the reactor shaft – the reactor core, in which plasma heated to 150 million ° C will be kept. All sections must be carefully lowered into the shaft and welded into a single structure.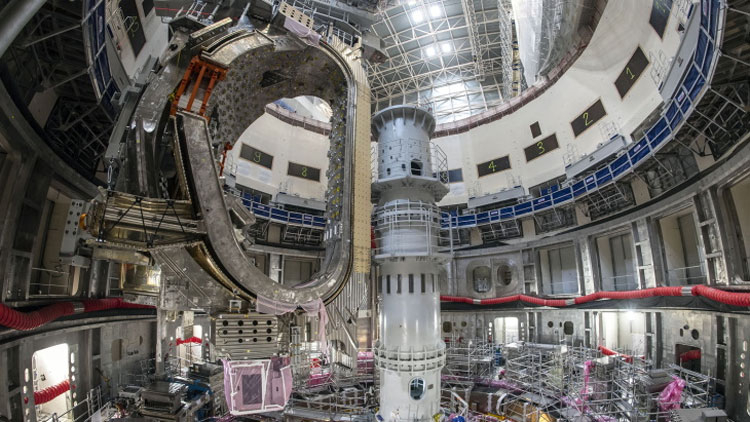 To transfer the sections to the reactor shaft, a unique, unparalleled crane has been created. It was developed by engineers from South Korea, where they also made four of the nine sections of the vacuum chamber. The five other sections are made in Europe. The height of each section reaches 14 m, and the weight is 440 tons. To keep the section in the required position and not damage anything on it, and each section is covered with heat shields inside and out, carries a pair of D-shaped superconducting toroidal field magnets and other structural elements with a total weight of 1200 tons, a special equipment was created, which itself weighs 860 tons and has a height of 22 m.
At the moment, the first section (the sixth in a row in the reactor scheme) hangs over a support in the reactor shaft at a height of half a meter. Engineers are doing final checks before lowering it to its permanent place.
The vacuum chamber of the ITER reactor has an internal volume of 1400 m3in which the plasma will occupy 840 m3. This is ten times more than in any other tokamak created on Earth so far. The weight of the vacuum chamber without piping will reach 5200 tons, and with the piping, part of which is made in Russia, the weight of the chamber will reach 8500 tons.
ITER will not be included in the energy system, since the task for the time being is to prove that a thermonuclear reactor can produce 10 times more energy than will be spent on heating the plasma. Ideally, the reactor would generate 500 MW at a plasma heating cost of 50 MW (an additional 300 MW may be required to operate the associated reactor systems). The first launch of the plasma is scheduled for 2025, and experiments on the fusion of deuterium and tritium will begin in 2035.
If you notice an error, select it with the mouse and press CTRL + ENTER.