A current-gen version of the cowboy adventure "Red Dead Redemption 2" is said to be in the works. The insider AccountNGT recently confirmed this again via Twitter.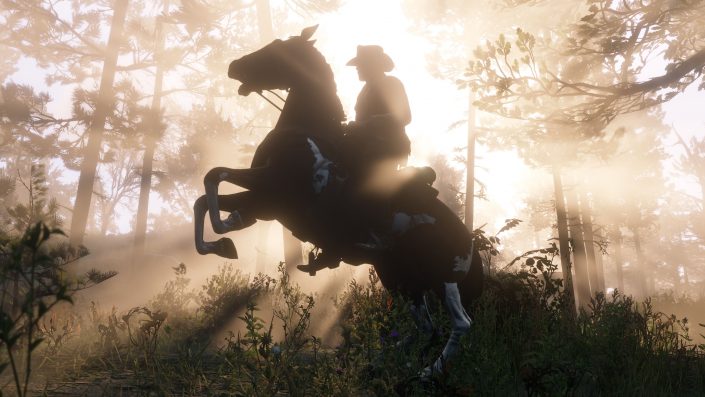 Rockstar released Red Dead Redemption 2 in October 2018. Almost two years later, the current consoles from Sony and Microsoft came onto the market. Since then, fans of the "Red Dead Redemption" sequel have been waiting for a new version of the cowboy spectacle for PlayStation 5 and Xbox Series X|S.
According to an insider, however, a version for the current-gen consoles shouldn't be long in coming. AccountNGT had already reported in January that such a version was already in development.
Fans are waiting for current-gen version of "Red Dead Redemption 2"
Insider accountNGT was recently asked about a potential PS5/Xbox Series update of "Red Dead Redemption 2" via Twitter. "It's coming," wrote AccountNGT. But he could not say more about it at the moment and also give no information about a possible release window. The corresponding tweets have since been deleted.





AccountNGT is no stranger to the industry. The user already had information about other large projects, such as Hogwarts legacy and Star Wars Eclipse, released. Besides, he had Acquisition of former Halo and Destiny developer Bungie correctly predicted by Sony earlier this year.

More Red Dead Redemption 2 news:

AccountNGT had also commented on the "Red Dead Redemption" series. In January, the insider wanted to know that the announcement of Red Dead Redemption 2 for PlayStation 5 and Xbox Series X|S to take place later this year. AccountNGT wanted this information from many different sources. The insider also wanted to know that a remake or remaster of "Red Dead Redemption" is also in development.

Source: ScreenRant
More news about Red Dead Redemption 2.
Discuss this news on the PlayStation Forum
Links to Amazon, Media Markt, Saturn and some other retailers are usually affiliate links. If you make a purchase, we receive a small commission that we can use to finance the free-to-use site. You have no disadvantages.