Genre
Action
Publisher
Sharkmob AB
Publisher in Russia
Not
Developer
Sharkmob AB
Minimum Requirements
Intel Core i5-7400 3.0 GHz / AMD Ryzen 1300X 3.5 GHz, 8 GB RAM, DirectX 12 graphics card, 4 GB memory, such as GeForce NVIDIA GTX 970 / AMD Radeon RX 580, 20 GB storage, Internet -connection, operating system Windows 10 / 11
Recommended Requirements
Processor Intel Core i7-8700K 3.7 GHz / AMD Ryzen 5 3600X 3.8 GHz, 16 GB RAM, DirectX 12 graphics card and 8 GB memory, such as NVIDIA GeForce GTX 1080 / Radeon RX Vega 64, 20 GB on SSD
release date
April 27, 2022
age limit
From 18 years old
Localization
Voice and text
Platforms
PC, PS5
Official site
played on PS5
The battle royale genre seems to have finally taken shape: several undisputed leaders dominate the market, and rare newcomers are hardly able to change the existing distribution of forces – some disappear from sight as quickly as they appear, while others remain exclusively chamber fun of a narrow circle of connoisseurs . Vampire: The Masquerade – Bloodhunt looks like an application to the big leagues, capable of taking part of the genre audience for itself, but at the same time, it feels like a fairly niche project. However, you think about it after the fiftieth match, and before that, Bloody Hunt easily drags harsh vampire showdowns into the Prague symphony to the silent accompaniment of an irresistibly closing curtain of red gas…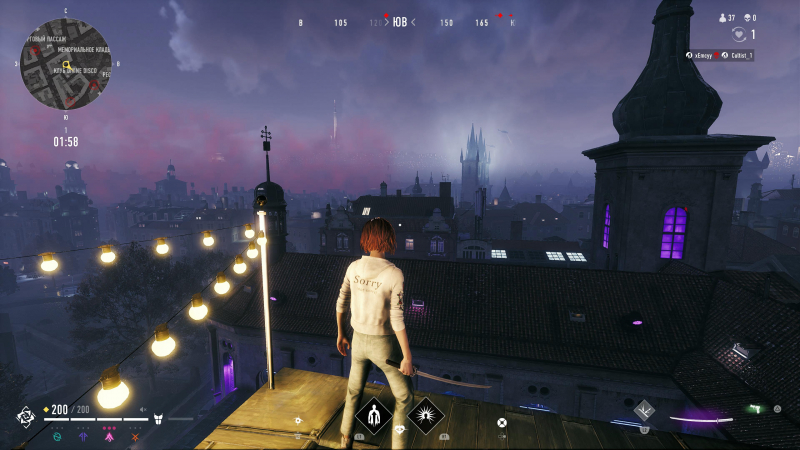 ⇡#Big Trouble in Little Prague
The "Department", a human organization aimed at the systematic extermination of vampires, decided to apply the latest development – red gas. A deadly substance has surrounded the capital of the Czech Republic and confidently absorbs street after street, destroying all the inanimate (mortals are not afraid of gas) that fall under its influence. And at the same time, a fundamental conflict arose within the fanged community, which grew into a fierce confrontation with the use of firearms, hand-to-hand weapons and powerful vampire abilities.
Active and passive skills vary from clan to clan, as well as from class within a stratum. Let's say all the Brujahs have the ability to soar rapidly into the air. Bruhi Vandals, for example, take less damage in close range combat, and can also jump forward, damaging and knocking opponents up. Their sisters and brothers from the class of thugs are able to restore health outside of combat, plus launch a powerful wave strike that can reflect bullets. Nosferatu, on the other hand, are prone to attacks from the shadows, aided by the ability to briefly disappear; Bullfighters can create a projection and, if necessary, instantly move to it; and peacekeepers (so far the only representatives of the Ventrue clan) are able to acquire "marble flesh", which grants short-term invulnerability.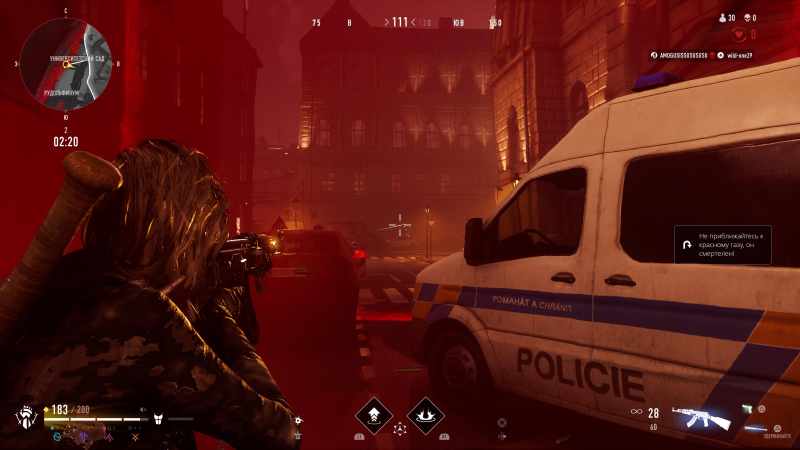 There are also shared passive skills for all classes. For example, increasing the starting ammunition of the "bandolier"; replacing the original low-power pistol with a much more effective "warrior" melee weapon; or "juggernaut", with which any fall from a height will cause damage to everyone who is in the affected area. In addition, passive skills "sanguine" and "choleric" are provided, which give valuable bloody resonances.
But you can get them without spending the only place for a passive skill. You can just have a bite to eat with mere mortals, who for some reason found themselves on the street on this ominous night. Having drunk from a sanguine person, we will get the ability to gradually restore shaken health; having treated ourselves to a phlegmatic or melancholic, we will accelerate the recovery of active skills; and by biting your fangs into the neck of a choleric, you can count on an increase in damage from melee weapons. By default, the player has only three slots available for such upgrades, but their number can be increased by finishing off a vampire opponent, performing diableri (that is, by biting off a vampire), or by tasting an Office fighter. They can be found at roadblocks, generously scattered throughout the Old City.
Also at these points you can profit from valuable weapons. Trunks of a special (purple or even orange) rarity are hidden in special containers, such as assault or sniper rifles, submachine guns, revolvers. And sometimes a real minigun is hidden there, which, for all its showiness, seemed rather cumbersome, slow and ineffective.
In addition to the not-so-dangerous (and sometimes downright stupid) AI guards at the "Departments" point, other players are waiting in the places of profit, waiting for the opportunity to insidiously attack from an ambush. However, we enjoy Nobody interferes with this tactic either. Indeed, in Bloodhunt, in principle, it is not the most accurate and dexterous who win, but the most patient and cunning. Also, the understanding of when it is better to fly into battle, and when to retreat hastily and prudently will definitely affect the satisfactory outcome of the game. And, of course, the ability to navigate the terrain, coupled with a thorough knowledge of each street, will also help you to occupy high positions in the match.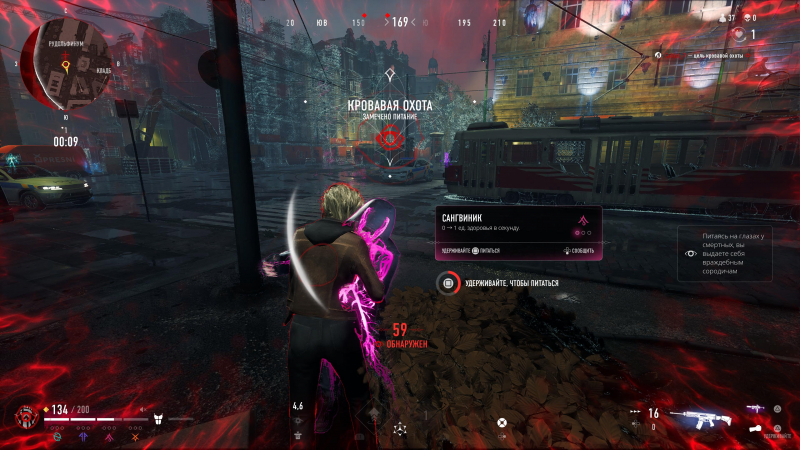 ⇡#Royal chamber battle
And Bloodhunt often throws up a variety of special conditions for the party, and so not deprived of dynamics. For example, during the action of the "generous loot" equipment of increased rarity will come across everywhere, and therefore, the battles will fill up with additional courage. And, say, during "windy weather" red gas will spread many times faster, which, of course, will affect the speed of the battle and the frequency of collisions with opponents.
However, the map itself is actually quite small. At first, this is perceived extremely positively, because such a size of the location contributes to an increased intensity of gaming sessions, and the games do not drag out. But after some time, the interiors and exterior of Prague become noticeably boring, visually you want something else. From the visible routine, different modes are partly saved, slightly changing the rules of the game – "duet" and "troika". Here, victory is achieved only by the coordinated work of the team, and vampires, for example, do not have a spare life, as in solo mode.
However, no matter what mode you try your hand at, each game really excites the blood, and almost any local skirmish turns out to be a crazy dance of death. Perfectly executed verticality adds a separate dynamic, giving huge scope for momentary tactical maneuvers and spectacular attacking pirouettes. And although this is still not enough to push the mastodons of the genre, Vampire: The Masquerade – Bloodhunt is definitely seen as fresh blood in the realm of royal battles.
Advantages:
dynamic and fierce gameplay with a lot of interesting finds;
perfectly embodied surroundings of Vampire: The Masquerade;
a variety of game classes for every taste.
Disadvantages:
sometimes the AI ​​of non-player characters gives out strange incidents, which somewhat spoils the gloomy atmosphere;
it is clearly felt that the game needs other maps and, possibly, additional modes.
Graphic arts

Bloodhunt has excellent and convincing stylization: the meticulously implemented streets of Prague are amazingly atmospheric, as are the interiors of local establishments. And elements of the Vampire: The Masquerade universe, cleverly integrated into everyday landscapes, completely immerse you in the world of fierce vampire fights.

Sound

The musical design of the game is somewhat grayish and hardly at least one composition will remain in memory.

But the sound design was really successful, and it has a direct impact on the gameplay – listening to footsteps nearby or shots in the distance is sometimes more useful than finding an orange rarity barrel.

The combat sound is performed at an exceptionally high level: that shots from different types of weapons, that the collision of melee weapons with vampire flesh, that the effects that accompany the use of various abilities.

Single player game

Not provided. In splendid isolation, you can go through only a short training.

Collective game

An excellent royal battle in an unusual setting, with interesting class features, superbly implemented verticality and fast-paced, adrenaline-filled battles.

All this can be experienced in several exciting online modes: "solo" (and its ranked version), "duo" and "triples". Sessions in each are fast, and the network code is excellently optimized.

Estimated travel time

The games are lightning fast – even the most protracted and intense battle will hardly last more than ten minutes. Breaking away from the game is very, very difficult. And despite the fact that Prague gets a bit boring in three or four dozen hours, Bloodlines still beckons irresistibly, forcing you to play "one more last party". Vampire magnetism, not otherwise.

General impression

Vampire: The Masquerade – Bloodhunt offers a fresh, dynamic and brutal take on the genre. It may not become a pillar of the genre, but it will definitely fill its own niche.
Rating: 8.0/10
Learn more about the grading system
Video:
If you notice an error, select it with the mouse and press CTRL+ENTER.