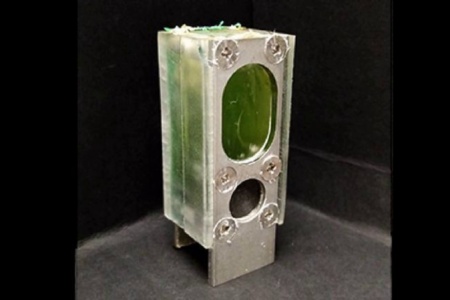 Eco-friendly and reliable source of electricity for small devices or the Internet of Things developed researchers from the University of Cambridge. Their system is about the size of an AA battery and contains the non-toxic blue-green algae Synechocystis. They capture the energy of the sun through photosynthesis and use water to generate a weak electric current, which then interacts with an aluminum electrode. The resulting energy was used to power the microprocessor. The system also contains simple and cheap recyclable materials. Its creation is the result of a collaboration between the University of Cambridge and the microprocessor company Arm. Arm Research develops ultra-efficient test chip Cortex M0+a special board and set up a cloud interface for collecting experiment data.
"The Internet of Things requires more and more energy, and we think that it should come from systems that can generate energy, and not just store it like batteries," said Professor Christopher Howe from the Department of Biochemistry at the University of Cambridge and senior author of the paper. published in a magazine Energy & Environmental Science.
Despite the fact that photosynthesis requires light, the device can continue to generate energy even in the dark.
"We were impressed with how consistently the system worked over a long period of time – we thought it might stop after a few weeks, but it just kept working," said Dr Paolo Bombelli, from the University of Cambridge's Department of Biochemistry.
The Internet of Things is a vast and growing network of electronic devices, each consuming a small amount of power, collecting and exchanging real-time data over the Internet. Using low-cost computer chips and wireless networks, many billions of devices are part of this network, from smartwatches to temperature sensors. By 2035, this figure could grow to 1 trillion devices, requiring huge amounts of portable power sources.
Powering trillions of devices with lithium-ion batteries would be impractical: this would require 3 times more lithium than is produced annually in the world. And traditional photovoltaic devices are manufactured using hazardous materials that have an adverse impact on the environment.
ARM announces PlasticArm, a flexible 32-bit microprocessor for the electronics of the future
---