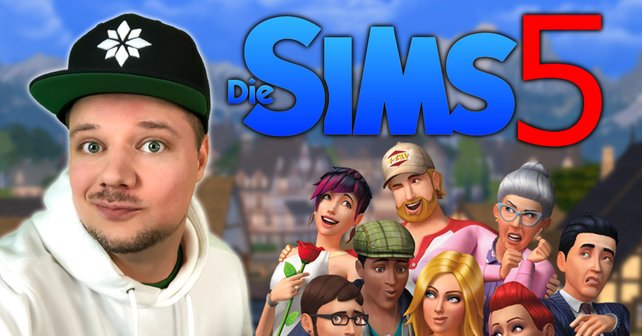 EA continues to work diligently on The Sims 4, but a potential successor is said to be on the way. Until the big day of The Sims 5 announcement arrives, let's take a look at what the next installment in the popular franchise needs to make it even better. To answer this, we got Sims expert Daniel SimFans.de on board.
Daniel SimFans.de

• YouTuber, streamer, community leader
• Likes to build Industrial or Winter Lodges
• What excites him most about The Sims: The concentrated creativity of the fans
• SimFans.de on YouTube
How can The Sims 5 top everything that came before it?
Build, live, play and everything around it – It's hard to believe: The Sims 4 has been delighting its players since 2014 and is still being supplied with new content today (source: SteamCharts). "My Wedding Stories" is the fiftieth expansion, including all DLCs and sets (source: EA). With such a success story, is The Sims 5 still necessary?
Of course, says Daniel SimFans.de, but precisely because The Sims 4 is doing so well, EA doesn't need to think about rushing. The community is still satisfied with the current game, even if of course you want to know when The Sims 5 will appear. "I think it's heading towards 2022, more like 2023. But I think it's just around the corner' says Daniel. But what new features will The Sims 5 offer compared to its predecessor? So far not much is known.
Published job advertisements indicate a subscription service, statements from a VentureBeat interview with Laura Miele, Chief Studios Officer at EA, indicate new multiplayer features (source: Vimeo). Will and should there be co-op in The Sims 5? Daniel is skeptical. According to him, EA has learned from its failed multiplayer attempts in the Sims universe and would only approach this area cautiously.
If a multiplayer comes, it must be installed as a separate and optional online area. But even if there might be something to putting together and playing together, he thinks so not for the ultimate feature from The Sims 5 that could keep you entertained for a long time. "The Sims has always been about your own world. It's my world to escape to and shape the way I want."
The latest gameplay expansion, My Wedding Stories, was released on February 23rd, and it's all about the happiest day of your Sims life:
The Sims 5: More options, more control, more creativity
In order to reach the next level of life simulation with The Sims 5, the wheel does not have to be completely reinvented, according to the expert. The Sims 4 provides a good base that developer Maxis would only have to build on a new engine and then improve. And that would above all the general gameplay affect. Far too often, players still could not build and play the way they want. Daniel lists his desired features for us, although funnily enough some of them don't have to be newly developed, but only have to be brought back from older "The Sims" parts:
"You would have the entire creative tools expand, especially when creating Sims. More touch points, more colors, especially the color wheel. That you can set patterns and drag them onto other objects like in The Sims 3. This way you can individualize much more deeply. There's nothing more annoying than trying to create yourself or another person and the result looks weird."

"Of the world editor from The Sims 3 Must Come Back. It was an incredibly creative tool to design all the trappings. We can design everything, the Sims, the houses, the stories, but not the world. At the same time, an open world would also be desirable, so that you can't just walk around in your neighborhood."

Easy-to-use and practical construction tools: "Spiral Stairs in The Sims 4 is a good example of a feature the community wanted and EA didn't listen to. Instead of simply building in spiral staircases, you can use corner staircases and rotate and make staircases taller. Right approach, wrong product. In The Sims 5, I want all the tools to do exactly what I want."

The Sims 5: Give Us More Life Moments, Not Star Wars!
Once the main game is up and providing a good base, the developer can build on it with extensions. For Daniel it is important to pay more attention when selecting the content "to extend the core of the simulation", "to take the everyday", similar to how the My Wedding Stories expansion does – and not completely miss it with something spaced out like the Star Wars DLC. He would already know exactly what DLC he would want for The Sims 5 first if it wasn't already part of the main game.
"I wish, that the babies, that this age group is extremely expanded. At the moment, babies are nothing more than objects that can only be fed and not even carried (…) This is an important and much neglected age group' explains Daniel. "Burglars, horses, an expansion similar to Joie de vivre that has seniors with walking sticks and teenagers playing pranks (…) It's about content that deepens the simulation and makes it more believable so you can empathize even more."

The Sims 5: The Next-Gen Simulation Dream
And beyond? Daniel is excited to see how The Sims 5 could benefit from better technology. For him could a new gameplay AI represent the game-changing feature of The Sims 5.
"It would be interesting if processes were no longer predefined, but controlled by a system that looks at your playing style and learns along with it. The Sims 5 could respond to your playstyle through an AI, a feature that makes the game more alive. Who registers what is happening and has an effect on it."
A marriage proposal goes awry, someone loses their job, something special happens and breaks through the ideal world – Daniel thinks that The Sims 4 makes it way too easy for the players in contrast to the previous parts and that The Sims 5 with a new AI many more surprises and individual events could offer that make the game more exciting and the life simulation more realistic.
Speaking of more realistic – if the AI ​​were already there, you could also think of the Animations of the Sims work. At the latest in The Sims 5, there should be no more Sims beaming into their cars or conjuring up objects out of nowhere just to save on animations. Sure, you got used to it, but something like that pulls you out of the simulation, says the Sims expert.
So far nothing is known about The Sims 5 apart from small hints. However, Daniel SimFans.de already has a precise idea of ​​what The Sims 5 should look like in order to inspire many players. We would like to take this opportunity to thank you for the charming interview and wish you and your community a lot of fun building, Daniel. And that your Sims don't set the house on fire while cooking.
You don't want to miss any more news, guides and tests for new games? Always want to know what's happening in the gaming community? Then follow us on Facebook, Youtube, Instagram, Flipboard or Google News.