"Elden Ring" was able to pass a new sales milestone in Germany. There was a special prize for this in the course of the latest Game Sales Awards. Two other games were awarded.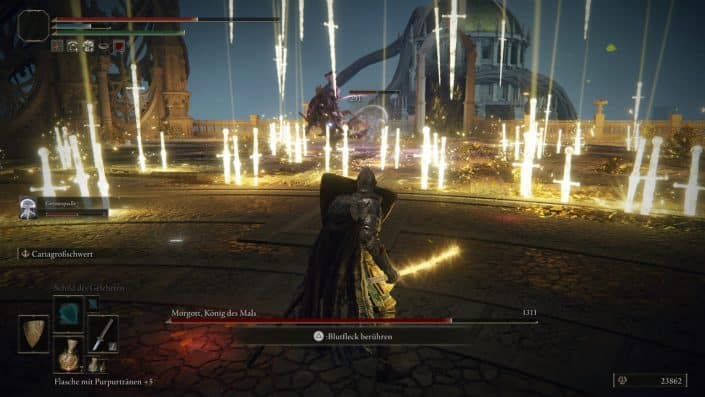 "Elden Ring" is one of the most promising candidates for this year's Games of the Year awards. The title released in February for consoles and PC was not only able to convince the trade press. The meta score of PS5 version is 96. Most players are also enthusiastic, which regularly put "Elden Ring" at the top of the charts after the launch.

Another milestone has now been passed in Germany. As part of the announcement of the Game Sales Awards for April 2022, the eponymous industry association pointed out that "Elden Ring" was sold more than 500,000 times in Germany. How many more there were by the end of last month is not known. But for this success there was the special prize of the Game Sales Awards.





The worldwide Sales figures have been known since May. According to this, by March 31, 2022, the end of the past fiscal quarter, a total of 13.4 million copies of "Elden Ring" were shipped to retailers and sold digitally to players. In the meantime, a million or so should have been added.

Possible extensions and editions could also boost the sales figures again. Only recently did the parent company indicate that it would something is in the pipeline.
Game Sales Awards for more games
Elden Ring wasn't the only game in April to break a new milestone. "LEGO Star Wars: The Skywalker Saga" and "Kirby and the Forgotten Land" also received corresponding awards.
While the successful "LEGO" adventure has sold more than 200,000 in Germany and was therefore able to receive the platinum award, "Kirby's" new appearance has sold more than 100,000. For this, there was the Game Sales Award in gold. The following also applies to these games: It is not known how far the milestones mentioned have been overcome.
---
Messages for other charts:
---
The Game Sales Awards are presented monthly and are based on sales figures from the market research company GfK Entertainment. In order to be considered for the awards, the average sales prices must not deviate by more than 20 percent from the publisher's recommended retail price.
More details on the latest Game Sales Awards includes the official announcement of the industry association.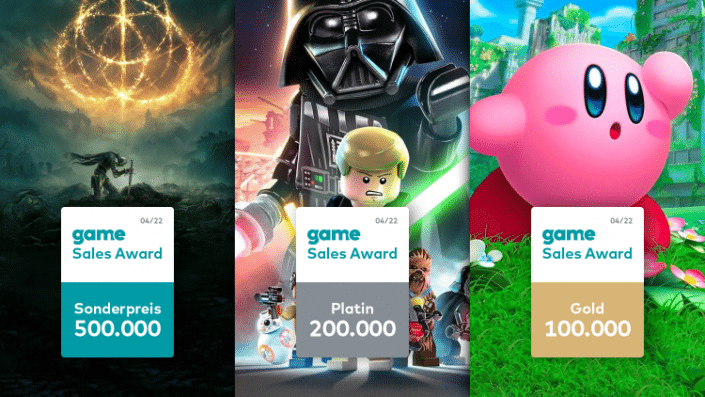 More Elden Ring news.
Discuss this news on the PlayStation Forum
Links to Amazon, Media Markt, Saturn and some other retailers are usually affiliate links. If you make a purchase, we receive a small commission that we can use to finance the free-to-use site. You have no disadvantages.