The "budget" cooler from Noctua – NH-U12S redux went on sale almost a year ago. But for some reason he couldn't get to us earlier. And the horrifying events taking place in our country have further delayed the publication of this review. However, this model is interesting if only because it is the first case in the company's history when it tries to reduce the price of its cooler for consumers. In general, its marketing policy has always been focused on quality without compromise, even without taking into account the final cost of the product. Some might say that there have been precedents before with the advent of the redux fan series. But this is not entirely true, since these fans were essentially just repainted models of past generations. No, really, why refuse to sell a quality and time-tested product just because you managed to do even better?
What caused the cost reduction of Noctua NH-U12S redux? Compared to the original model, there is one less heat pipe. The fan uses the design and bearing of SSO from the first generations of the company's products. But it is painted in a neutral gray color, which will appeal to the "non-fans" of the brand. The kit contains only the minimum required set of fasteners for all current processor sockets. But there is no second set of fan brackets, a screwdriver, a tube of thermal paste, adapters, and a branded metal logo. So, let's examine in detail the design of this cooling system and test its effectiveness in practice.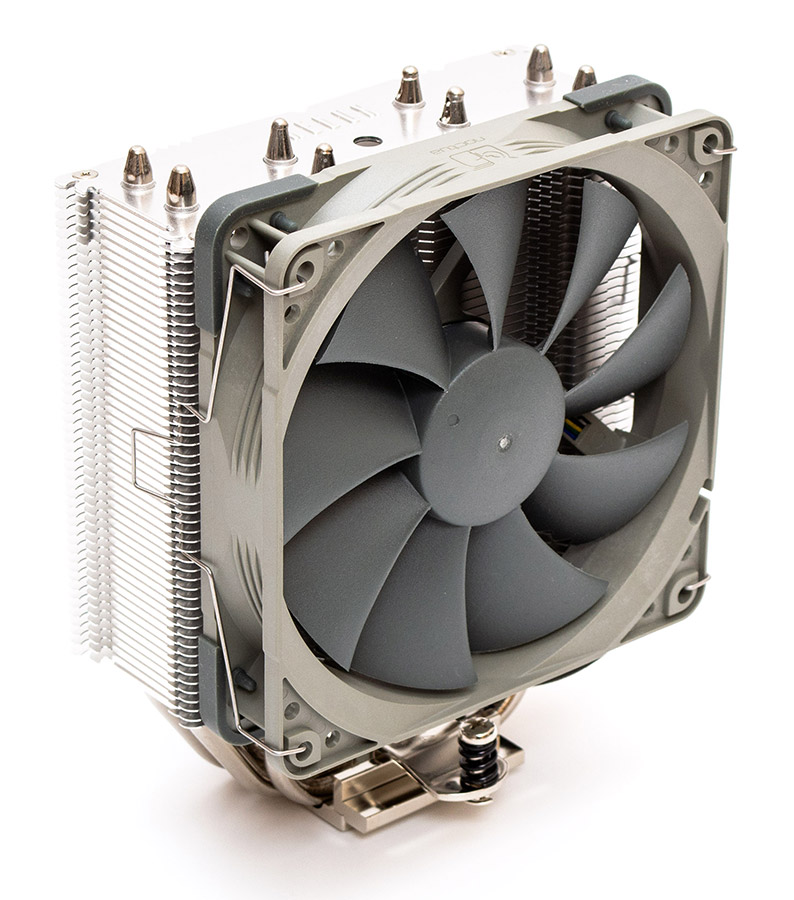 Technical specifications
Model Noctua NH-U12S redux Product page
noctua.at
Compatible with processor sockets Intel LGA 2066/2011-V3/2011/1700/1200/115X, AMD AM4 Heatsink dimensions (LxWxH), mm 158x45x125 Fan dimensions (LxWxH), mm 120x120x25 copper heat pipes, 6 mm in diameter, arranged in a U-shape. Plates, heatpipes and a solid copper sole are completely nickel-plated. Radiator weight, g 550 Number of radiator plates, pcs. 50 Plate thickness, mm 0.4 Interfin spacing, mm 1.8 Estimated radiator area, cm² ~ 5625 Fan model Noctua NF-P12 redux-1700 PWM Fan speed, rpm 450~1700 with PWM Airflow, m³/ h 120.2 Fan noise level, dB (A) 25.1 Static pressure, mm of water 2.83 Number and type of fan bearing SSO (hydrodynamic bearing with magnetic stabilization) Fan MTBF, h 150,000 Rated fan voltage, V 12 Fan current, A 0.09 Fan peak power consumption, W 1.08 Additional features 6-year warranty Average cost n/a
Contents of delivery
The cooler is sold in a beautiful glossy gray package, which contains all the necessary user technical parameters and dimensions, as well as information about the configuration. To protect against damage, only a massive cardboard insert on top and a box with spare parts on the bottom are provided inside, which at the same time plays the role of a buffer for the radiator.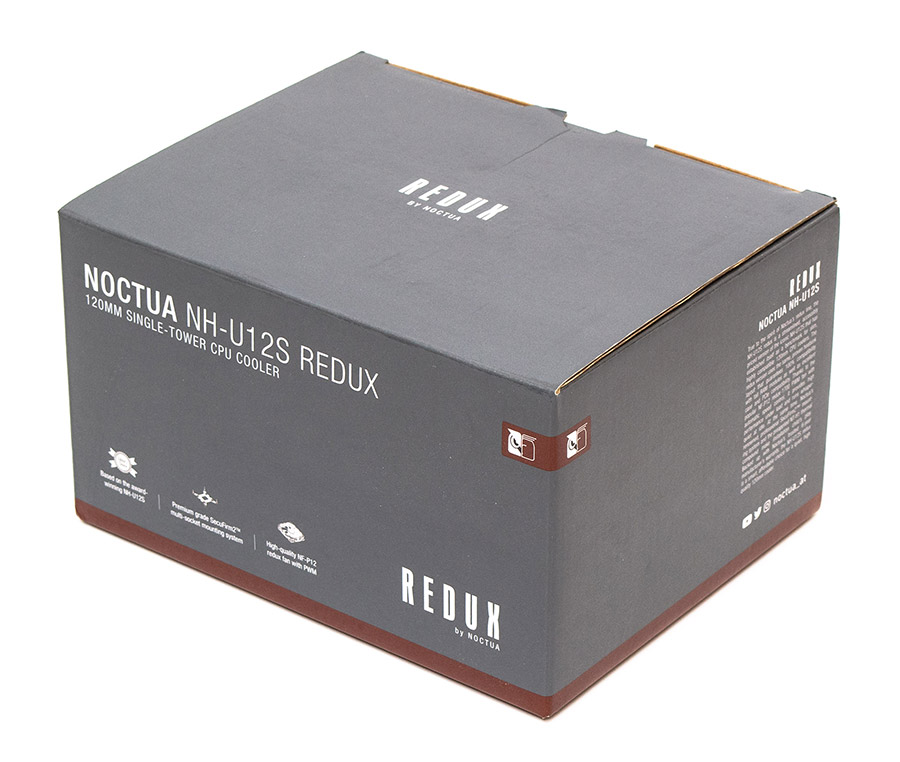 In addition to the radiator, the following items are included in the kit:
cooler installation instructions; 120mm Noctua NF-P12 redux-1700 PWM fan; two brackets for mounting the propeller; two mounting feet for AMD AM4 connectors; two mounting feet for Intel LGA 2066/2011-V3/2011/1700/1200/115x connectors; four black plastic racks for Intel LGA 1200/115x connectors; four metal screw stands for Intel LGA 2066/2011-V3/2011 connectors; four screw studs for mounting on Intel LGA 1700/1200/115x connectors; four blue plastic stands for the Intel LGA 1700 connector; six plastic clips for hairpins (of which two are for future use); four knurled nuts for tightening by hand or a Phillips screwdriver; metal reinforcing plate for Intel LGA 1700/1200/115x connectors; four gray plastic stands for the AMD AM4 connector.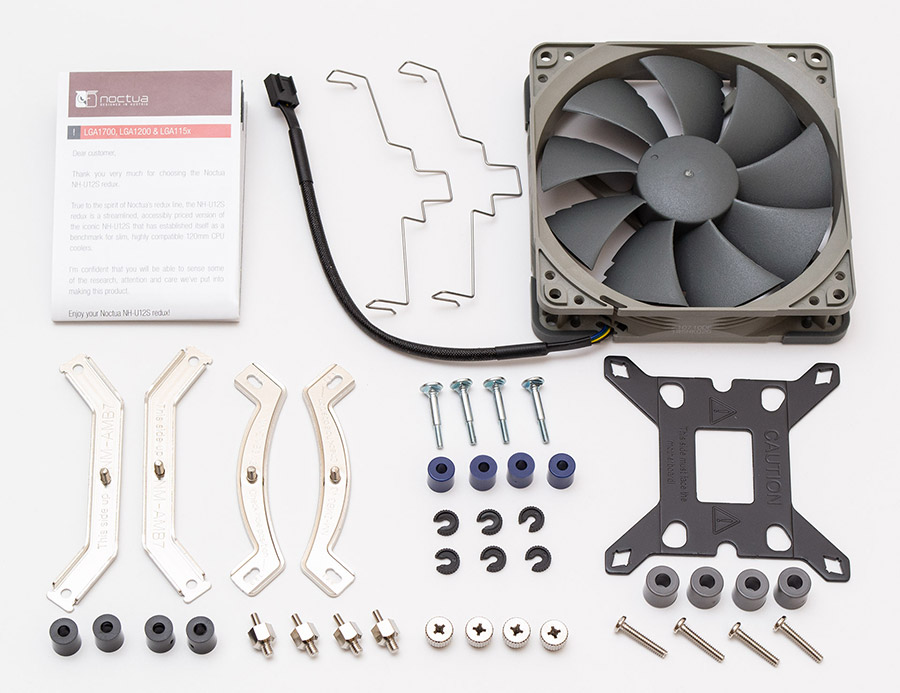 Appearance and design
The Noctua NH-U12S redux is a classic compact tower with one heatsink and one fan in the front. Its height is 158 mm, the width, taking into account the fan clamps, is 125 mm.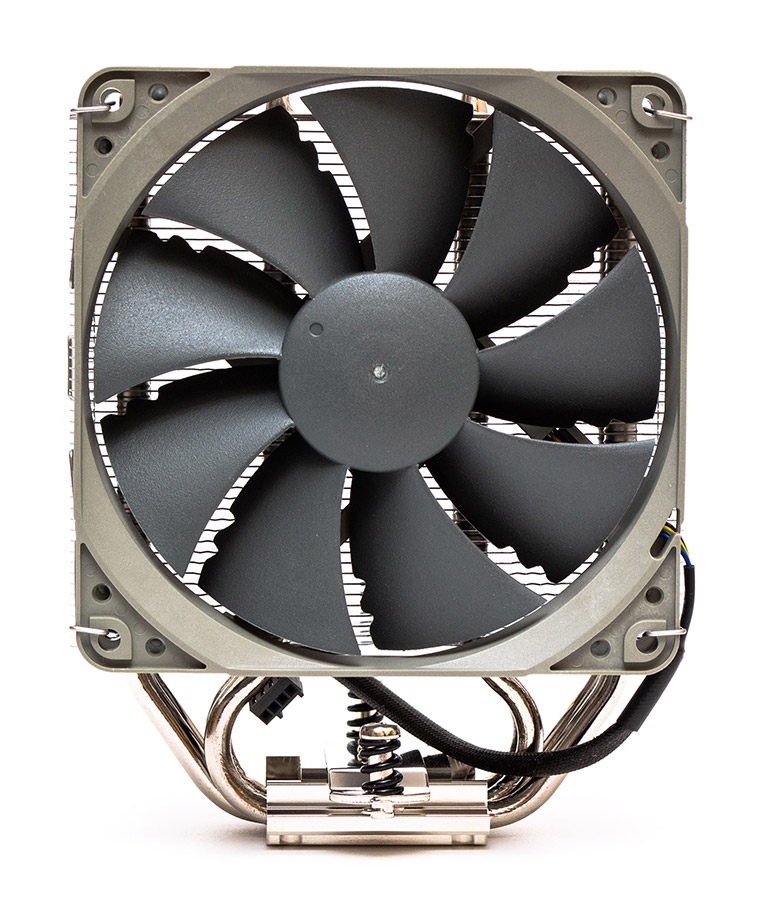 Fan retention brackets allow you to raise or lower the fan over a wide range of heights, but this is unlikely to be necessary, since conflict with RAM dies is not expected. The depth of the radiator together with one propeller does not exceed 71 mm.
It is in this perspective, a top view (and a little from the front), that a potential user will observe his cooler in the case, provided that there is a transparent side panel: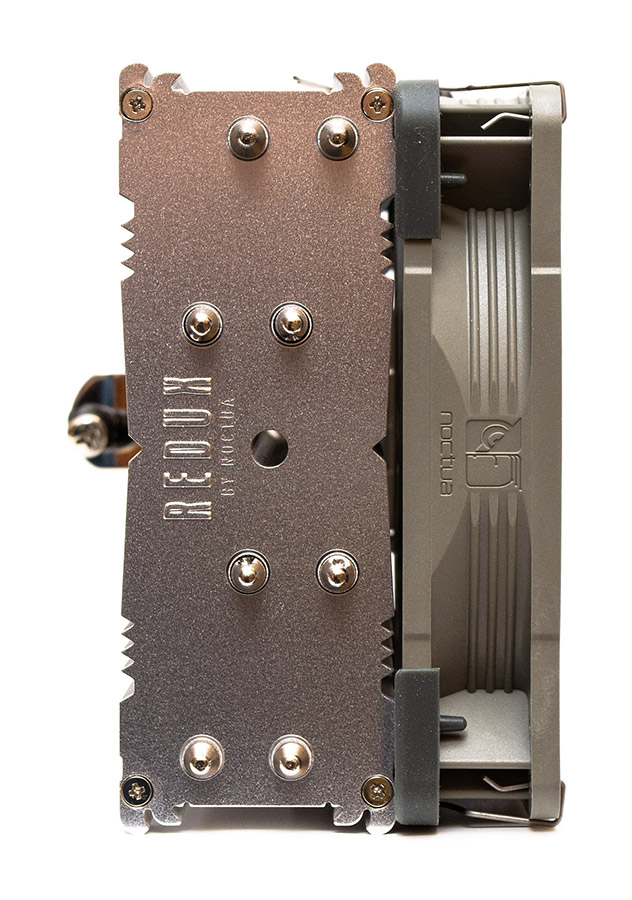 In order to embellish the utilitarian look of the cooling system, Noctua resorted to tricks and made a metal plate on the top plate of the radiator, about 1 mm thick and secured with four screws located at the corners. But it didn't radically change anything in the appearance of the cooler, it was quite possible to do without it.
The bundled 120mm fan is called the Noctua NF-P12 redux-1700 PWM. That is, the time-tested and well-known model Noctua NF-P12 in a gray color scheme. The propeller consists of nine slightly rounded blades, with an average angle of attack. The speed is regulated by PWM in the range from 450 to 1700 rpm. Up to approximately 900 rpm, the fan runs almost silently. Becomes noticeably audible starting from 1200 rpm. The first generation SSO bearing is a hydrodynamic bearing with magnetic stabilization. It does not create unnecessary overtones and vibrations. There are rubber vibration dampers at the corners of the frame on one side only, because the economy must be economical. Power cable for four pins, 200 mm long and wrapped in a rubber braid.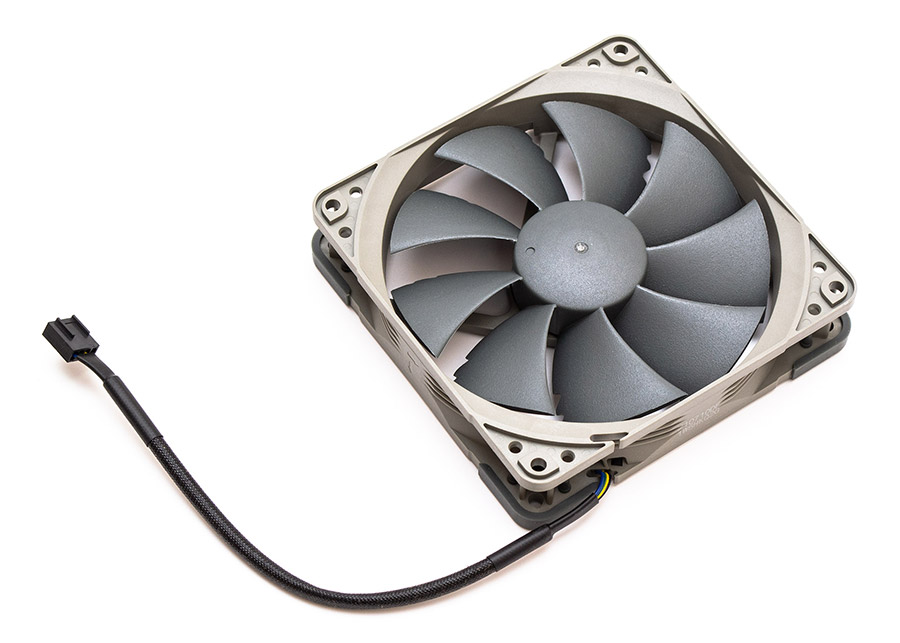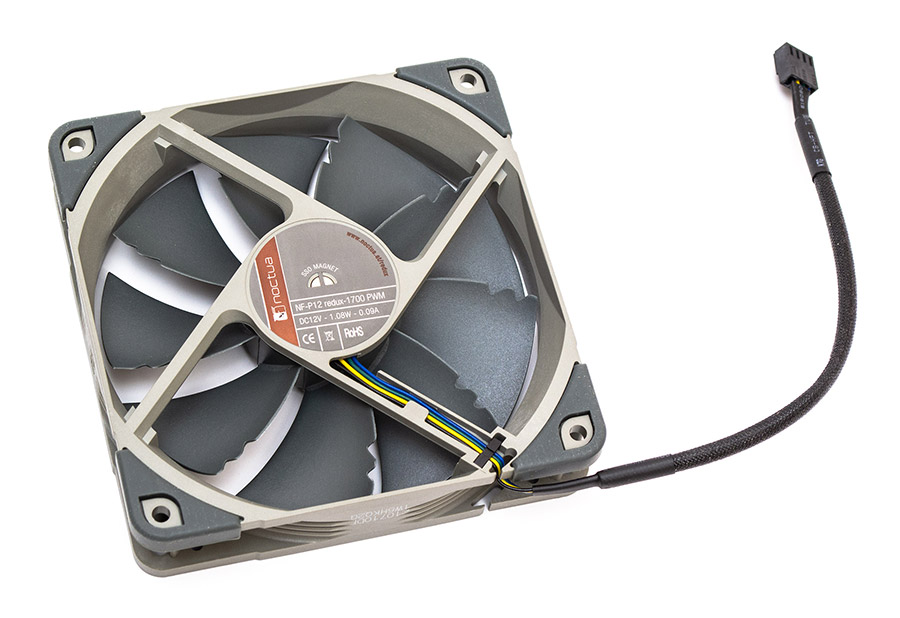 This is what the radiator body looks like without a fan: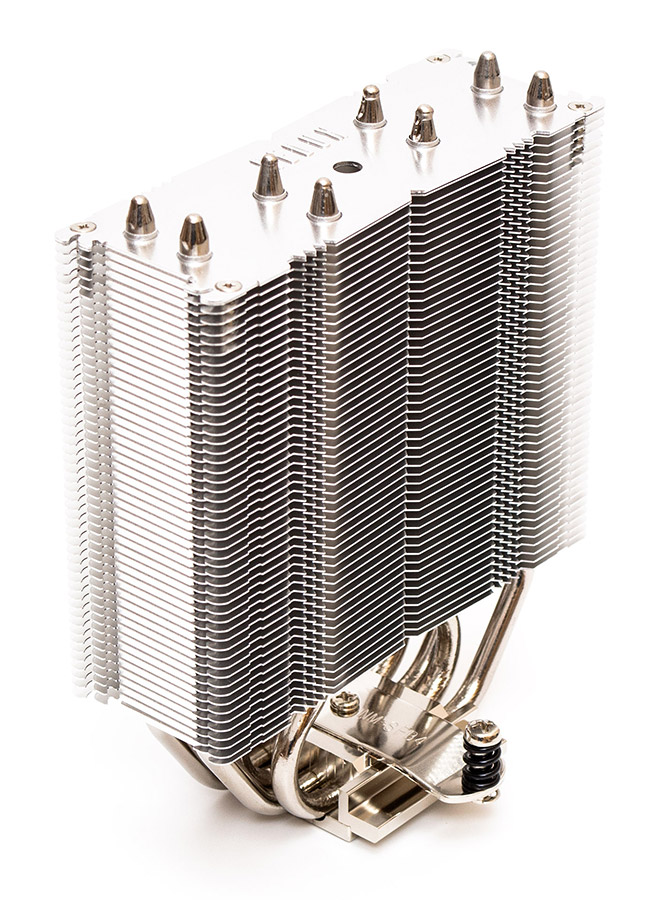 This is a simple design for one section. All heat pipes, fins and soleplate are nickel plated to prevent corrosion. The total heat dissipation area is 5625 cm².
The heatsink consists of 50 fins spaced 1.8mm apart and four heatpipes 6mm in diameter evenly distributed in a U shape into four rows, two on each side.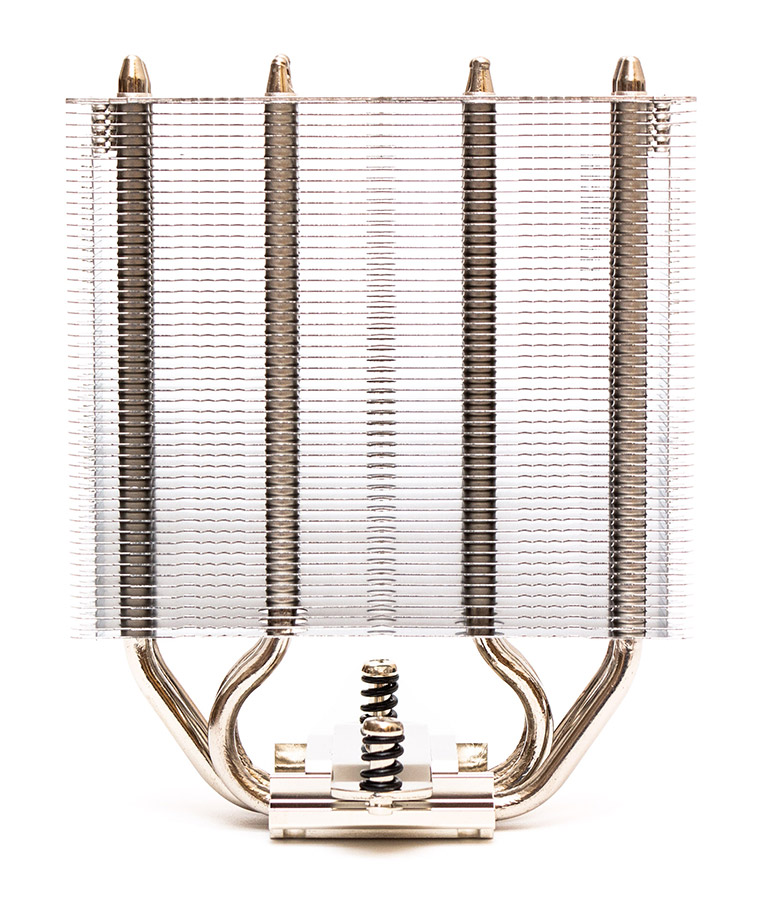 The thickness of the radiator in the profile is 45 mm. The sides of the radiator plates are bent at 90 degrees in the middle, which strengthens the structure as a whole and prevents the plates from sticking to each other. Front and rear, two rows of vertical recesses for attaching fan clamps. It should be noted that the radiator is shifted back by 3 mm relative to the central axis of symmetry of the sole, that is, in fact, it has a front and a back, which is not immediately noticeable.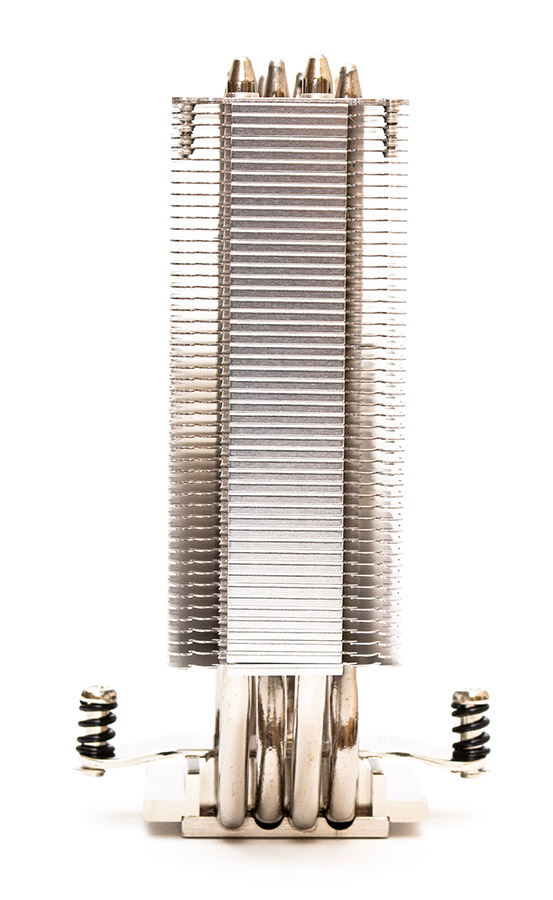 The ends of the heat pipes are not covered by anything, but they look quite decent. The tubes themselves are located in a transverse projection very correctly. The inscription REDUX indicates the back side of the radiator.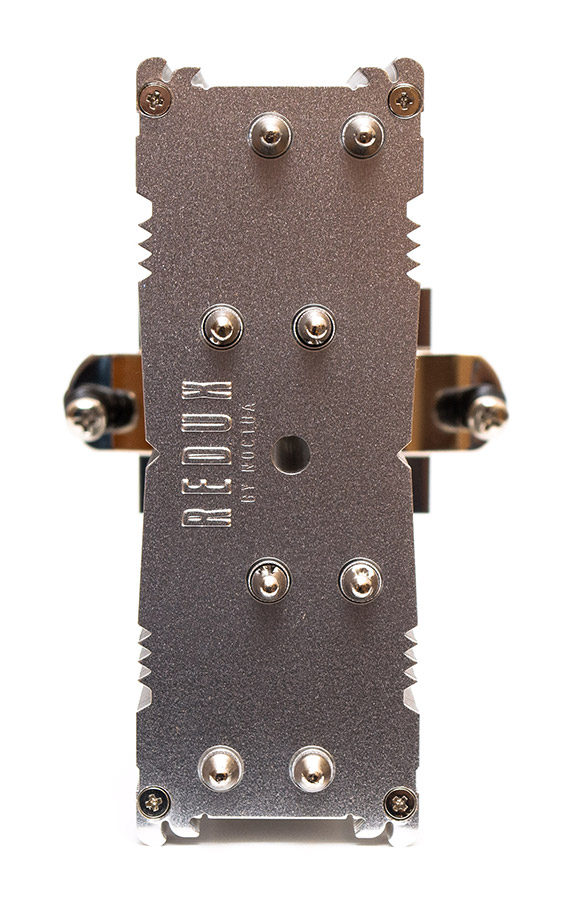 The transverse plate that presses the cooler to the processor is fixed with one screw in the center. On both sides of the plate, one nut (with a socket for a Phillips screwdriver) on springs.
The sole of the cooler consists of two separate metal bars, between which heat pipes are pressed. There are traces of solder at the joints, everything is done very carefully.
Again, in order to save money, the manufacturer did not include a separate syringe with thermal paste in the kit, but applied a thin layer of Noctua NT-H1 thermal interface to the cooler base, which is enough for one cooler installation. It is protected from abrasion by a plastic overlay.
The cooler has a solid nickel-plated copper sole. Its size is 38×40 mm. The surface is not mirror-like, but quite smooth, covered with small radial milling marks.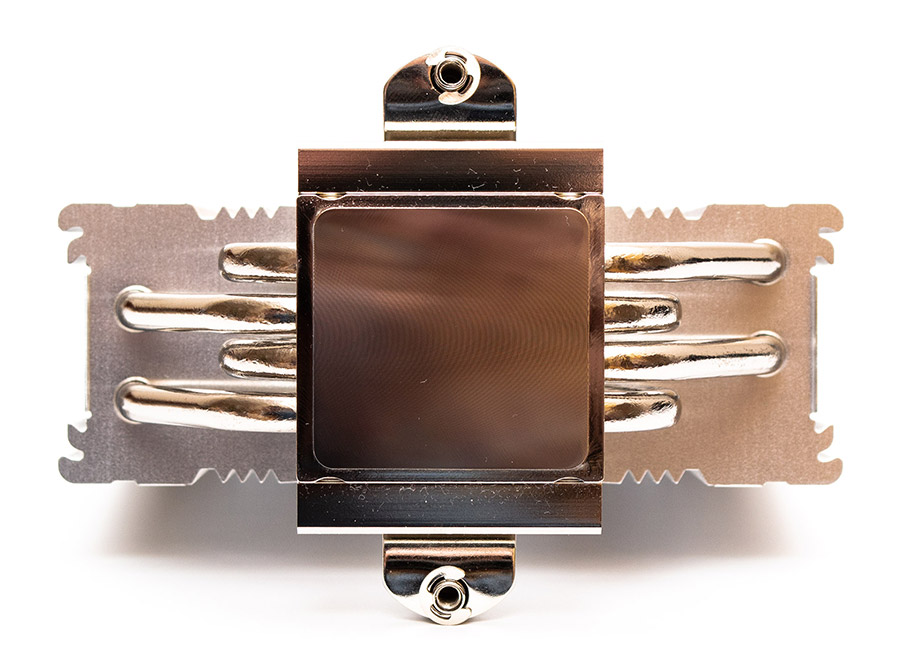 Separately for the cooler, you can buy a mounting kit called Noctua NA-FK1 redux with a second fan. It costs about a third of the cooler's recommended price and is sold in this box: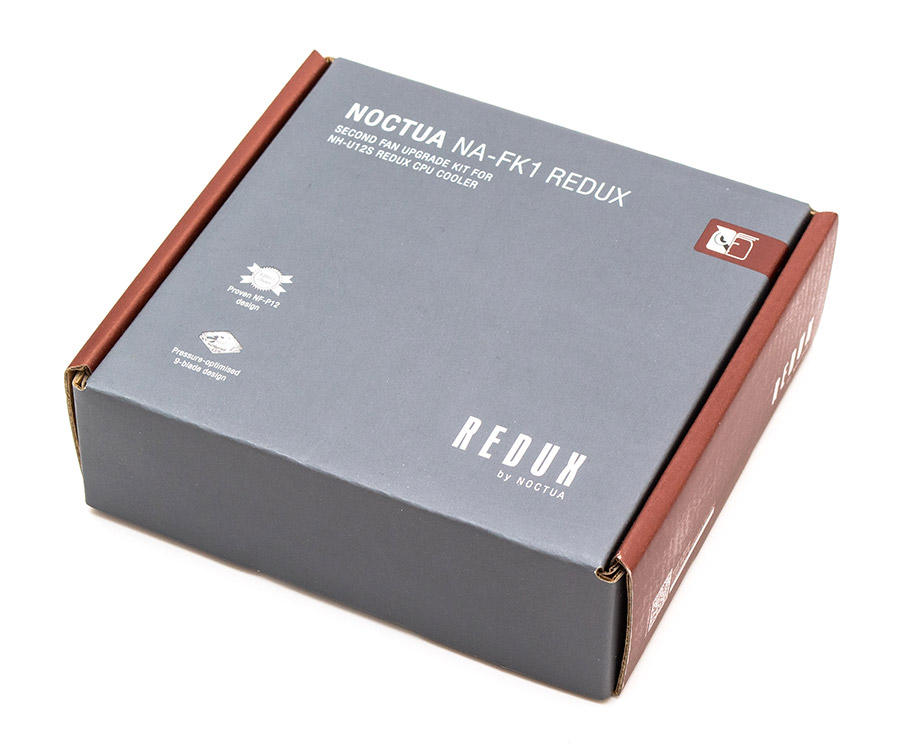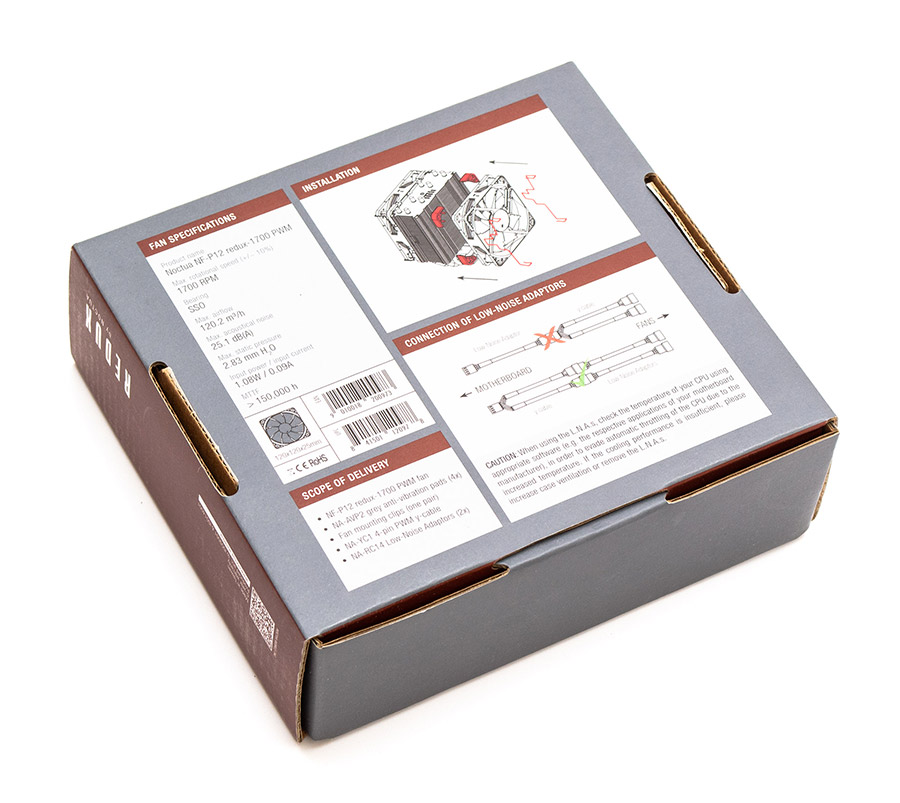 Inside you can find a second Noctua NF-P12 redux-1700 PWM propeller, two brackets for it, a set of four rubber dampers, a Y-shaped power splitter and two NA-RC14 LNA down-speed adapters. It is the presence of these elements that is surprising, because what prevents you from adjusting the speed using PWM?
Let's proceed to the installation and testing of the cooler.