Action meets crazy weapons and a not so holy church – that's how we would describe the "Saints Row" reboot in one sentence. You can read what else we saw in the first preview of the game in our Hands Off preview.
Does the name "Saints Row" ring a bell for you? No wonder, because the franchise has already released a number of games. But don't worry – you don't have to know any of them if you want to play the "Saints Row" reboot in late summer. The developers are literally setting everything to zero and will be presenting you with an open-world third-person action game full of weird ideas from August 23, 2022.
Everything new
Characters, weapons, story, world: everything is new in the "Saints Row" reboot. And yet it certainly feels like coming home for many fans. Because it's all about raising a gang of criminals, outdoing other groups and not being so faithful to the law. To start your career as a criminal, you must first create a character.
Purple skin, tattoos or prosthetics? Pretty much anything seems possible in the game's character editor. Before you even get started, you can spend hours completing your gangster look. But since you can change your style at any time via the in-game smartphone, you don't have to worry about it at all.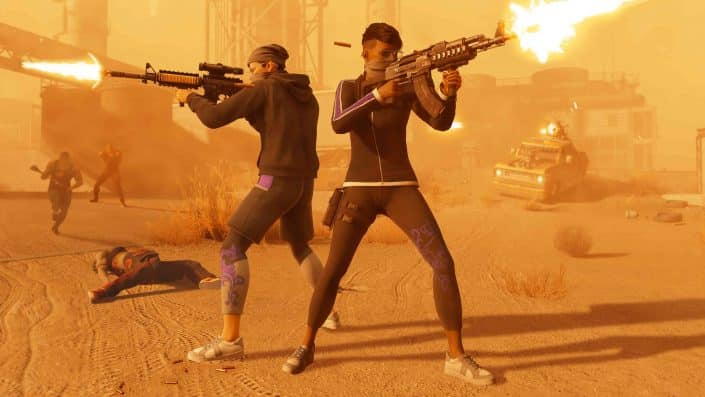 Speaking of styling: What would a "Saints Row" game be without brightly colored weapons? The action game thrives on countless guns with even more options for customizing them. Ever wanted to fight an exploding pinata, own a matte green shotgun, or express your love of rainbows at gunpoint? When it comes to customizing the game, pretty much anything seems possible. By the way, this does not only apply to your weapons:
Cars get a whole new look in Saints Row! In your in-house garage, pretty much every centimeter of the car can be customized. Of course you could also take a car off the shelf. But who wants that when you can instead put 17 hours into the perfect spoiler and hubcap color combination to extend the playtime?
By the way, you don't have to venture into the life of crime alone: ​​Since "Saints Row" can be played entirely in co-op, you simply become a gangster duo!
Let's go on a bombastic adventure
We already indicated it above: In "Saints Row" you look for a few new friends, stick to the law less and found the criminal group "The Saints", with which you want to get to the evil top of the city. Your place of work is called Santo Ileso in this part and is a living piece of earth in the middle of a desert area. The developers have decided to make Santo Ileso Open World, which should provide numerous activities for you. Whether this is really the case, we cannot say at this point. The choice of desert landscape worries us a bit, because such areas often appear bare and boring.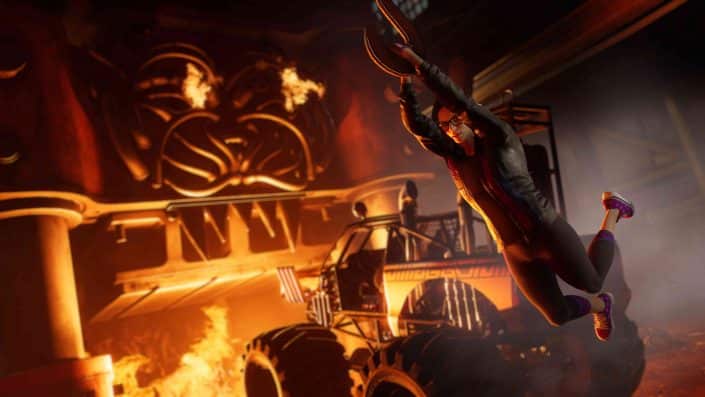 But the fact that you can just join a group playing music in the city and dance exuberantly looked pretty cool. While this has absolutely no weight for the story, it's a nice gimmick that we expect tons more from. The over 100 selectable emotes give hope for much more.
Fun fact on the side: Somehow the animations reminded us of "The Sims 4" while dancing and fooling around. Pay attention to that!
An unholy church
In the middle of Santo Ileso there is a huge church that will be your new home. The Saints' hideout doesn't look particularly lavish at first, but the further you play through the story, the cooler it gets. Gradually you unlock new areas and get decorative items that you can hang up (almost) anywhere. As you can see, "Saints Row" is all about customization! In addition to a large area for tuning your cars and weapons, there is also the so-called War Table. This is where plans can be made and activities unlocked. You'll never get bored in Saints Row.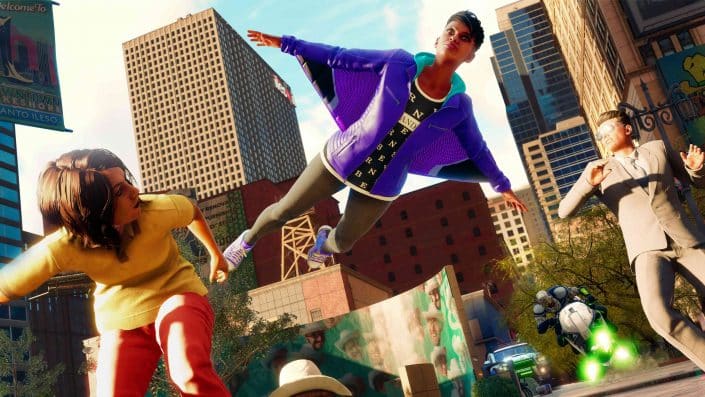 The map on the War Table is made relatively detailed and in the shown gameplay material action planning seemed like an interesting part of the gameplay. In contrast, if you look at the boring map that goes with the city, you're probably just as disappointed as we are. Although the series is so colorful and wacky, the well-used map comes across as more utilitarian. But there should always be surprises in the city, so who knows what's to come.
Pineapple Express!
Since you have to found "The Saints" in this part and earn a reputation, you will encounter a lot of resistance. Battles in this game can be fought in many different ways: in direct combat with opponents, through car chases and even in a helicopter! Admittedly, we don't know for sure whether you really fight against others while you're in the heli. But there is at least one quest where you can let your destructiveness run free and shoot properly stationary targets.
In the car, the action doesn't seem to be lacking either, because if you really ram the enemy vehicles while accelerating, you can deal massive damage to them. This looked fun in the gameplay shown – hopefully it plays that way too. Visually, the whole thing reminded us of "GTA V", which also got a pinch of "Just Cause 4" added due to crazy ideas. Speaking of "Just Cause": did you know that in "Saints Row" you glide through the streets in a wingsuit? So that the fun doesn't end so quickly, you can simply steer towards other people while gliding and push off on them for a small boost.
---
More Saints Row news:
---
What is still missing are of course the battles against numerous opponents on foot, which await you in pretty much every mission. Numerous weapons can be selected via the weapon wheel, which you can equip yourself in your HUB. There's no end to exploding bullets, pinatas (YES!) and grenades. You can even carry a sign!
Speaking of grenades, the developers never tire of emphasizing that they particularly love the Pineapple Express promotion. You pull out a grenade, stuff it in your opponent's pants and kick him away. Just a few seconds later it goes BOOM.
It's actually really cool if you ask us. But we found the bitch slaps aka slaps in the face, which can be admired as finishers, even funnier. According to the devs, there should be some skills and final moves – we're excited to see what else awaits us there.
"Just Cause 4" meets "GTA V". If you're already a Saints Row veteran, you might have noticed the change in style. Somehow it seems more mature, more real and not quite as playful. As the developers have explained, with this part you try to find a good middle ground. So the missions are sometimes actually a bit more profound, but by no means an oppressive mood is created. You still bomb your way in the craziest ways imaginable. Anything else would be silly!
We can't say too much about the depth of the story itself, but we hope for a comprehensible construct that doesn't have to suffer in favor of jokes. "Saints Row" already looks crazy and fun. Whether it is in the end depends mainly on the feel of the game, good controls and exciting quests. All the content we've seen so far hasn't necessarily reinvented the wheel. But Pineapple Express, the Unholy Church, and pinata guns give us hope that this will be a hilarious ride.
More Saints Row news.
Discuss this news on the PlayStation Forum
Links to Amazon, Media Markt, Saturn and some other retailers are usually affiliate links. If you make a purchase, we receive a small commission that we can use to finance the free-to-use site. You have no disadvantages.