The inhabitants of the planet Pop are pretty cuddly. Above all Kirby. The hostile pack of beasts in Kirby and the Forgotten Land learns that you shouldn't mess with him anyway. You can now support Kirby by entering our sweepstakes and taking the game home!
Actually, Kirby just wants to enjoy his always hungry existence, but nothing comes of it for the time being. Because when he's not battling other Nintendo heroes in Super Smash Bros., he has to go save the world again. Because a strange vortex appears in the sky above Planet Pop and sucks it all up.
Also an interesting experience for Kirby. Find out what it's like, no matter what to be sucked up. Otherwise that's totally his thing! When Kirby wakes up after the action, he finds himself in an unfamiliar world where nature and civilization have merged. There he learns that the Waddle Dees from the so-called pack of beasts kidnapped are.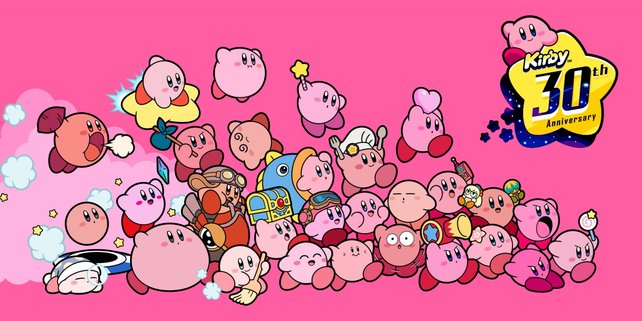 Along with his quirky new friend Elfilin, Kirby sets out to rescue the Waddle Dees and bring them home. If you want to explore this whole new world for yourself, we have good news for you. Because Nintendo donated 3 x Kirby and the Forgotten Land for Nintendo Switch. And some pretty merch items on top. Provided you take part in our competition and are also drawn. Are you ready? Of course you are!
I want to win! What should I do?
Everyone should know Kirby's super power by now: He can suck in his opponents and thus also take over their abilities. With the strength you have gained, you can new attacks use, but also recover hidden treasures and reveal secrets that would otherwise be inaccessible. Among those skills are some classics that make a return in Kirby and the Lost Land. But there are also some completely new skills! We've listed three of these skills for you below, one of which is brand new. Which is it?
a) Ice and Fire
b) drillers and explorers
c) sword and hedgehog
If you're not sure, a look at Nintendo's official game site might help. You can also download a demo for the game there. Or you can visit the Nintendo eShop on your switch and get the demo there.
When you're ready, e-mail your answer to the address [email protected] and please pay attention to the following rules:
In the subject line, write the password "FILLED".
Don't forget to include your answer in the email!
Let us know your shipping address in the email, otherwise we will not be able to send you the prizes.
Your data will only be used to process the shipping, after which it will be deleted. Please make sure your answer is complete. Unfortunately, incomplete entries will not be accepted, even if they are drawn. The closing date for entries is Sunday, May 29, 2022 at 11:59 p.m.
The winners will be drawn at random from all correct entries and notified of the prize by email.
*Nintendo has created many iconic characters. Which of their adventures do you think best suits your zodiac sign? We have the (not entirely serious) answer to that:
By participating in the competition, you agree and confirm that you have read and accepted the conditions of participation and the data protection conditions. All personal participant data will be deleted from our active systems no later than 30 days after the end of the competition. As mentioned above, your address data will only be used to send the prizes and will not be used for other purposes. We look forward to your answers and hope you enjoy participating!
You don't want to miss any more news, guides and tests for new games? Always want to know what's happening in the gaming community? Then follow us on Facebook, Youtube, Instagram, Flipboard or Google News.