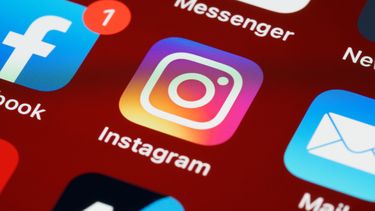 Since Instagram has been owned by Facebook parent company Meta, major changes have been made to the app slowly but surely. The latest update removes one of the app's most distinctive features, which is the square photos.
According to Instagram chief Adam Mosseri (a close confidant of Mark Zuckerberg), the changes will be slowly rolled out† Photos are no longer square but full screen. Just like stories, they have a ratio of 9 to 16. In the first instance, this is a test that is visible to some of the users. In recent days, more and more users are getting the new feed and the reactions are not positive.
Square photos gone and more changes
Instagram started out in 2010 with only square photos. In 2015, support was added for other formats, but now every photo is printed in a full-screen view. Even if the original photo is square, the app makes it fill the screen with a fill color at the top and bottom. Remarkably enough, there is hardly any room left for text on photos. Captions are further shortened and to see the full text you have to press on it. Then the entire text appears over the photo or video. Previously, the text was always below it.
Mosseri announces even more changes to how Instagram works. It is not about how the app looks, but how the algorithm works. It's going to be more like Facebook with more focus on suggestions based on your interests and fewer posts from people you follow.
Critical reactions to changes Instagram
Few users like the new layout, if we are to believe the feedback on Twitter. Mosseri's announcement has been criticized critically and users who suddenly see the new feed have nothing good to say about it.
How ugly Instagram is now… I don't feel like it anymore.

— Yvette and other stories (@Yvettesstories) May 20, 2022
garbage. Honestly if I want a tiktok experience. I'll go to tiktok.

— Peter James ◢ ◤ (@peterjames_au) May 20, 2022
While no official reason is given for the change, Facebook parent company Meta is feeling TikTok's hot breath. The originally Chinese app is growing significantly in popularity. One critical Twitter user writes: "Instagram just copies what others do. We want different experiences on social media, not always the same on all platforms. If I wanted the experience of TikTok, I would just use TikTok. When I'm on Instagram, it's because there are things TikTok doesn't have and vice versa."
A week of no social media reduces depression (research shows)
At the time of writing, it is not yet clear whether the change will be rolled out further or rolled back. The full announcement from Instagram chief Adam Mosseri can be viewed below.
Smoke detector soon mandatory in the house… but hardly anyone has one
Seen a mistake? Mail us. We are grateful to you.
window.didomiOnReady = window.didomiOnReady || []; window.didomiOnReady.push(function (Didomi) { window.tc_vars = {
// Add Didomi variables didomiGDPRApplies: window.didomiState.didomiGDPRApplies, didomiIABConsent: window.didomiState.didomiIABConsent, didomiVendorsConsent: window.didomiState.didomiVendorsConsent, didomiVendorsConsentUnknown: window.didomiState.didomiVendorsConsentUnknown, didomiVendorsConsentDenied: window.didomiState.didomiVendorsConsentDenied, didomiPurposesConsent: window.didomiState.didomiPurposesConsent, didomiPurposesConsentUnknown: window.didomiState.didomiPurposesConsentUnknown, didomiPurposesConsentDenied: window.didomiState.didomiPurposesConsentDenied, didomiExperimentId: window.didomiState.didomiExperimentId, didomiExperimentUserGroup: window.didomiState.didomiExperimentUserGroup, }; if(tc_vars.didomiPurposesConsent != ''){ console.log( 'cookiewall okay'); consentLevel = 3; loadAllScripts(); } });
window.didomiEventListeners = window.didomiEventListeners || []; window.didomiEventListeners.push({ event: 'notice.clickagree', listener: function () { console.log('clicked agree'); consentLevel =3; loadAllScripts(); return false; } }); window.didomiEventListeners.push({ event: 'preferences.clickagreetoall', listener: function () { console.log('clicked agree'); consentLevel =3; loadAllScripts(); return false; } }); window.didomiEventListeners.push({ event: 'preferences.clicksavechoices', listener: function () { console.log('clicked agree'); consentLevel = 3; loadAllScripts(); return false; } });
function loadAllScripts(){ console.log('start loading all scripts 2.19'); console.log(tc_vars.didomiPurposesConsentDenied);
var deniedConsent = tc_vars.didomiPurposesConsentDenied; if(deniedConsent.indexOf('cookies') == -1){
//SETTING VARIABLES var wpk_tags = dataLayer[0].Tags; if (wpk_tags != undefined) { var wpk_tags_array = wpk_tags.split(','); }else{ var wpk_tags_array = []; }
var sales_keywords = dataLayer[0].sales_keywords; if(sales_keywords == undefined){ sales_keywords=""; }else{ sales_keywords = sales_keywords.replace(/_/g, ''); sales_keywords = sales_keywords.replace(/&/g, '_'); sales_keywords = sales_keywords.replace(/&/g, '_'); }
if (typeof dataLayer[0].Site !== 'undefined') { var site_name = dataLayer[0].Site.toLowerCase(); }else{ var site_name=""; }
site_name = site_name.split(".");
//SETTING VARIABLES
var script = document.createElement("script"); script.src = "https://shared.mediahuis.be/cxense/cxense.metro.min.js"; script.type = "didomi/javascript"; script.setAttribute('data-vendor','iab:412');
console.log('ads: '+deniedConsent.indexOf('create_ads_profile')); console.log('content: '+deniedConsent.indexOf('select_personalized_content'));
if(deniedConsent.indexOf('create_ads_profile') < 0 && deniedConsent.indexOf('select_personalized_content') < 0){ document.head.appendChild(script); console.log('load cxense!!!'); }else{ console.log('NOT load cxense!!'); } if (dataLayer[0].show_banners == 1) { // console.log('fillSlots'); setTimeout(function(){ fillSlots(); }, 1000); } if(deniedConsent.indexOf('social_media') < 0){ var y = document.getElementsByClassName("social-media-no-consent-box"); var i; for (i = 0; i < y.length; i++) { y[i].style.display = "none"; } var x_fb_post = document.getElementsByClassName("fb-post-no-consent"); while(x_fb_post.length > 0) { x_fb_post[0].className = "fb-post"; }
var x_fb_video = document.getElementsByClassName("fb-video-no-consent"); var i; while(x_fb_video.length > 0) { x_fb_video[0].className = "fb-video"; }
var x_twitter = document.getElementsByClassName("twitter-tweet-no-consent"); while(x_twitter.length > 0) { x_twitter[0].className = "twitter-tweet"; }
var xi = document.getElementsByClassName("instagram-media-no-consent"); while(xi.length > 0) { xi[0].className = "instagram-media"; }
var script = document.createElement("script"); script.src = "https://platform.twitter.com/widgets.js"; document.head.appendChild(script);
var script = document.createElement("script"); script.src = "https://www.instagram.com/embed.js"; document.head.appendChild(script);
var script = document.createElement("script"); script.innerHTML = "window.instgrm.Embeds.process();"; document.head.appendChild(script);
var script = document.createElement("script"); script.src = "https://connect.facebook.net/nl_NL/sdk.js#xfbml=1&version=v8.0";
var facebookDiv = document.createElement('script'); facebookDiv.innerHTML =`window.fbAsyncInit = function() {FB.init({ xfbml : true, version : 'v5.0' });}; `; document.head.appendChild(facebookDiv);
var my_awesome_script = document.createElement('script'); my_awesome_script.setAttribute('src','https://connect.facebook.net/en_US/sdk.js'); my_awesome_script.async="true"; my_awesome_script.defer="true"; document.head.appendChild(my_awesome_script);
}
if (deniedConsent.indexOf('measure_content_performance') < 0){ var script = document.createElement("script"); script.src = "https://cdn.onthe.io/io.js/kTyKX5TSAHCz"; document.head.appendChild(script); console.log('load IO Tech'); loadIo(); }else{ console.log('NOT load IO Tech'); } } } if (navigator.userAgent.toLowerCase().indexOf('cxensebot') != -1) { loadAllScripts(); }