"Sniper Elite 5" is about to be released. Reason enough, the developers apparently thought, to revisit the accessibility features. We have an overview for you.
Video games are becoming more and more accessible. We recently reported on the Accessibility Features of the Upcoming God of War Ragnarök. And "Sniper Elite 5" also has such features as a new one blog post can be taken.
"It is important to us that as many people as possible can play our games. And that's why we've worked hard to break down barriers and make Sniper Elite 5 more accessible," said Cari Watterton, Senior Designer, Accessibility.
The difficulty options are of course among the most important core features of accessibility or accessibility reduction. Five tiers are built into Sniper Elite 5, ranging from civilian to authentic. The players don't have to worry too much at first, because the difficulty can be changed at any time. Civilian difficulty reduces damage, enemy encounters, and enemy perception. It's an equivalent of Story Mode.
Regardless of difficulty, the sniping and tactical aspects of the game can also be adjusted manually and independently. The Advanced Difficulty setting also allows for fine-tuning of various other aspects of the game, including display on the radar, health regeneration, enemy AI, and more.
According to the manufacturer, there are detailed tutorials to make it easier to get started, which can also be adapted in various ways. This applies, for example, to the frequency with which they are displayed. And since the tutorials can also be reset, players will be able to replay them again after a long break.
Subtitles, sound settings and more
Accessibility options allow Sniper Elite 5 players to optimize the display of subtitles. This includes the size, color and opacity of the background. The size of various HUD and UI elements can also be scaled. And color blindness settings for three variants are also included in Sniper Elite 5. This makes it possible to customize the color of items such as enemy detection indicators and location markers.
Sniper Elite 5's audio can also be variously customized, with sliders available to adjust the volume of things like hit feedback, dialogue, and enemy alerts. In multiplayer mode, on the other hand, the settings allow you to adjust the volume of voice chats, which can also be completely muted. Audio dynamic range helps reduce the volume of explosions or other loud noises.
Aim assist options provide settings for hip, scope, and front sight firing. Full mapping will again be available for mouse and keyboard players, while controller users will be able to choose from six different presets – including three each for left-handed and right-handed players.
Related Posts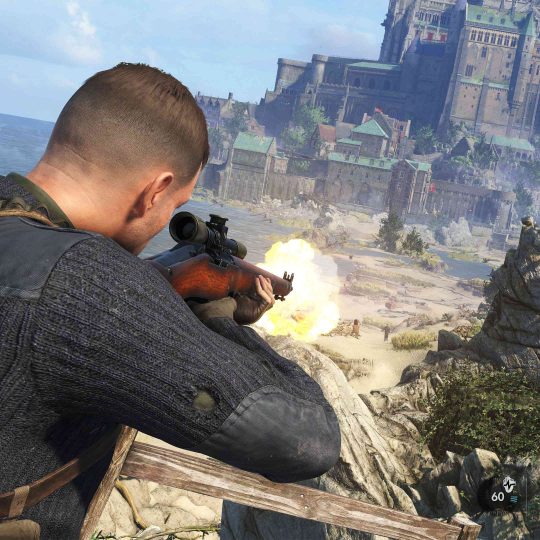 On top of that there are visual options, including the ability to disable motion blur and binocular distortion to counteract motion sickness. And if you're one of those players who don't like seeing blood and the like, you might find peace of mind knowing that kill cams and x-ray views can be disabled entirely.
---
More Sniper Elite 5 news:
---
You can experience the whole thing for yourself very soon: "Sniper Elite 5" will be launched on May 26, 2022 for PS5, Xbox Series X/S, PS4, Xbox One and PC.
More news about Sniper Elite 5.
Discuss this news on the PlayStation Forum
Links to Amazon, Media Markt, Saturn and some other retailers are usually affiliate links. If you make a purchase, we receive a small commission that we can use to finance the free-to-use site. You have no disadvantages.