Genre
Step-by-step strategy
Publisher
Coffee Stain
Publisher in Russia
Not
Developer
Lavapotion
Minimum Requirements
Intel Core i5-4440 3.1 GHz / AMD FX-8300 3.3 GHz, 8 GB RAM, DirectX 11 graphics card and 2 GB memory, such as NVIDIA GeForce GTX 770 / AMD Radeon R9 290, 4 GB storage, Internet connection, operating system Windows 7 / 8.1 / 10 / 11
Recommended Requirements
Intel Core i5-4690K 3.5 GHz / AMD FX-8350 4.0 GHz, 8 GB RAM, DirectX 11 graphics card, 4 GB memory such as NVIDIA GeForce GTX 970 / AMD Radeon R9 380
release date
May 10, 2022 (Early Access), full release date not announced
age limit
Not determined
Localization
Text (partial)
Platforms
PC
Official site
The main source of inspiration for Songs of Conquest is certainly obvious. This is partly felt in the visual style, and in many game mechanics, and in the general mood of the work – even in the portraits of the masters (here they are called heroes), the familiar features of the characters of Heroes of Might and Magic invisibly slip. But the thick nostalgia dissipates after only half an hour of playing, revealing an original, original and incredibly addictive beautiful new world.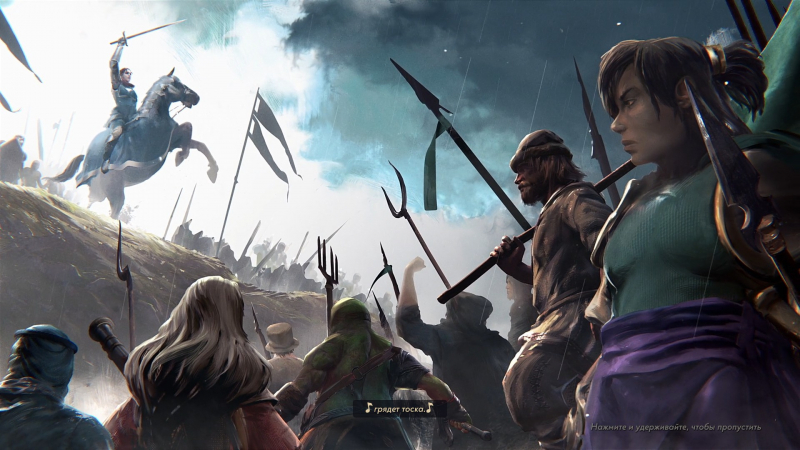 Masters of Might and Magic
It is best to start your acquaintance with the game with story campaigns, because the collisions of two (so far) story arcs perfectly immerse you in the realities of Songs of Conquest and smoothly introduce you to the world. And the stories themselves are not bad: the escape of the amphibious Rusk from the slave traders and his further journey home, which will burst into the fire of the revolution; the struggle of Baroness Cecilia against the external and internal enemies of Stouthart. Both stories are well written, moderately dramatic and, most importantly, exciting enough to make the player want to get to know this universe and game features closer.
The basic principles will be familiar to all fans of turn-based strategies. The master studies the map, collects valuable resources and captures deposits, finds powerful (or so-so) artifacts. And, of course, he tirelessly fights with neutral creatures and other masters. And it is in the battles that the first interesting nuances of Songs of Conquest appear.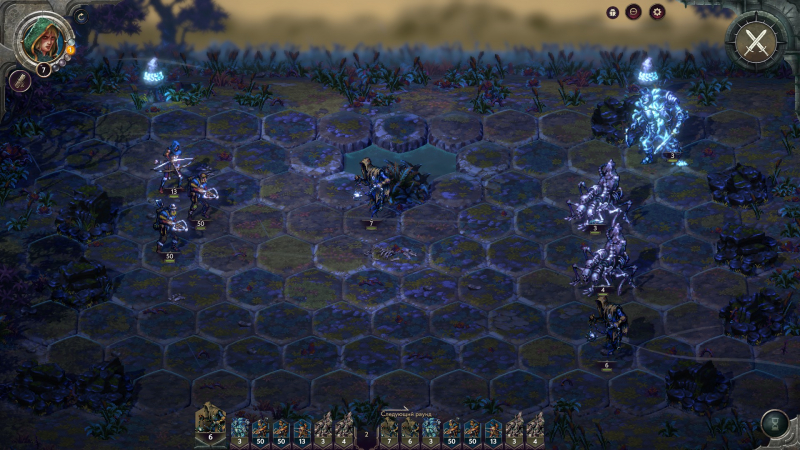 For example, some creatures have special skills: Defenders of Order can give surrounding allies additional protection; creepy seneschals transfer additional combat power to their comrades-in-arms, sappers are able to set up barricades blocking the passage; archers are able to stay alert and attack anyone who enters their area of ​​effect. And even such a familiar thing as skipping the line to go later also turns out to be a separate skill – it was given to bizarre swamp riders. Magic is also connected in an interesting way with fighters – more precisely, resources for divination.
Each unit of our army creates a certain amount of essence on its turn. It is she who will have to be spent on bringing down a sizzling fireball on enemies, sending a storm, weakening ranged fighters, or, for example, conjuring a "massacre", giving his subordinates the opportunity to hit twice. There are five types of entities in Songs of Conquest: order, chaos, arcana, creation and destruction. And then there are magic tricks-dyads that require the essence of two specific types to be used. Squads tend to follow one or more worldviews, which opens up a wide horizon for tactics and game plans. Also, the stocks of a valuable magical resource increase due to artifacts or the special skills of the masters themselves.
We also develop them according to a completely familiar scheme – we gain experience for victories in clashes, capturing cities and visiting various places of enlightenment. For each level, it is possible to choose a new skill or improve an existing one. These can be both magical upgrades aimed at increasing spell damage or essence growth, as well as combat options that increase ranged and/or melee destructiveness, defense and initiative. And there are exclusively economic options that bring additional income in gold or other valuable resources. At the eighth (as well as the sixteenth and twenty-fourth) levels of development, the master is offered special skills that give a tangible advantage in battles. Evaluate for yourself: "Rage" gives a constant and significant increase in damage to all troops, and, say, "Foresight" increases the attack range of rifle units.
It is also possible to enhance the combat effectiveness of masters through scientific research. Some studies increase the power of certain units, others enhance the magical abilities of our wards. There are also administrative points that will create additional sources of income or otherwise strengthen our kingdom.
⇡#strategic feast
City building in Songs of Conquest is also quite variable. Settlements are divided into huge strongholds, the holdings of which can be increased up to five times (and each will cost a tangible amount of resources), and smaller settlements, the limit of which is two or three land expansions. There are places for small, medium and large buildings, and the size really matters here – much more powerful combat units are created in larger establishments, or the buildings themselves provide significant bonuses.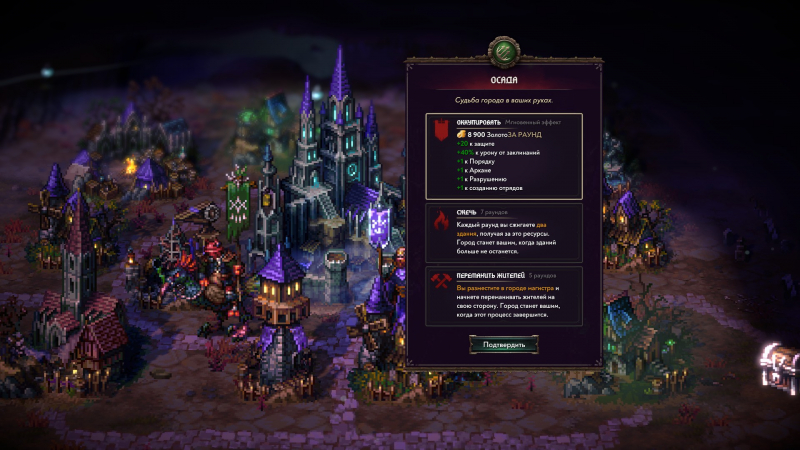 True, the number of potential building sites is not infinite, so the right combination of buildings turns out to be an important factor in winning. Whether it is worth giving preference to mobilization points, places of extraction of valuable resources, a stronghold of education and knowledge, or whether to try to find some kind of balance, all this will have a direct impact on the outcome of the game. And, of course, it will not be superfluous to enclose key settlements with blank walls in order to complicate the life of those who attack our possessions.
And, without a doubt, there are! Especially in the "fight" mode – the classic and favorite fun of fans of turn-based strategies. Currently, Songs of Conquest has thirteen scenarios for matches with an AI opponent or other players online (but the good old "hot seat" is not provided – a disgrace!) in formats for two, three, four or six players. And there is also a solo map in which we have to capture the torches of power, and crank out this adventure in just a hundred moves.
Four factions are currently available for fights: Arleon, a peculiar combination of classic castle aesthetics and druidic unity with nature; Rana is the kingdom of intelligent amphibians that prefer swamps and bogs; apostates, undead and cultists united under the banner of the Barony of Loth; and Baria embodied several directions of the eastern entourage. Each side has a lot of its own special subtleties and, most importantly, each is incredibly fun to play.
The only thing that now overshadows this tactical and strategic feast is artificial intelligence. The computer opponent develops quite competently and leads the expansion, but during the hostilities he frankly gives in. Both on the battlefield, making obviously unfavorable moves for himself, and during maneuvers on the map, when he attacks a player who is significantly superior in power without hesitation. Or it begins to ceaselessly throw weak characters with tiny units for slaughter. This behavior looks rather strange and adds a couple of fly in the ointment to the honey barrel of victory. We hope that this aspect will be given due attention in the future.
***
Already in early access, Songs of Conquest looks like a deep, thoughtful and exciting strategy game with huge potential. You want to come back here again and again, and not because of abstract nostalgic motives (especially since the longer you immerse yourself in the game, the quieter they become), but because it is an excellent and amazingly well-designed game. No wonder the song about her scattered around the world!
Video:
If you notice an error, select it with the mouse and press CTRL+ENTER.