During a speech at Computex 2022, AMD CEO Lisa Su and her team announced new products. The desktop Ryzen 7000 company was presented with AMD 600-series chipsets and the new Socket AM5 (LGA 1718), which supports processors with TDP up to 170W. The new platform will offer support for DDR5 memory and PCIe 5.0 bus for connecting video cards and/or memory drives.
As expected, the flagship AMD X670E (Extreme) chipset will provide maximum performance and overclocking capability and will be used in flagship motherboards. It will also allow you to use PCIe 5.0 to connect both solid state drives and video cards. AMD notes that "PCIe 5.0 will be everywhere" here.
A simpler X670 model for "enthusiast overclockers" is also being prepared for release, also with PCIe 5.0 support for drives and, optionally, for GPUs. Apparently, motherboard manufacturers will decide for themselves which interface to connect to PCIe x16 connectors. AMD didn't go into details about how the X670 and X670E chipsets will differ.
The B650 chipset was also presented, which will be used in entry-level and mid-range boards. It will only connect memory drives using PCIe 5.0, while PCIe 4.0 will be used for video cards. The company said that the new bus will be supported by NVMe drives already under development by Gigabyte, Corsair, MSI and others, and will provide read speeds over 60% faster than PCIe 4.0.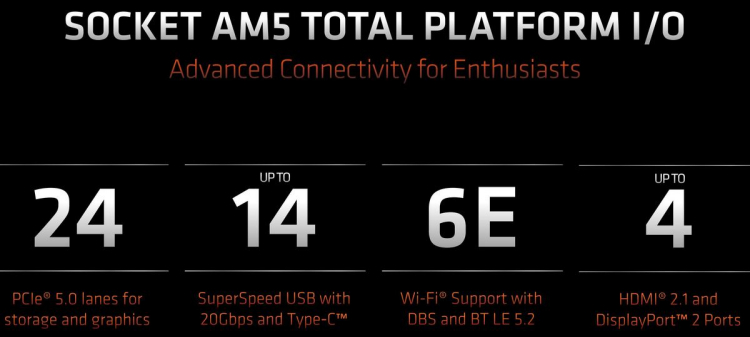 Motherboards based on AMD 600 series logic will provide up to 24 PCIe 5.0 lanes for GPUs and SSDs, up to 14 USB ports with speeds up to 20 Gb / s (SuperSpeed ​​USB), support for Wi-Fi 6E and Bluetooth 5.2 (LE). Additionally, it became known that motherboards of the 600 series will receive up to four video ports, including HDMI 2.1 and DisplayPort, allowing you to connect multiple monitors at the same time.
The new socket AM5 (LGA 1718) replaced AM4, which was introduced back in 2017 and is still used by AMD – the last chip for it was introduced this year, this is Ryzen 7 5800X3D. The new socket compares favorably in performance: instead of PGA (legs on the processor), AMD has implemented an LGA connection, when there are only contact pads on the chip, and the legs are in the socket itself. Like Intel has since the noughties. At the same time, the developers emphasized that the new AM5 supports cooling systems designed for AM4.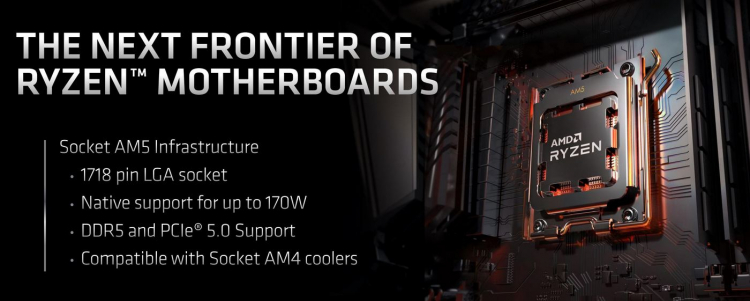 It became known that the new AM5 platform also supports SmartAccess Storage technology, which is designed to "pump" memory performance. But AMD did not go into details.
Motherboard models announced at Computex 2022 include ASRock X670E Taichi, ASUS ROG Crosshair X670E Extreme, Biostar X670E Valkyrie, GIGABYTE X670 Aorus Xtreme, and MSI MEG X670E Ace.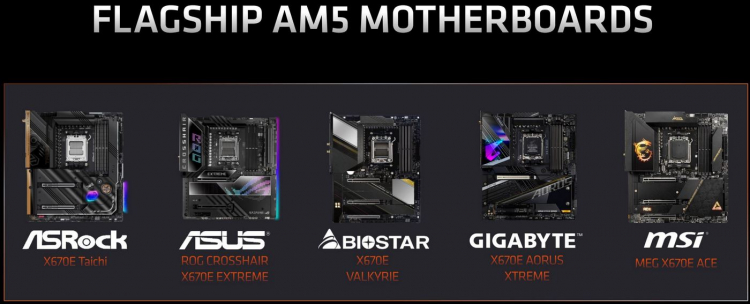 If you notice an error, select it with the mouse and press CTRL + ENTER.