Speaking at the opening of Computex 2022, AMD representatives emphasized that the Socket AM5 platform, using the accompanying chipsets, supports the PCI Express 5.0 interface for connecting solid state drives, so buyers of the corresponding systems will be able to experience a performance increase of up to 60% in sequential read operations.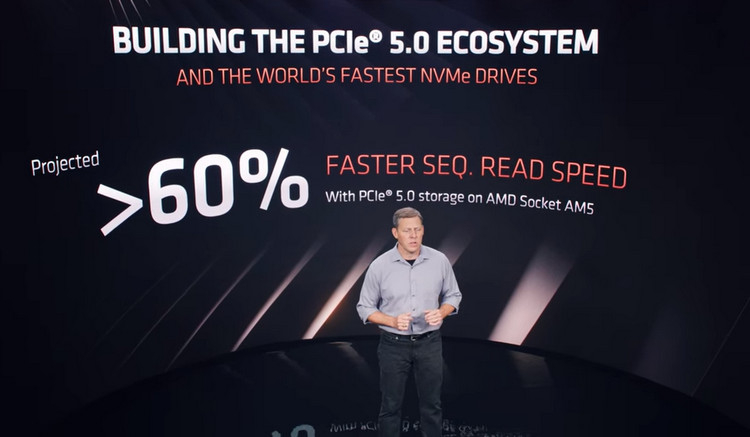 AMD was commissioned by Phison to develop the PS5026-E26 family of controllers, which, with PCI Express 5.0 support, can deliver up to 2x faster data transfer rates than previous generation drives while staying within the M.2 form factor requirements in terms of view of energy consumption. Third partner spoke Micron Technology, which may launch the first Crucial brand SSDs with PCI Express 5.0 interface and NVMe protocol support in the client segment this year.
According to AMD representatives, the new interface allows you to increase the transfer rate of information on sequential read operations by more than 60% compared to previous generation drives using the PCI Express 4.0 interface. AMD's other partners in bringing PCI Express 5.0 solutions to the consumer market include ASUS, Gigabyte, MSI, Apacer, PNY, Corsair, and Seagate.
Speaking of Phison's exposition at Computex 2022, the company intends to showcase other innovative solutions in addition to the PS5026-E26 controller:
The first PCI Express 4.0 BGA SSD based on the PS5021-E21T controller.
For the first time, the PS5027-E27T controller for SSD without DRAM with PCI Express 4.0 support will be discussed.
The server segment is assigned to the E18DC, an M.2 product that supports booting the operating system.
The PS8313 solution will overcome the limitations of UFS 3.1 for a wide range of applications, from mobile to virtual reality.
For embedded systems, the PCI Express 4.0-enabled E21T solution is highly energy efficient.
The MPT family is focused on automotive applications.
For the first time, Phison will demonstrate a PCI Express 5.0 signal amplifier that has passed the PCI-SIG certification.
If you notice an error, select it with the mouse and press CTRL + ENTER.