The start of the new week will be sweetened with fresh rumors about the upcoming Battle Royal shooter "Call of Duty: Warzone 2". As the well-known insider Tom Henderson wants to know, the community can look forward to various innovations such as an interrogation mechanism.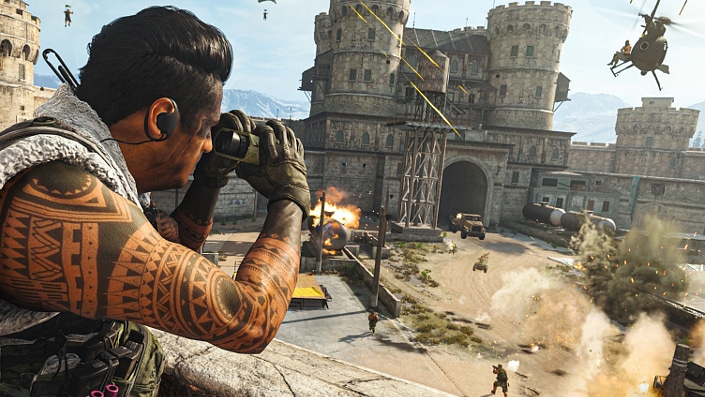 As we now know, the new battle royale shooter "Call of Duty: Warzone 2" will be presented in detail later this year. The well-known industry insider Tom Henderson, who wants to know more details about the playful implementation, is currently providing new topics of conversation.
According to Henderson, one of the most interesting new features of "Call of Duty: Warzone 2" will be the interrogation mechanism, which, according to the insider, is based on its counterpart from "Rainbow Six Siege" and acts as an extension of the execution mechanism. Before a gunned down opponent is finally eliminated, the interrogation process, which lasts around six seconds, should result in the locations of the opposing team being marked on the map.
In addition, Henderson confirmed the current rumors about the new inventory and the protective vests, which we already discussed last week have reported.
Armor vests as additional protection?
Just like in the "Blackout" mode of "Call of Duty: Black Ops 4", it should be possible to equip your own vest with up to three additional armor plates and thus protect yourself from enemy hits. The vests themselves will not suffer any damage, according to Henderson. However, if a player is hit, they have to fill up or restore the corresponding plate. According to Henderson, the new inventory system of "Call of Duty: Warzone 2" will also be based on "Blackout".
---
More Call of Duty: Warzone 2 news:
---
The equipped bags should present you with your inventory in the form of grids in which objects or extras such as weapons and items, higher bag levels, killstreaks and more can be accommodated. It goes on to say that it is quite conceivable that the same bag system will also be used in the new "DMZ" mode of "Call of Duty: Modern Warfare 2". However, Henderson is not 100 percent sure.
To make matters worse, his statements should be treated with the necessary caution, despite all the correct leaks in the past.
Source: exporter
More Call of Duty Warzone 2 news.
Discuss this news on the PlayStation Forum
Links to Amazon, Media Markt, Saturn and some other retailers are usually affiliate links. If you make a purchase, we receive a small commission that we can use to finance the free-to-use site. You have no disadvantages.