Blogger Wario64 noticedthat the Exophase website has trophy listings for several more classic games that will be available as part of an upgraded PlayStation Plus subscription.
Recall that last week support for achievements in the original Siphon Filter on PS4 and PS5 was confirmed by Bend studio, and now it became known about the appearance of the system in Ape Escape, IQ: Intelligent Qube, Hot Shots Golf and Wild Arms.
In the very near future, there will be even more information about classic games in PS Plus: today, May 23, the updated service has been launched in the Asian region (excluding Japan).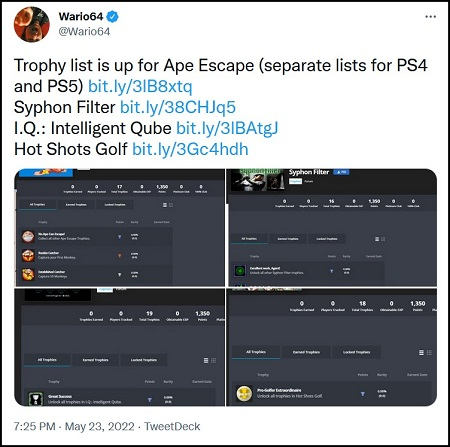 Classic games will be available to PS Plus Premium (Deluxe) subscribers. Selected titles from PS1 and PSP will offer an updated interface, free saves and rewind time.
The European (and presumably Russian) launch of the PlayStation Plus iteration, which includes three tariff plans instead of one, is expected on June 23rd. Until that date, the service will appear in Japan (June 1), North and South America (June 13).
If you notice an error, select it with the mouse and press CTRL + ENTER.