Sony PlayStation presents a new trailer for the Hogwarts adventure. This time the focus is on immersion, for which all PS5 features are used. In line with this, the Community Manager went into more detail about the console-exclusive functions.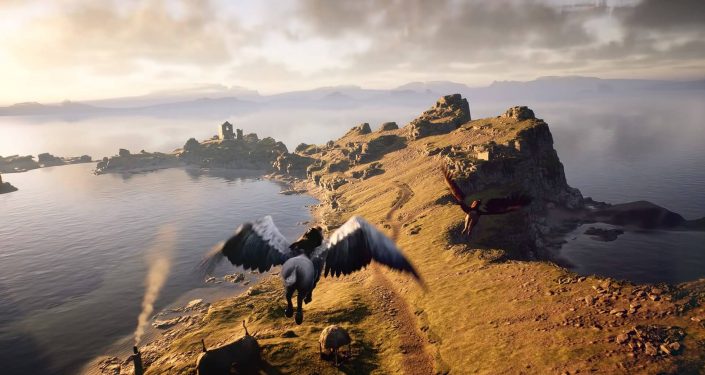 The DualSense controller is intended to serve as an "extension of your magic wand". This is how the community manager of WB Games Avalanche describes it in his latest developer article on the PlayStationBlog.
Moved controller effects to the right side
To make it feel like this when playing, the development team has moved all magic wand effects to the right side of the controller. Whatever the spell, thanks to haptic feedback and adaptive triggers, you'll feel magical resistance every time you cast it.
However, the controller functions relate to more than just the magic wand. This is how you should feel the magic in your hands while flying your broomstick or during potions lessons.
In addition, the LED lighting plays an important role, as it always adapts to the respective game situation. When you're not in action, the bar shows the color of the current Hogwarts house. So that would be:
Ravenclaw: Blue and Bronze
Gryffindor: scarlet and gold
Slytherin: Green and Silver
Hufflepuff: Yellow and Black
In order to optimally convey the atmosphere of the Hogwarts school, the sound must not be neglected, of course. Thanks to the 3D audio of the PlayStation 5, you can listen to a "uniquely detailed soundscape". Especially with headphones you should have the feeling of being in the middle of the action. On the other hand, if you play with the loudspeaker, you can hear additional noises via the DualSense loudspeaker. This can be the flapping of a hippogriff's wings, for example.
Once again, the console's Turbo SSD ensures pleasantly short loading times. Furthermore, "Hogwarts Legacy" supports the activity cards and the game help function.
---
More Hogwarts Legacy news:
---
Hogwarts Legacy is coming to PS5, PS4, Xbox Series X/S, Xbox One and PC later this year. Below is the mentioned immersion trailer.
More Hogwarts Legacy news.
Discuss this news on the PlayStation Forum
Links to Amazon, Media Markt, Saturn and some other retailers are usually affiliate links. If you make a purchase, we receive a small commission that we can use to finance the free-to-use site. You have no disadvantages.