The dwarf planet Ceres formed in the outer solar system and then moved into the asteroid belt, probably under the influence of Jupiter's powerful gravity. This conclusion was reached by scientists from the State University of São Paulo in Brazil after conducting computer simulations.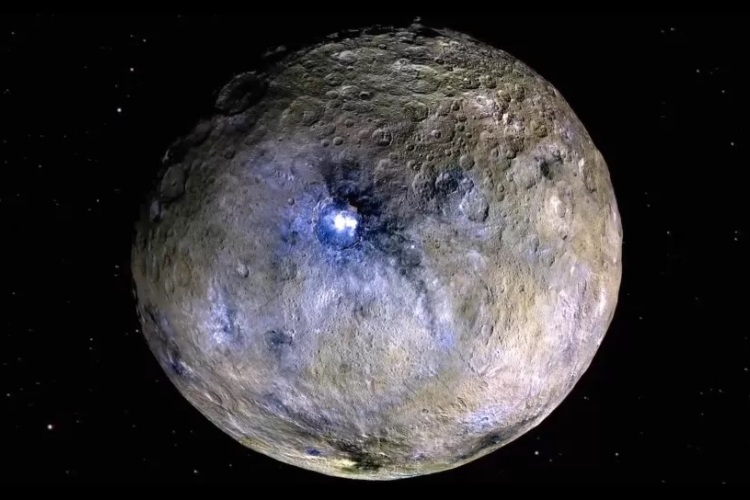 Scientists have previously agreed that there is something in Ceres that does not correspond to its location in the solar system. The dwarf planet has a diameter of about 1000 km and is currently the largest object in the asteroid belt, the region between the orbits of Mars and Jupiter, where many asteroids have accumulated, mainly with a diameter of tens to hundreds of meters.
Unlike neighboring asteroids, many of which have a bizarre shape, the round Ceres is not devoid of chemical compounds unusual for asteroids, such as ammonia. Scientists have long assumed that Ceres did not form in the asteroid belt, but moved to this place during its existence. A new computer simulation confirms this.
"We proposed a scenario that explains why Ceres is so different from neighboring asteroids. In this scenario, Ceres began to form in an orbit far beyond Saturn, where there was a lot of ammonia. At the stage of growth of the giant planet, it was drawn into the asteroid belt as a migrant from the outer region of the solar system and existed there for 4.5 billion years until now.— said Rafael Ribeiro de Sousa, one of the authors of the current study.
While ammonia is not typically found in asteroids, it is often found in comets and other objects that form in much colder parts of the solar system. The tail of a comet is formed as it approaches the Sun, as the ice begins to melt due to the increase in temperature. Something similar happens with Ceres, which is the only object in the asteroid belt with a thin atmosphere of evaporating water and ammonia ice.
Assuming that Ceres formed in the same place where comets originate, the question arises as to the force that moved it into the asteroid belt. Scientists believe that the powerful gravity of the gas giant Jupiter, which was the main force during the formation of the solar system 4.5 billion years ago, is the key to answering this question.
"Our simulations showed that the stage of formation of giant planets was very turbulent and included collisions of the precursors of Uranus and Neptune, and was also accompanied by the ejection of planets from the solar system and even the invasion of the inner region of planets with a mass greater than three times the mass of the Earth. In addition, a strong gravitational disturbance scattered objects similar to Ceres everywhere. Some of them could well reach the asteroid belt and acquire stable orbits that allow them to survive other events.says Ribeiro de Souza.
If you notice an error, select it with the mouse and press CTRL + ENTER.