Yesterday, the Boeing CST-100 Starliner successfully landed in New Mexico (USA). Before that, he spent almost six days in space, five of them docked to the ISS. It was the first docking of a new Boeing commercial manned spacecraft with an orbital station, which brought American space exploration to a new level. However, the Starliner flight cannot be considered completely successful, although NASA still prefers not to focus on problems.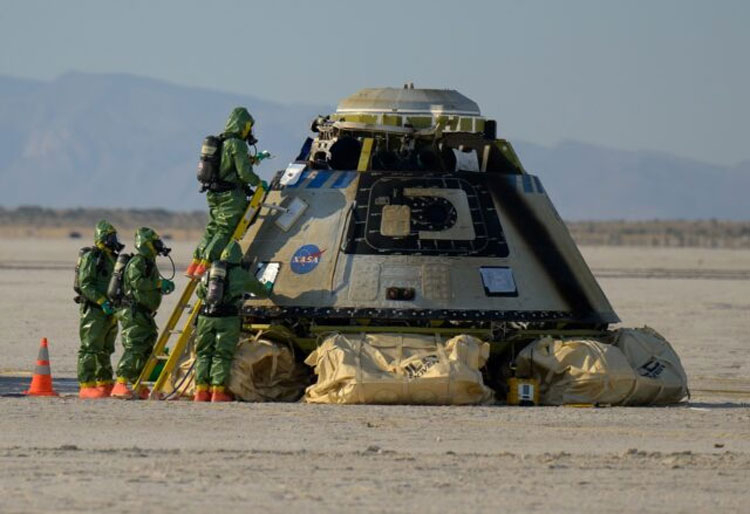 As we reported, during the flight to the ISS, problems with Starliner systems began shortly after the ship separated from the Atlas V launch vehicle. Two of the 12 stern engines failed at the service module of the ship. The reserve power was enough to put the ship into a stable orbit and the disaster did not happen. She also would not have been if several more engines had failed. Then, when approaching the ISS, two precise orientation engines failed on the ship. Finally, there were problems with the docking ring, which had to be removed and retracted, which delayed the docking schedule by an hour. Also in flight, there were problems in the ship's cooling system, which worked normally, but exceeded the standards.
All this did not prevent the ship from docking to the ISS, nor did it prevent it from being undocked five days later and deorbited along a given trajectory. But landing also had problems. Reportedly sources, the ground crew evacuation team was unable to start work immediately upon arrival at the ship. There were signs of a rocket fuel leak in the air around the ship, forcing a retreat and an attempt to open the capsule later. It is assumed that during entry into the atmosphere, another of the ship's engines failed, and this did not allow burning the fuel in full.
In fact, the flight and landing ended safely. Boeing and NASA conducted successful end-to-end testing of the CST-100 Starliner and collected comprehensive data to evaluate systems performance. Of course, all this will help in the future to make flights on the ship safer. But there remains a whole bunch of uncomfortable questions that will inevitably come up in preparation for Starliner's first manned mission.
If you notice an error, select it with the mouse and press CTRL + ENTER.