AMD CMO Robert Hallock recently gave a number of interviews to specialized media in which he shared new details about the upcoming Ryzen 7000 processors, and also clarified a number of details that were not entirely clear from the presentation held at Computex 2022.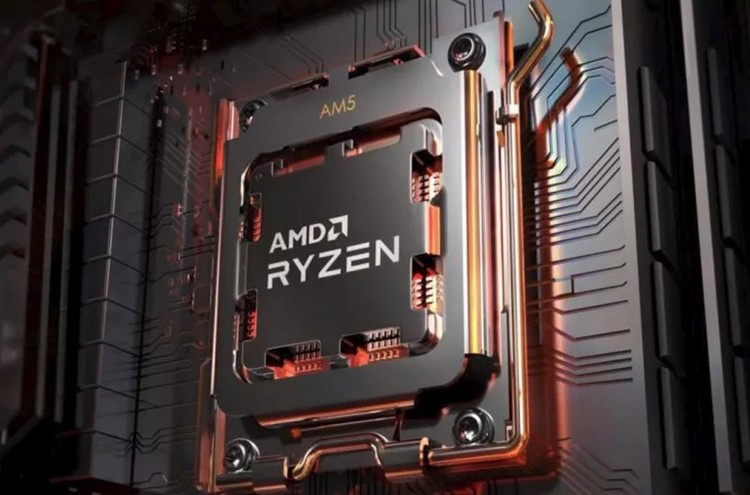 An AMD representative confirmed that Ryzen 7000 processors will be able to offer up to 16 physical cores with support for up to 32 virtual threads. At the same time, the level of energy consumption of some models of chips will reach 170 W, and the peak – more than 230 W. He also shared some other interesting details about the AM5 platform, next-gen Ryzen chips, and upcoming products.
Perhaps someone in the audience at the AMD presentation noted the unusual golden color of the two Zen 4 computing chipsets in the image of the Ryzen 7000 processor. Hallock explained that they acquire this color as a result of a process called "back-side-metallization" (back-side-metallization ). What this gives is still unknown.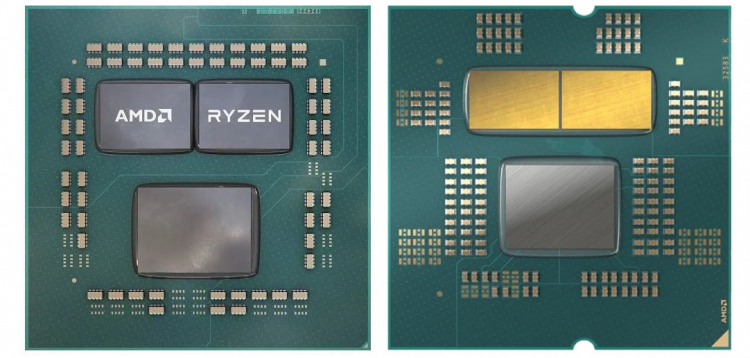 Hallock also confirmed that Ryzen 7000s support AVX-512 instructions. In an interview with TechPowerUp, he informedthat as part of the presentation of the chips, the company used the AVX 512 VNNI and BFLOAT16 / BF16 instructions. They are actively used by TensorFlow, AMD ROCm and even NVIDIA CUDA libraries.
"In particular, AVX-512 VNNI is used to accelerate deep learning, and AVX-512 BFLOAT16 is used for inference [работы ИИ, хотя формат bfloat16 применяется повсеместно в ИИ и не только]. Both sets of instructions are really good at speeding things up. We do not use fixed-function acceleration. Perhaps we will work in this direction with our Xilinx team. We are seeing AI-driven workloads starting to take off in the consumer sector. For example, this can be seen in technologies related to image scaling, which have developed significantly over the past two years. I think there is a growing interest among enthusiasts to use AI more actively. We thought now would be the perfect time to add these features to our chips. Especially as we move to a more advanced technology node with more performance, power and capability."Hallock commented.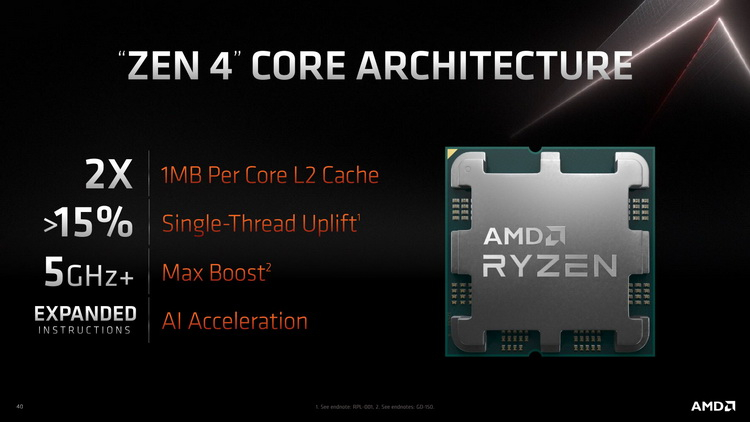 An AMD spokesperson also confirmed to TechPowerUp that the company will continue to work with 3D V-Cache technology. Recall that it debuted in consumer processors as part of the Ryzen 7 5800X3D for Socket AM4, a review of which can be read on our website.
"The 3D V-Cache technology is absolutely part of our roadmap. This is not just some one-time experiment. We strongly believe in innovative chip packaging technologies that can give AMD an edge. These are technologies that can significantly improve productivity. But we can't tell you anything specific about the 3D V-Cache bundled with Zen 4 yet."Hallock explained.
In an interview Forbes/CrazyTechLab The AMD representative did not confirm, but did not deny the information that the Socket AM5 platform will be as "long-playing" as Socket AM4, as previously stated by the head of the company, Lisa Su. On the other hand, the company is yet to share all the details about the new platform. Perhaps AMD saved this information for later.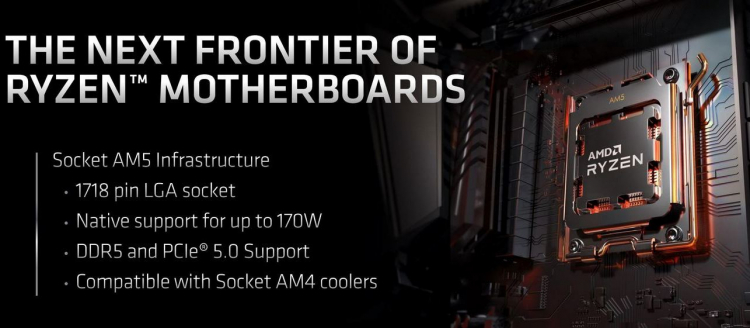 "I do not know yet. Honestly. We are still in the early stages of building AM5. The release is expected in the fall, but there is still a lot of work ahead. This is one of the things we would like to clarify. Our users want transparency on this matter. But we don't have an answer yet."Hallock added.
In the same interview, he stated that "The Threadripper series of processors is not going anywhere". This means that in the future the company will release a new generation of high-performance solutions, possibly for the Socket SP6 processor socket, which has been rumored for a long time. However, the last two generations of AMD processors have shown that the company is more focused on developing its workstation market, and not on solutions for enthusiasts, which Threadripper processors actually belong to. Hallock did not share any specific details about future HEDT chips. However, he added that the company will tell more details about the entire Socket AM5 platform in the summer.
If you notice an error, select it with the mouse and press CTRL + ENTER.