A group of scientists from the Delft University of Technology in the Netherlands provided the basis for the quantum Internet – a teleportation relay for indirect transmission of quantum states over a distance. During the experiment, a quantum state was transferred between two not directly connected network nodes without data loss, which was an important step towards creating a quantum internet.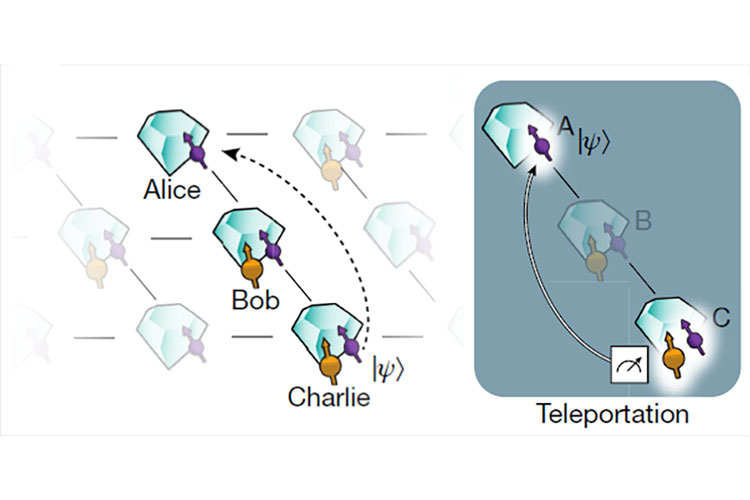 A team led by Ronald Hanson created a network of three nodes, each of which was a pair of qubits – one for storing state, and the second for communication. The spin of the nucleus of the carbon atom in diamond was responsible for maintaining the quantum state – it was a "memory" qubit, and the electron spin in each pair was used to transfer the quantum state to other nodes of the network.
Then the electron spins of two neighboring directly connected sites (B and C) were brought into a state of quantum entanglement. This means that the quantum state of one qubit depended on the state of the other. Entanglement leads to the fact that even if these particles are far apart, when there is no interaction known to science between them, the quantum states continue to remain bound. For example, measuring the state of one of the bound particles immediately gives information about the state of the other, and in doing so, they are destroyed.
There were no problems to transfer the quantum state between two connected nodes. Scientists first used an intermediate node to prepare entanglement and then, bypassing the direct link, teleport the entangled state to node A, which was not directly connected to relay node C.
"It's really teleportation, like in science fiction films, Hanson told New Scientist. — State, or information, does indeed disappear on one side and appear on the other, and since it does not move in space between them, [данные] also cannot be lost.
If you notice an error, select it with the mouse and press CTRL + ENTER.