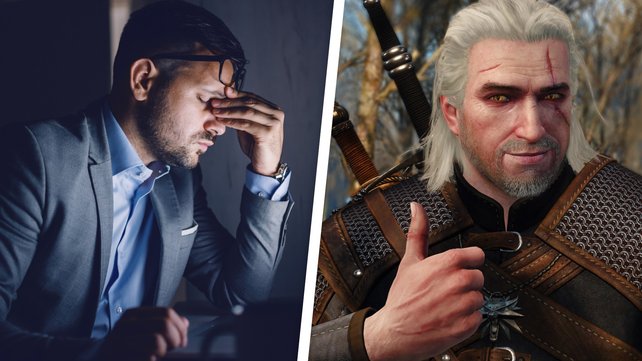 Work, family and other everyday commitments often get in the way of gamers' hobbies. But there are interesting ideas that could make video games more accessible again for busy people. Unnerved players have the perfect idea.
Video Games and Work: What's the Problem?
Many adult gamers know it: A hard day's work is followed by family obligations and other errands. Sometimes there isn't enough time to play – or you just don't have the head for it.
Often you're more likely to grab it passive entertainment like Netflix to end the evening. Because although games can also relax, many not only require maximum concentration and a good grasp, but also an almost perfect memory. Especially when you already have Haven't used the controller for a while and has neither the controls nor the final quests and storylines in mind.
The problem seems to be widespread, because almost 70,000 gamers on Reddit think that video games should counteract this problem.
What do players want in the future?
In a tweet shared on Reddit, a gamer wrote that if he could, he would like all games to have a feature for busy adults.
Games should therefore best recognize themselves if you haven't touched them for a while. The game should then bring you back update: "That happened last and that's why you have to go here next." A short tutorial for the forgotten control could also be called up at the push of a button.
Players who share their own experiences with the problem speak up in the comments. A user reports difficulties after months Getting back into the combat system and controls of The Witcher 3. Others have stopped playing Assassin's Creed: Odyssey or Red Dead Redemption 2 for the time being for similar reasons. Helpful features against this phenomenon would help many to finish games even if they rarely find the time to play.
Don't want to waste time and want a few great games where there's no way that can happen? Then check out our 6 recommendations for good, short games:
Many gamers don't have the time to regularly sit in front of the console or PC. By the time they try again, they've often forgotten what happened in the game or the controls. To counteract this, games should incorporate practical features. What's your opinion on this: could you use these functions well or do you manage the balancing act between real life and gaming? Let us know in the comments on Facebook!
You don't want to miss any more news, guides and tests for new games? Always want to know what's happening in the gaming community? Then follow us on Facebook, Youtube, Instagram, Flipboard or Google News.