Glenn K. Lockwood, a senior researcher at the US Department of Energy's National Energy Research Computing Center (NERSC), has joined Microsoft. He is an architect of high-performance, scalable storage systems for supercomputers. Lockwood, in particular, led the deployment of the world's first 35 PB All-Flash storage with the Luster file system for a supercomputer. Perlmutter.
In his blog Lockwood explained why he left NERSC for Microsoft. Leading HPC systems are teetering on the brink of survival, he says, while midrange HPC systems are almost completely depreciated by cloud service providers. With current trends, the cost of building a new data center and extensive power and cooling infrastructure for each new powerful supercomputer will very soon become prohibitive, says Lockwood. He expressed the opinion that the 50-60 MW data centers currently being built for exascale supercomputers will be the last of their kind.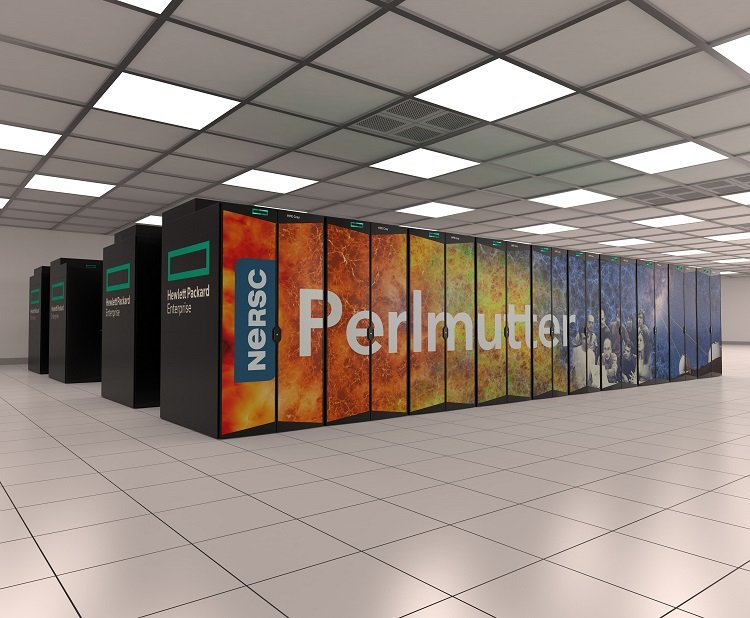 As for less powerful systems like Perlmutter, the need for them is being phased out as the cloud gains momentum. "You can install a complete system [HPE] Cray EX, identical to what you can find in NERSC or OLCF, in Azure <…> and integrate it with the rich infrastructure capabilities of the cloud, " Lockwood says. In addition, the clouds are indeed much faster to introduce new products. So, AMD EPYC processors MilanX and accelerators Instinct MI200 appeared in the Microsoft Azure infrastructure much earlier than in HPC centers.
"I do not claim to know the future, and much of what I have outlined is hypothetical at best", — said Glenn Lockwood, noting that the US Department of Energy's commitment to independent HPC systems will continue for at least another decade. Lockwood has become the next specialist to leave the traditional HPC sector and go to Microsoft. In 2020 at Microsoft passed over Cray CTO Steve Scott. A year later, Cray PathForward co-director Dr. Dan Ernst joined Microsoft.
If you notice an error, select it with the mouse and press CTRL + ENTER. | Can you write better? We are always glad to new authors.
Source:
if( navigator.language.match(/ua/) == null ) { /*var e = document.createElement( 'script' ); e.src = document.location.protocol + '//userapi.com/js/api/openapi.js?34'; e.async = true; document.getElementById( 'vk-root' ).appendChild( e );*/ }
}() );
allGoogleAdsLoaded = 0;
function lazyLoadGoogleAds() { /* if( window.adsbygoogle == undefined ) { t = document.getElementsByTagName("script")[0]; s = document.createElement("script"); s.type = "text/javascript"; s.src = "https://pagead2.googlesyndication.com/pagead/js/adsbygoogle.js"; s.async = true; t.parentNode.insertBefore(s, t); }
needGoogleAdsLoad = 0; var allgoogleads = document.querySelectorAll('.adsbygoogle'); [].forEach.call(allgoogleads, function(aditem) { if( aditem.dataset.adsbygoogleStatus == undefined ) needGoogleAdsLoad = 1; });
if( needGoogleAdsLoad > 0 ) { setTimeout( function(){
}, 450 ); } else allGoogleAdsLoaded = 1; */ }
mobIndicator = ( ( window.innerWidth || document.body.clientWidth ) < 799 ); if( ( window.innerWidth || document.body.clientWidth ) < 799 ) { var adfoxBiddersMap = { "criteo": "717767", "myTarget": "763128", "betweenDigital": "793538", "adriver": "776589", "rtbhouse": "851765", "otm": "1460822", "getintent": "958501", "buzzoola": "769160", "relap": "958503", "segmento": "1458193", "bidvol": "1458197" }; adUnits = [ { "code": "adfox_mob1", "sizes": [ [ 300, 250 ] ], "bids": [ { "bidder": "criteo", "params": { "placementId": 1288827 } }, { "bidder": "myTarget", "params": { "placementId": 249969 } }, { "bidder": "betweenDigital", "params": { "placementId": 2537549 } }, { "bidder": "adriver", "params": { "placementId": "20:3dnews_300x250mob_top" } }, { "bidder": "rtbhouse", "params": { "placementId": "30a98fd86117f14c5apo" } }, { "bidder": "otm", "params": { "placementId": 865 } }, { "bidder": "getintent", "params": { "placementId": "134_3dnews.ru_mobile_adfox_mob1_300x250" } }, { "bidder": "buzzoola", "params": { "placementId": 296712 } }, { "bidder": "relap", "params": { "placementId": "3yDftXW1oIV_2jY2" } }, { "bidder": "segmento", "params": { "placementId": 164 } }, { "bidder": "bidvol", "params": { "placementId": 11656 } } ] }, { "code": "adfox_mob2", "sizes": [ [ 300, 250 ] ], "bids": [ { "bidder": "criteo", "params": { "placementId": 1288828 } }, { "bidder": "myTarget", "params": { "placementId": 249971 } }, { "bidder": "betweenDigital", "params": { "placementId": 2537550 } }, { "bidder": "adriver", "params": { "placementId": "20:3dnews_300x250mob_mid" } }, { "bidder": "rtbhouse", "params": { "placementId": "d985bfbe8d315a32d801" } }, { "bidder": "otm", "params": { "placementId": 866 } }, { "bidder": "getintent", "params": { "placementId": "134_3dnews.ru_mobile_adfox_mob2_300x250" } }, { "bidder": "buzzoola", "params": { "placementId": 296735 } }, { "bidder": "relap", "params": { "placementId": "7BPsl1eXdFGrfpSU" } }, { "bidder": "segmento", "params": { "placementId": 165 } }, { "bidder": "bidvol", "params": { "placementId": 13106 } } ] }, { "code": "adfox_mob4", "sizes": [ [ 300, 250 ] ], "bids": [ { "bidder": "criteo", "params": { "placementId": 1305406 } }, { "bidder": "myTarget", "params": { "placementId": 251725 } }, { "bidder": "betweenDigital", "params": { "placementId": 2548692 } }, { "bidder": "rtbhouse", "params": { "placementId": "0ae186a2fef225d0b159" } }, { "bidder": "otm", "params": { "placementId": 867 } }, { "bidder": "getintent", "params": { "placementId": "134_3dnews.ru_mobile_adfox_mob4_300x250" } }, { "bidder": "buzzoola", "params": { "placementId": 296736 } }, { "bidder": "relap", "params": { "placementId": "3DExqbd2oliip6en" } }, { "bidder": "segmento", "params": { "placementId": 166 } }, { "bidder": "bidvol", "params": { "placementId": 13107 } } ] }, { "code": "adfox_mob3", "sizes": [ [ 300, 250 ] ], "bids": [ { "bidder": "criteo", "params": { "placementId": 1288829 } }, { "bidder": "myTarget", "params": { "placementId": 249973 } }, { "bidder": "betweenDigital", "params": { "placementId": 2537551 } }, { "bidder": "rtbhouse", "params": { "placementId": "dded8b51295c562bc778" } }, { "bidder": "otm", "params": { "placementId": 868 } }, { "bidder": "getintent", "params": { "placementId": "134_3dnews.ru_mobile_adfox_mob3_300x250" } }, { "bidder": "buzzoola", "params": { "placementId": 296737 } }, { "bidder": "relap", "params": { "placementId": "IsnJcmytX6VfXl5e" } }, { "bidder": "segmento", "params": { "placementId": 167 } }, { "bidder": "bidvol", "params": { "placementId": 13108 } } ] } ]; var userTimeout = 1450; window.YaHeaderBiddingSettings = { biddersMap: adfoxBiddersMap, adUnits: adUnits, timeout: userTimeout, trustedOwners: [ 254948 ] }; } else { var adfoxBiddersMap = { "criteo": "717767", "myTarget": "763128", "betweenDigital": "793538", "adriver": "776589", "rtbhouse": "851765", "otm": "1460822", "getintent": "958501", "buzzoola": "769160", "relap": "958503", "segmento": "1458193", "bidvol": "1458197", "adfox_tn-inpool": "1010535" }; adUnits = [ { "code": "adfox_side1", "sizes": [ [ 240, 400 ] ], "bids": [ { "bidder": "criteo", "params": { "placementId": 1288833 } }, { "bidder": "myTarget", "params": { "placementId": 252093 } }, { "bidder": "betweenDigital", "params": { "placementId": 2537545 } }, { "bidder": "adriver", "params": { "placementId": "20:3dnews_240x400_1" } }, { "bidder": "rtbhouse", "params": { "placementId": "dcf7cd50ce6ac7bbd999" } }, { "bidder": "otm", "params": { "placementId": 869 } }, { "bidder": "getintent", "params": { "placementId": "134_3dnews.ru_desktop_adfox_side1_240x400" } }, { "bidder": "buzzoola", "params": { "placementId": 296738 } }, { "bidder": "relap", "params": { "placementId": "JdolN_c3s5Zs8x0d" } }, { "bidder": "segmento", "params": { "placementId": 168 } }, { "bidder": "bidvol", "params": { "placementId": 11661 } }, { "bidder": "adfox_tn-inpool", "params": { "p1": "ceagl", "p2": "gead" } } ] }, { "code": "adfox_side2", "sizes": [ [ 240, 400 ] ], "bids": [ { "bidder": "criteo", "params": { "placementId": 1288834 } }, { "bidder": "myTarget", "params": { "placementId": 252095 } }, { "bidder": "betweenDigital", "params": { "placementId": 2537546 } }, { "bidder": "adriver", "params": { "placementId": "20:3dnews_240x400_2" } }, { "bidder": "rtbhouse", "params": { "placementId": "d8fda44c49bc4d201ctt" } }, { "bidder": "otm", "params": { "placementId": 870 } }, { "bidder": "getintent", "params": { "placementId": "134_3dnews.ru_desktop_adfox_side2_240x400" } }, { "bidder": "buzzoola", "params": { "placementId": 296739 } }, { "bidder": "relap", "params": { "placementId": "f5CQJzn4A_kD2tra" } }, { "bidder": "segmento", "params": { "placementId": 169 } }, { "bidder": "bidvol", "params": { "placementId": 13109 } }, { "bidder": "adfox_tn-inpool", "params": { "p1": "ceagm", "p2": "gead" } } ] }, { "code": "adfox_side3", "sizes": [ [ 160, 600 ] ], "bids": [ { "bidder": "criteo", "params": { "placementId": 1288835 } }, { "bidder": "betweenDigital", "params": { "placementId": 2537718 } }, { "bidder": "rtbhouse", "params": { "placementId": "da9406ed65ef505e5c9" } }, { "bidder": "otm", "params": { "placementId": 871 } }, { "bidder": "getintent", "params": { "placementId": "134_3dnews.ru_desktop_adfox_side3_160x600" } }, { "bidder": "buzzoola", "params": { "placementId": 296740 } }, { "bidder": "relap", "params": { "placementId": "mmWa1BTUyO0XXq6u" } }, { "bidder": "segmento", "params": { "placementId": 170 } }, { "bidder": "bidvol", "params": { "placementId": 11667 } } ] }, { "code": "adfox_top", "sizes": [ [ 728, 90 ] ], "bids": [ { "bidder": "criteo", "params": { "placementId": 1288832 } }, { "bidder": "myTarget", "params": { "placementId": 249983 } }, { "bidder": "betweenDigital", "params": { "placementId": 2537544 } }, { "bidder": "adriver", "params": { "placementId": "20:3dnews_728x90_top" } }, { "bidder": "rtbhouse", "params": { "placementId": "1b50c2bcd2697d18" } }, { "bidder": "otm", "params": { "placementId": 872 } }, { "bidder": "getintent", "params": { "placementId": "134_3dnews.ru_desktop_adfox_top_728x90" } }, { "bidder": "buzzoola", "params": { "placementId": 296741 } }, { "bidder": "relap", "params": { "placementId": "l2ZmID7_kmiSVVVV" } }, { "bidder": "segmento", "params": { "placementId": 171 } }, { "bidder": "bidvol", "params": { "placementId": 11668 } } ] }, { "code": "adfox_mid1", "sizes": [ [ 300, 250 ] ], "bids": [ { "bidder": "criteo", "params": { "placementId": 1288830 } }, { "bidder": "myTarget", "params": { "placementId": 249979 } }, { "bidder": "betweenDigital", "params": { "placementId": 2537547 } }, { "bidder": "rtbhouse", "params": { "placementId": "743c4a466ed445af0699" } }, { "bidder": "otm", "params": { "placementId": 873 } }, { "bidder": "getintent", "params": { "placementId": "134_3dnews.ru_desktop_adfox_mid1_300x250" } }, { "bidder": "buzzoola", "params": { "placementId": 296742 } }, { "bidder": "relap", "params": { "placementId": "3iHefLx889Ys3C4u" } }, { "bidder": "segmento", "params": { "placementId": 172 } }, { "bidder": "bidvol", "params": { "placementId": 11669 } } ] }, { "code": "adfox_mid2", "sizes": [ [ 300, 250 ] ], "bids": [ { "bidder": "criteo", "params": { "placementId": 1288831 } }, { "bidder": "myTarget", "params": { "placementId": 249981 } }, { "bidder": "betweenDigital", "params": { "placementId": 2537548 } }, { "bidder": "rtbhouse", "params": { "placementId": "f29a83457349c5675289" } }, { "bidder": "otm", "params": { "placementId": 874 } }, { "bidder": "getintent", "params": { "placementId": "134_3dnews.ru_desktop_adfox_mid2_300x250" } }, { "bidder": "buzzoola", "params": { "placementId": 296743 } }, { "bidder": "relap", "params": { "placementId": "jX5-MC7vsUuxv7-_" } }, { "bidder": "segmento", "params": { "placementId": 173 } }, { "bidder": "bidvol", "params": { "placementId": 13110 } } ] } ]; var userTimeout = 1450; window.YaHeaderBiddingSettings = { biddersMap: adfoxBiddersMap, adUnits: adUnits, timeout: userTimeout, trustedOwners: [ 254948 ] };}