This month, SEGA partnered with IGN to reveal various details about the upcoming action-adventure Sonic Frontiers. As part of this deal, two gameplay videos have already been shown: with a demonstration of the in-game open world and the combat system. But many Sonic fans did not like this gameplay, and they are asking the developers to postpone the release of the game by launching the #DelaySonicFrontiers trend on Twitter.
Mostly dissatisfied fans note "hard" animations, a poor game world and insufficient dynamics.
Player dissatisfaction can also be seen in the number of dislikes under both released gameplay videos. In open world view, 73k thumbs up versus 52k dislikes, while combat gameplay got 36k/21k.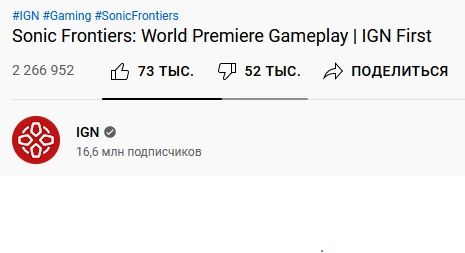 At the time of writing, no comments about such a reaction from either SEGA or Sonic Team have been received. Sonic Frontiers is scheduled to release in late 2022 on PC, Xbox One, Xbox Series X/S, PlayStation 4, PlayStation 5, and Nintendo Switch.