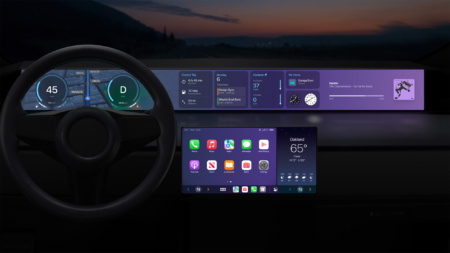 As part of the WWDC 2022 conference, Apple announced a significant update to the CarPlay platform. Now you can count on deeper integration with vehicle systems and improved connectivity to your vehicle's dashboard. CarPlay users will be able to swap dashboard elements thanks to a design reminiscent of Apple's widgets.
With the new version of CarPlay, users can add driving information, control the infotainment system, control the temperature in the car, see the weather, view updated navigation information, fuel level, battery level, and more. The system can adapt to different screen sizes and has a brand new interface that resembles an iPad on the center screen.
Apple announces next generation of CarPlay with widgets, climate control, and a customizable instrument cluster at #WWDC22 pic.twitter.com/iPEE2VV4tr
— The Verge (@verge) June 6, 2022
Now CarPlay can provide content to multiple screens in the car, creating a unified experience for different people. Users will be able to personalize the appearance of the dashboard by choosing among a variety of different dashboard options. This is facilitated, among other things, by adding support for widgets. This will allow you to instantly receive important information right on the dashboard of your car.
Apple intends to provide more information about the new version of CarPlay in the future, and announcements of cars with new features will begin at the end of next year.
Source: The Verge
---