From Software has released a new patch for "Elden Ring". This further stabilizes the gameplay and adjusts the balance.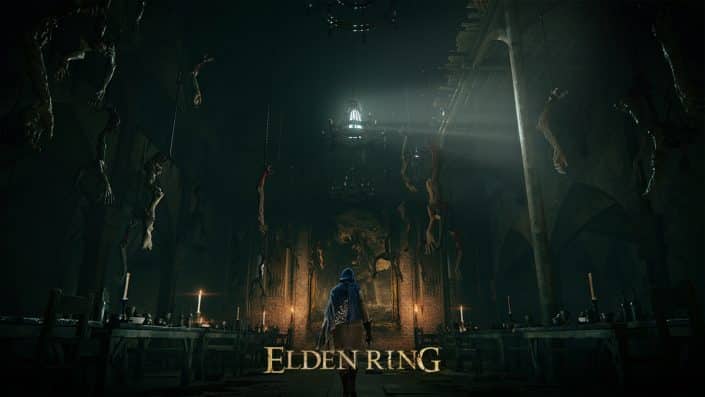 A new Elden Ring update is available for both console and PC players. Bandai Namco Entertainment will inform about all changes and bug fixes on the official website.
Below we have translated and listed all the added elements for you:
In transactions with the NPC "Twin Maiden Pod", the following Bell Storage items have been changed so that their unlocked status carries over into the NG+ game:
Bonemonger Bell Storage/Meatmonger Bell Storage/Medicine Vendor Bell Storage/Gravity Stonemonger Bell Storage/Wroughtstone Miner Bell Storage/Silverstone Miner Bell Storage/Catchfly Picker Bell Storage/Ghost Limeweed Picker Bell Storage
Highlighted Sacred Flask choice and several other options that can be boosted in the Mercy menu.
Added sound effects when other players' summoning marks appear.
The bug fixes are much more extensive. Around 40 bugs are being tackled that could disrupt your gaming experience. The development team is also making a few performance improvements. Among other things, the online mode is now more stable when PS5 and PS4 owners play together.
In addition, a few changes are dedicated to the PC version. For example, players can now return directly to the desktop from the main menu and a performance bug has been fixed.
More Elden Ring news:
The last patch was released at the end of April. With that, From Software dedicated itself to the boss fights where several bugs eliminated became. In addition, certain bosses became something weakened.
The Elden Ring has been available for PS5, PS4, Xbox Series X/S, Xbox One and PC since February 25th.
More Elden Ring news.
Discuss this news on the PlayStation Forum
Links to Amazon, Media Markt, Saturn and some other retailers are usually affiliate links. If you make a purchase, we receive a small commission that we can use to finance the free-to-use site. You have no disadvantages.