German overclocker Roman "Der8auer" Hartung (Roman Hartung) published a video review of a unique case from the local company Hetzner. Its peculiarity lies in the side panels, which are aluminum radiators for the liquid cooling system. Corps called Regner is intended for LSS enthusiasts who are ready to pay for it from 1700 euros.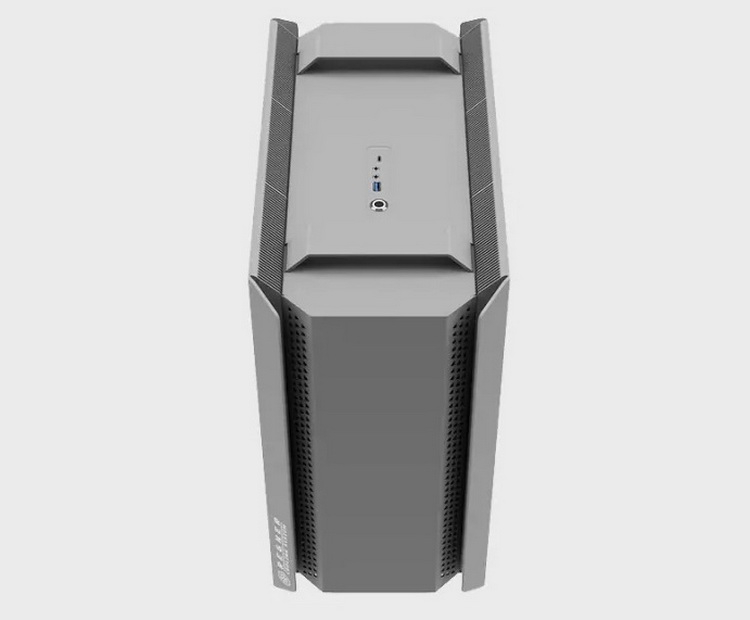 Radiators occupy almost the entire area of ​​the side panels, providing an interest-free margin for cooling efficiency. The pre-installed LSS system is complemented by three 140mm be quiet! Silent Wings 3 for air circulation inside. Two are located behind the front panel, one is in the back.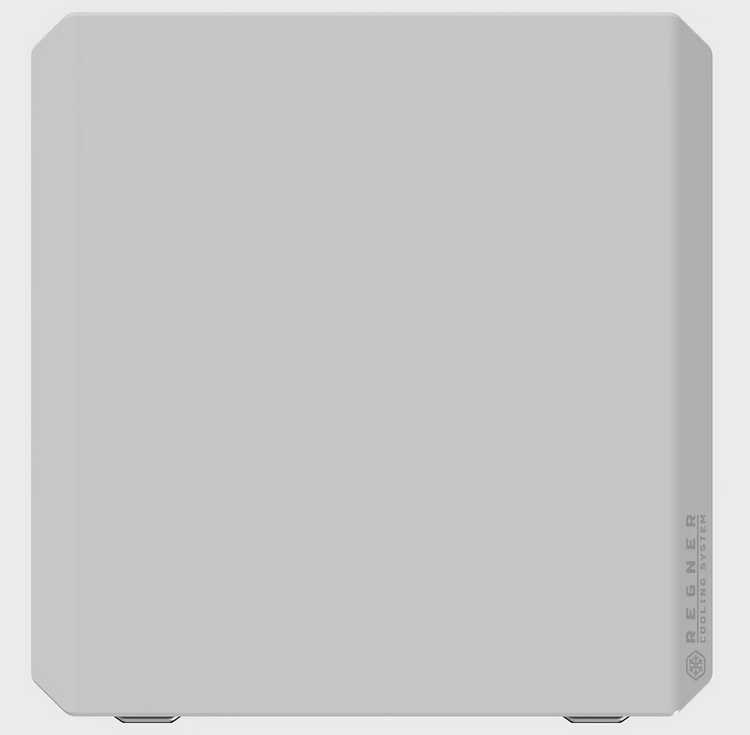 Coolant radiators in the side panels do not have their own active cooling in the form of fans. Thus, the LSS system itself operates in a semi-passive mode. The supply of fresh air is provided only by case fans.
The inside of the case is divided into two compartments. In one part, there is space for a motherboard with a processor, memory, and NVMe SSDs. The other part is designed to install a graphics accelerator through a riser adapter included in the package. By the way, the video card through it is installed upside down. In addition, it offers a couple of additional seats for 2.5-inch drives. Thus, one side wall-radiator is responsible for cooling the processor, and the second – for the video card. Among other things, it should be noted the possibility of installing a power supply unit up to 180 mm long.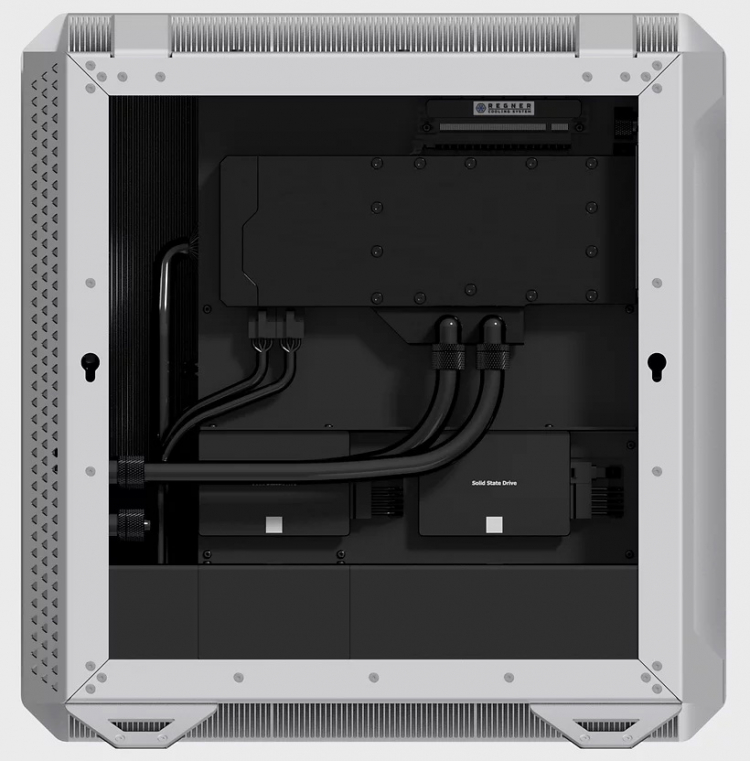 The Hetzner Regner case is supplied with almost all the necessary equipment to create an LSS circuit. The package includes the necessary hoses and fittings, as well as the EKWB EK-Loop DDC 4.2 PWM pump. True, you still have to buy some details – water blocks and a liquid reservoir.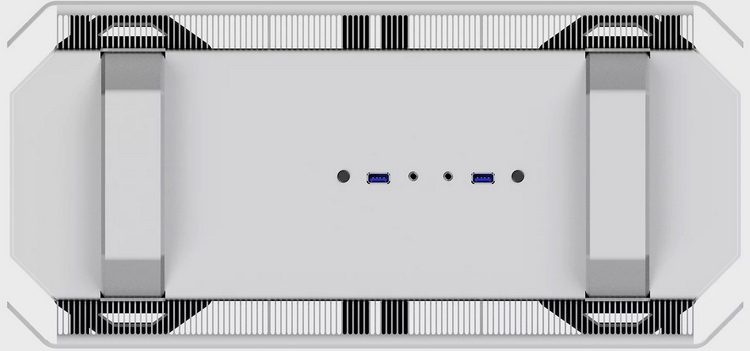 The front panel of the case is almost deaf, except for the ventilation holes on the sides. The usual connector panel is located on the top cover. Its set includes a power button, one USB Type-A and one USB Type-C connector, as well as a pair of 3.5 mm audio outputs.
The body dimensions are 470 × 240 × 480 mm and the weight is 21 kg. The novelty is suitable for assembling a system based on E-ATX, ATX, Micro-ATX or Mini-ITX motherboards.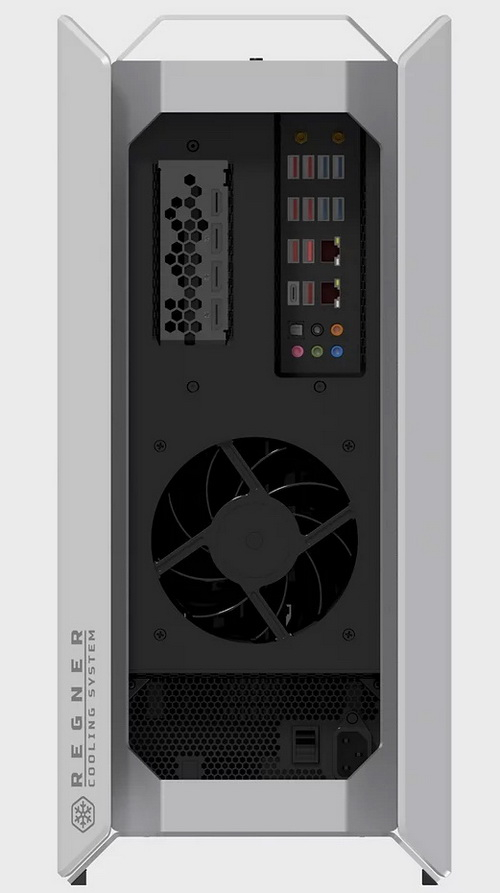 Only one version of the Regner case in gray is currently available. Its cost is 1900 euros.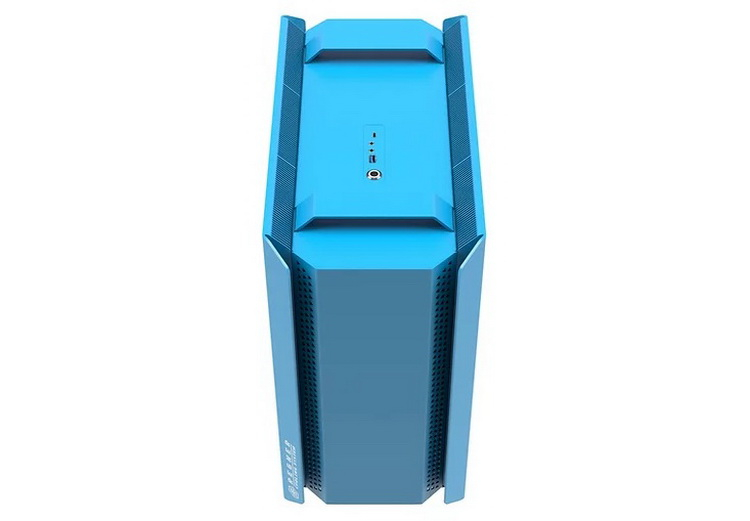 In the future, the company is going to release a blue version with a price tag of 1700 euros.
If you notice an error, select it with the mouse and press CTRL + ENTER.