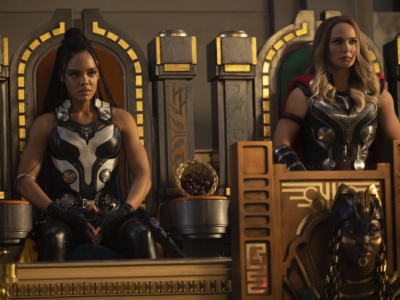 Cinemania Film Distribution

exclusive distributor of Warner Bros. films. Pictures and The Walt Disney Company in Ukraine have published a localized version of the main trailer for the fourth "Thor" with Chris Hemsworth – those who wish can watch it again in Ukrainian dubbing.
Trailer of the new "Thor" (Ukrainian dubbing)
The fourth God of Thunder movie was directed and written by Taika Waititi, who also directed the previous movie in the Thor: Ragnarok series. "Love and Thunder" will tell about the journey of the Thunderer with the Guardians of the Galaxy and the confrontation with the godslayer Gorr, played by the master of disguise Christian Bale. Together with Hemsworth and Bale, Natalie Portman and Tessa Thompson starred in the fourth "Tori" – the first returned to the role of the former girlfriend of Odin's son Jane Foster, who managed to get the restored Mjolnir and Thor's powers, and the second plays the Valkyrie, who became the ruler of New Asgard. Also in the picture will appear Russell Crowe in the image of Zeus.
Character posters
Thor: Love and Thunder will be released in Ukrainian cinemas on July 21.
Recently, the cinema chains AMC and Cineworld uncovered The running time of the film is 119 minutes. Thus, the fourth Thor will be the shortest MCU movie since 2018's Ant-Man and the Wasp (118 minutes), and the third MCU movie in the last six years to be less than two hours long (the first and shortest – "Doctor Strange" in 2016, which was 115 minutes). Compared to previous Thors, Love and Grimm is second only to Ragnarok at 130 minutes, while the first and second films are even shorter at 114 and 112 minutes respectively.
---