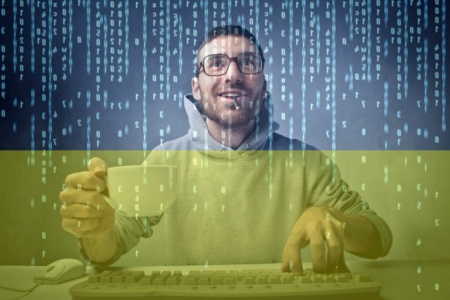 The expert-analytical center of the personnel portal grc.ua shared a new analysis of the situation on the labor market of Ukraine and recorded a conditional stabilization of wages in June – in most professional areas, the decline has stopped, but there is no significant growth yet.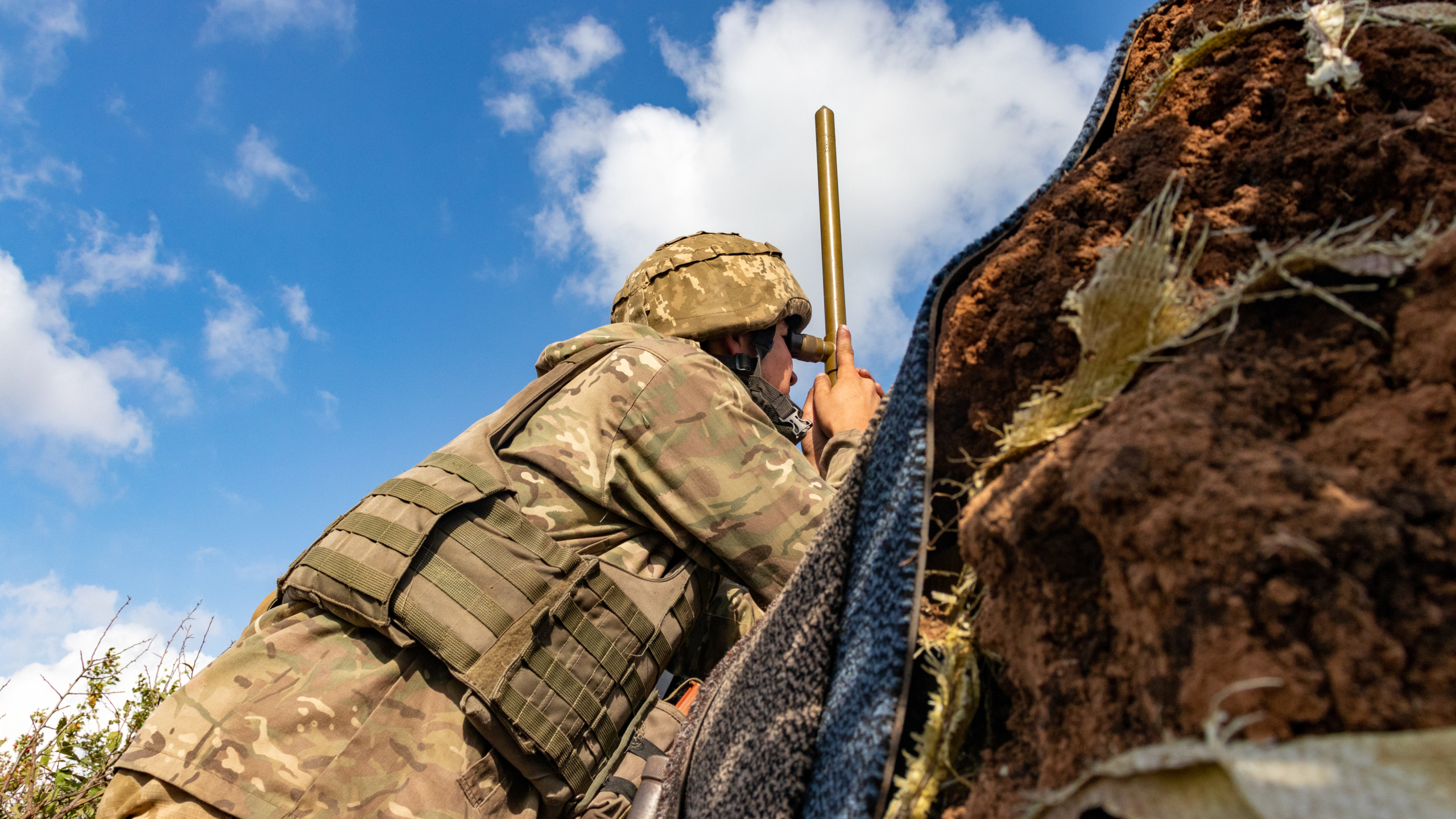 In April, grc.ua analysts fixed a 10% drop in average wages compared to the pre-war period; in May, wages continued to fall to a critically low level in most professional industries. In June, wages stopped falling in most professional areas. Grc.ua explains that companies that managed to maintain their activities in the conditions of war and the economic crisis have already optimized costs – they have reduced salaries and reduced bonuses and bonuses. At the same time, grc.ua does not undertake to predict when wages in Ukraine will start to grow.
In June, the average salary is UAH 20,100. It was calculated on the basis of all open vacancies grc.ua.
Who gets paid the highest salaries – top 5 areas with the highest salaries in June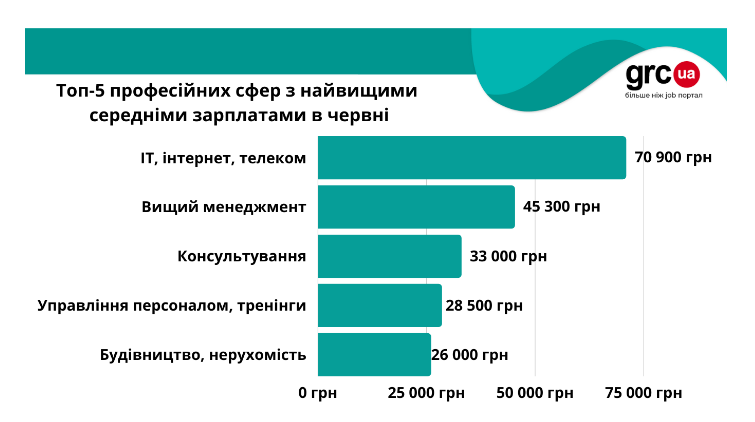 The highest salaries, as always, are offered to IT specialists, managers and in the field of consulting. However, compared to the previous month, in June, vacancies in these professional areas offer lower salaries. In IT, they offer an average of UAH 70,900, for managers – UAH 45,300. In the field of consulting, the average salary has almost halved compared to May, and amounts to UAH 33,000.
In June, there were job offers with high salaries in such professional areas as construction and real estate, personnel management, and the extraction of raw materials.
The real estate market in big cities began to revive – there were vacancies for managers in the rental and sale of real estate, and the average salary in the field increased slightly, which allowed it to get into the top 5 areas with high salaries. In addition to realtors, design engineers can apply for salaries above the average level in the field of construction and real estate – they are offered up to 40,000 UAH. Specialists in blue-collar professions are still not paid very high salaries – an average of 11,500 hryvnias.
There was a slight revival of another professional sphere. Since the beginning of the war, there have been very few offers for specialists in the tourism, hospitality and restaurant industries. During the summer season, there is usually a noticeable increase in job offers for these professionals. This summer, despite a slight revival of tourism and HoReCa employers, the number of vacancies is critically low. True, the average salary in open vacancies in June reached the level of the first half of February this year, that is, the pre-war period, and amounts to 25,300 UAH.
Who got a pay cut
Since the beginning of the summer, employers have slightly reduced the salaries offered to candidates for vacancies in the field of marketing, advertising and PR – the average salary in open vacancies is UAH 19,400.
There has been a decrease in the average wages of workers who are offered jobs in the field of medicine and pharmaceuticals. In June, the media salary in open vacancies for these specialists is UAH 17,600.
The average salary in open vacancies for working personnel also decreased (from UAH 14,400 in May to UAH 13,700 in June), security guards (from UAH 17,100 in May to UAH 10,900 in June) and for students and specialists just starting their careers (from UAH 12,600 in May up to UAH 8,600).
In addition to students, security guards and blue-collar workers, the lowest salaries are for domestic staff (UAH 11,900 on average) and in procurement (UAH 12,400).
Regions with high salaries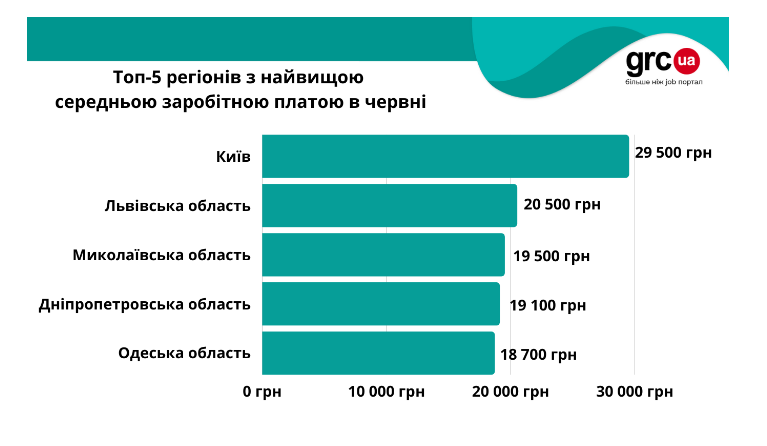 Kyiv confidently holds the lead in terms of average wages in June with a median wage in June of 29,500 UAH. The high level of monthly compensation in the capital was influenced by a large number of offers for IT specialists. There are also high-salary vacancies in other areas, for example, export sales managers can receive up to UAH 85,000 – 100,000.
The second position in terms of average wages is occupied by Lviv and the region. On average, this region offers 20,500 UAH. The Lviv region was chosen for relocation by the majority of companies that took advantage of the state program for the relocation of enterprises. Since the beginning of the war, this region has become one of the centers of the labor market – now there are many vacancies for companies in various industries. High salaries are offered not only to IT specialists, but also to store administrators, operational and financial directors, heads of departments of companies in various fields.
Mykolaiv region (average salary in open vacancies is UAH 19,500), Dnipropetrovsk region (UAH 19,100) and Odesa region (UAH 18,700) were also in the top five regions with high salaries in June.
Regions with the lowest salaries
The lowest salaries in June are offered in the Rivne region (the average salary in open vacancies is UAH 10,400), in Kropyvnytskyi and Kirovohrad regions (UAH 10,400), Kharkiv region (UAH 10,500), Poltava region (UAH 11,800) and Ivano- Frankivsk region (11800 UAH).
***
In the first quarter, Ukraine's IT industry generated a record $2 billion in export earnings, 28% more than in the past ($1.44 billion).
Ukraine's IT industry generated record $2 billion in export earnings in the first quarter, despite the war
---