After years of postponements, there have recently been growing indications that Ubisoft could finally present "Skull & Bones" to us shortly. This is also indicated by a current age rating from the North American ESRB, which also fuels the rumors about the end of the last-gen versions.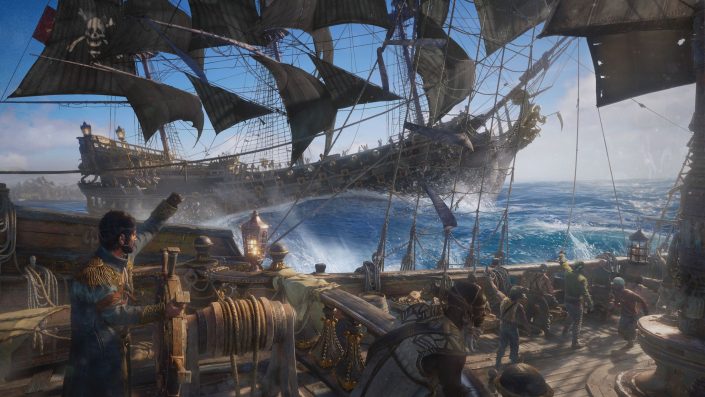 In the meantime, almost five years have passed since the official announcement of "Skull & Bones" at E3 2017, in which the pirate adventure from Ubisoft has been postponed several times.
After Ubisoft had repeatedly spoken of a planned release in the current 2022/2023 financial year (April 1, 2022 – March 31, 2023) in the past few months, the well-known industry insider Tom Henderson recently wanted to find out that we were meeting at the beginning of the We can look forward to the official unveiling of the current "Skull & Bones version" next month. This should take place as part of a live stream on July 4, 2022.
While Ubisoft has not yet wanted to comment on the information provided by the insider, who is mostly correct with his information, another age rating currently indicates an early presentation.
Again, no reference to the PS4 and Xbox One versions
The current age rating comes from the North American Entertainment Software Rating Board, or ESRB for short. Just as was the case with the last age ratings in South Korea and Brazil, "Skull & Bones" is also only listed on the ESRB for the PC, the PlayStation 5, the Xbox Series X/S and Google's streaming service Stadia. So the implementations for the old PlayStation 4 and Xbox One consoles seem to be off the table.
However, this has not yet been officially confirmed. The same goes for the supposed gameplay details that Henderson brought up earlier last month. As the insider reported, for example, all PvP mechanics have been removed from the game. There will also be no excessive shore leave. Instead, the mining of resources, trading in cities or the improvement or expansion of your own ship will take place in the form of corresponding menus that you have access to on your ship.
---
More Skull & Bones news:
---
Should Ubisoft have an understanding with the waiting community and officially confirm the allegedly approaching presentation of "Skull & Bones", you will of course find out from us immediately.
Source: ESRB
More Skull & Bones news.
Discuss this news on the PlayStation Forum
Links to Amazon, Media Markt, Saturn and some other retailers are usually affiliate links. If you make a purchase, we receive a small commission that we can use to finance the free-to-use site. You have no disadvantages.