The developers of miHoYo have announced a new live stream for version 2.8 of "Genshin Impact". It looks like players won't have to wait long for a rerun from Kaedehara Kazuha.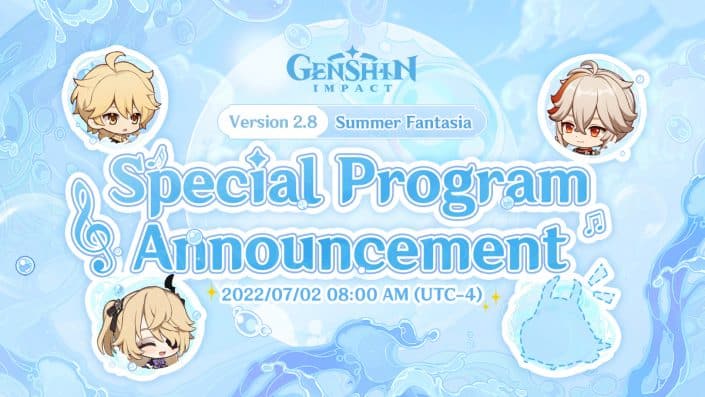 After the delay of update 2.7 of Genshin Impact, everything seems to be going back to normal for the further patches. The miHoYo developers recently announced a new live stream for the next update with version number 2.8. It seems that a certain Anemo-Samurai will play a big part in the upcoming content.
Live stream with the voice actors from Kazuha and Fischl
In the announcement, the miHoYo developers have not yet revealed exactly what the players of "Genshin Impact" can expect in the next update. However, the guest list of the live stream can always be used to determine which characters will play a role in the next content. According to the official announcement, players can look forward to voicing Kaedehara Kazuha and the "Princess of Condemnation" Fischl.





As always, the live stream will be hosted by Zach Aguilar, voice actor for male lead Aether. Brittany Cox, voice actress for Electro-Archer Fischl, and Mark Whitten, voice artist for Kazuha, also appear to be joining the stream. Players should especially look forward to the appearance of the Anemo Samurai. Many users have been hoping for one for months Rerun by Kaedehara Kazuhawhich is essential for some of the most popular team builds.

More Genshin Impact news:

This time the live stream will take place on a Saturday. Those interested can join us on July 2nd at 2pm GMT on either Twitch or the official Genshin Impact channel on YouTube. There may also be a first glimpse of Sumeru, the next continent after Liyue and Inazuma. The new world is rumored to be added to the game with the next update after patch 2.8. With Sumeru, the new element Dendro should also find its way into "Genshin Impact".

Source: Genshin Impact Twitter
More Genshin Impact news.
Discuss this news on the PlayStation Forum
Links to Amazon, Media Markt, Saturn and some other retailers are usually affiliate links. If you make a purchase, we receive a small commission that we can use to finance the free-to-use site. You have no disadvantages.