NASA experts approved continuation of work on the SWIM project, according to which the subglacial ocean of the Jovian moon Europa planned to launch a swarm miniature floating robots with sets of sensors. But in the second stage, the project team will develop and create prototypes of microbots and algorithms for interaction between them. For these purposes, NASA will allocate $600,000 for two years.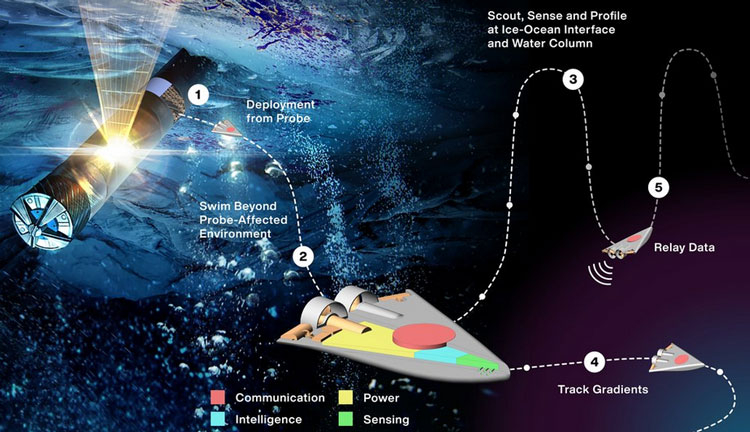 The SWIM (Sensing With Independent Micro-Swimmers) project was selected in 2021 as one of the promising projects for implementation in the coming decades. The ocean of Europa has long attracted scientists with its potential to be the cradle of alien biological life. Europa's ice almost certainly hides many kilometers of liquid water, the temperature of which at great depths promises to be comfortable for the emergence and development of microbial and even more complex life.
The SWIM project involves lowering a container with microbots through the ice (it will have to be melted or drilled) to the water. A small container with a diameter of 25 cm and a length of 10 cm can accommodate up to 40 microbots about 12 cm long. The microbots will have temperature, pressure, salinity sensors, as well as biomarker search sensors on board. Data between microbots will be transmitted using ultrasound. Recently, the SWIM project has successfully completed the first stage of work and has earned the right to proceed to the second stage.
The SWIM project is not the only one that aims to study Europe. This spring, the assembly of NASA's Europa Clipper probe began to search for life on Europa, the launch of which is expected in 2024. Even earlier – this year – the JUICE probe (Jupiter Icy Moon Explorer) should fly to Europa and the moons of Jupiter. The object chosen by the scientists is so interesting for study that one apparatus will not do.
If you notice an error, select it with the mouse and press CTRL + ENTER.